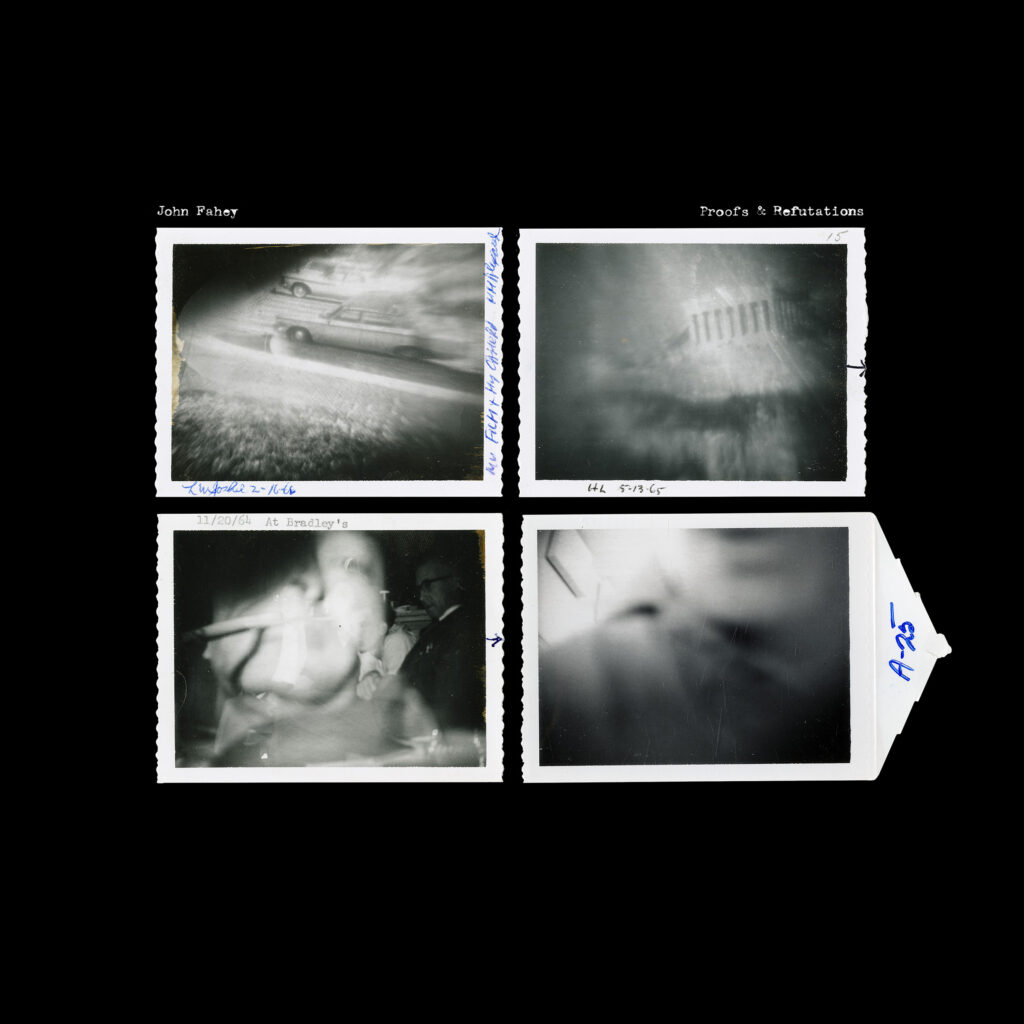 The essential 2018 biography of American Primitive guitar legend John Fahey (1939-2001), Dance of Death :The Life of John Fahey, American Guitarist by Steve Lowenthal frames the final years of Fahey's life as a resurgence of popularity that coincided with the rise of alternative and underground acts due to a major label feeding frenzy. Caught on their heels by the unexpected popularity of Nirvana, fringe bands like Sonic Youth, The Butthole Surfers, The Melvins, Mudhoney, The Meat Puppets and others were getting sucked up in the land grab. These bands were all talking about their influences which often included John Fahey. Thurston Moore was quoted as saying, "Fahey's weirder tunings were a real secret influence on early Sonic Youth." (Spin, Nov. 1994 p. 66)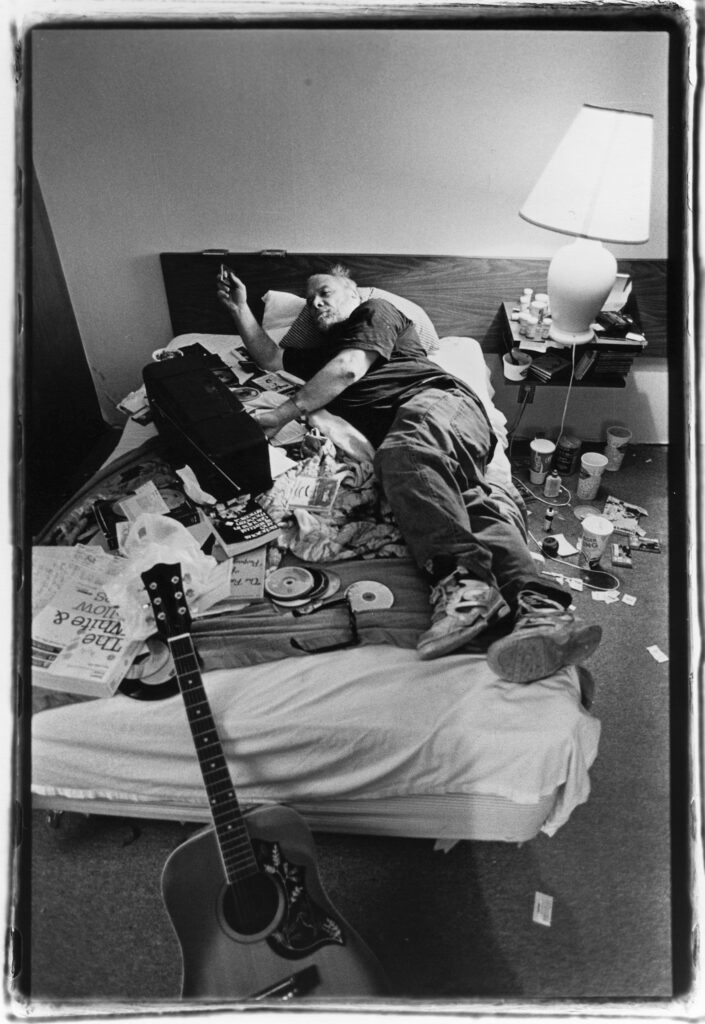 In 1994, Fahey, crushed from the effects of the Epstein-Barr virus, long-term heavy drinking as well as a divorce from his third wife of 15 years, was living in fleabag hotels or missions in Salem, Oregon literally surrounded by the detritus of his life. Descriptions from those who knew him during this time mention equal piles of thrift store records which he sold for money and pizza boxes. His trusty guitar spent time in and out of hock.
The two events that reignited Fahey's stature as an important and influential artist were a double-CD career survey put out by Rhino Records titled Return of the Repressed curated by none other than his old friend Barry Hansen (better known as Dr. Demento) and a feature article in Spin Magazine by Byron Coley titled "The Persecutions and Resurrections of Blind Joe Death." The Spin feature paints a stereotypically eccentric and boldly opinionated Fahey who spends most of the article riding around in a car eating gas station food and visiting thrift stores to find records. This exposure manifested a deal with Geffen Records spearheaded by Coley, but negotiations broke down as Fahey decided he wasn't interested in it. In Dance of Death, Coley is quoted, "He was able to negate that [concept], as it didn't spring from him."
Nevertheless, this article also caught the attention of Dean Blackwood, a lawyer and record collector who was releasing new 78 RPM records re-using the name of a defunct 1920's budget label Perfect Records. In a video clip of the extended interview with Blackwood for the brilliant film documentary In Search of Blind Joe Death : The Saga of John Fahey he describes how he came to record the first new music from Fahey since 1992′s Old Girlfriends And Other Horrible Memories (which was also the final release from Terry Robb's Varrick record label) and how he became his manager.
It seemed like something that would be up his alley. He has a reputation of a little bit of mystery, a little bit of pranksterism…. He did respond well to it and that was how we first met…. [78's] seemed like the perfect vehicle to record music with a timeless quality. The focus wasn't on music that would sound "old timey." The intent wasn't to speckle it with noise and make it sound of the era. The idea was for it to sound beyond era.

Fahey's thing was that he liked to insert these things in pawn shops and thrift stores and record stores without any context to guide anyone in terms of "is this authentic?" and the labels had been designed to look like a label that had existed from 1922 to 1938 called Perfect. So, there really wouldn't be any clues to the real provenance of the music — maybe even after playing it you wouldn't necessarily know.

Extended interview with Dean Blackwood for In search of blind joe death : The Saga of John Fahey (2012)
During this time Blackwood also helped improve Fahey's quality of life by becoming a kind of manager for him– dealing with collection agencies, getting his music publishing in order to help bring in more regular payments and also get him into an apartment and out of the motel (which was comparatively much more expensive). In the interview Blackwood says, "He was a guy who didn't pay a lot of attention to the things that plague you and me in terms of paying his bills, hygiene– you know, things like that, those little annoyances."
Blackwood would eventually help Fahey launch Revenant Records. This partnership would gain Fahey Grammy recognition due to the use of his thesis (written in 1966 as part of his masters in folklore from UCLA) on Charley Patton used for Screamin' and Hollerin' the Blues: The Worlds of Charley Patton which won Grammys in 1997 for Best Historical Album, Best Boxed or Special Limited Edition Package, and Best Album Notes (source: Wikipedia). Fahey would also win his own Grammy in 2000 for his liner notes to Harry Smith's Anthology of American Folk Music, Vol. 4.
The recordings that make the foundation of the new Drag City album Proofs & Refutations are the four that were released on the 1996 Perfect Records Double 78 RPM. The two-part "Morning" and the two-part "Evening, Not Night" recalls Fahey's early Skip James influences. Thanks to a generous YouTube uploader, we have rips of the 78's. I've made a playlist for convenience:
Here is the track listing for Proofs & Refutations:
All the Rains 5:43
F for Fake 6:58
Morning (Pt. 1) 4:13
Morning (Pt. 2) 4:30
For LMC 2 4:00
Evening, Not Night (Pt. 1) 5:19
Evening, Not Night (Pt. 2) 4:38
Untitled (w/o rain) 7:04
It's unclear where the other tracks in the collection come from. Drag City says that the sessions are from 1995 and 1996, which suggests at least a couple of recording sessions were involved, and add that all of the tracks are considered a "session." They mention the double 78's, but also say that portions of this material appeared on 7″ vinyl too, though I can't find a release with these titles.
While I was trying to find reference to the other songs on the album, I found that bleep.com had "All The Rains" for purchase and that you could listen to. Interestingly, the player will let you skip past the sample clip if you move the slider. CLICK HERE to listen/purchase "All The Rains." This track doesn't have any guitar in it, only Fahey's chanting vocals with echo effect. It's kind of a comedy piece, I think, in a sort of Spike Jones way. The chant and answer sort of get into an argument about whether the rains came down, at one point declaring "you can't fool me!"
These recordings represent a kind of "lost years" for Fahey. They're after his stint on Varrick and are before City of Refuge and Womblife and the launch of Revenant Records.
It's kind of surprising to get a new album for John Fahey in 2023, honestly. For one thing, I figured that everything that was worth releasing had been released. The pinnacle of that effort is the early Fahey box set Your Past Comes Back to Haunt You which seemingly has every possible minute of tape that Joe Bussard recorded of Fahey in the 50's and 60's pre-Takoma. If nothing else, it shows that there is interest in compiling releases like this from labels like Drag City (who also has as part of their publishing division two books from Fahey). Here's hoping we get some more archival (or archeological?) releases for Fahey!
Proofs & Refutations comes out on MP3/FLAC and on vinyl LP on September 8, 2023. You can get it from Bandcamp or from Drag City's website (and probably other retailers). It's available for pre-order now.