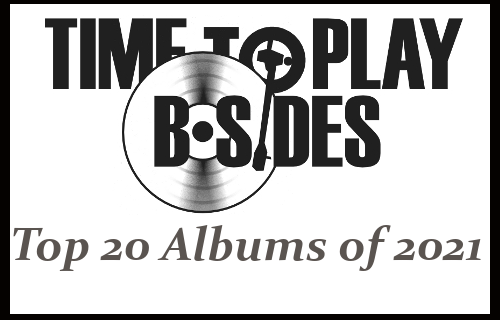 2021 was a year that was framed pretty much as "the year after 2020." Every topic of discussion in 2021 seemed to be saddled with the context of the previous year. As I'm writing this, the topics still surround COVID, and lately the latest variant of that, plus vaccinations, and boosters.
All aspects of the music industry resumed with fits and starts. Concerts kind of resumed and kind of didn't. Artists needed to evaluate for themselves what kind of risk they were willing to put their fans in and themselves. At this writing I have not been to a concert since March of 2020. I had tickets for three shows this year that honestly I wasn't comfortable attending so I skipped them. This summer was looking better for outdoor shows, and maybe in 2022 I'll look closer at those kinds of events.
The vinyl record situation was worse than 2020. All of the manufacturing issues we saw in 2020 were still in effect and delays were commonplace just in getting the records pressed. This was compounded by shipping issues– records manufactured overseas were held up on shipping containers– my vinyl copy of the brilliant Promises by Floating Points, Pharoah Sanders & The London Symphony Orchestra was ordered in March and didn't ship until September! This was certainly out of Luaka Bop's control, but they did a really great job of keeping folks in the loop about where things were with the shipping. It was not a big deal for me since I had the digital stream and download for it.
Record Store Day resumed in 2021 as a two-date "Drops" one on June 21st and one on July 17th. This accomplished a couple of things. First, it would theoretically reduce the attendance (and lines) by splitting up the releases, and secondly it would help with the delays from manufacturing as well. The upshot of that was that the titles I wanted were moved to the 2nd Drop so I only needed to go to the 2nd one. That happened to be the Grand Opening of the new Davenport location of Ragged Records, too, so that was really great!
With all of that, let's get to the list! In no particular order, these are my favorite releases from 2021! It's interesting to me that all of these releases were available on Bandcamp, which is where I did the majority of my purchases in 2021. The first six in this list are all Iowa, or Iowa-adjacent acts.
Joel Sires – Dog Years – The debut solo EP from Joel Sires, frontman for Cedar Falls band TWINS came out in April. I reviewed it for Little Village in November of 2020, but delays with manufacturing the 10″ vinyl EP held the release until April. This release on the new Seeder Records label started out as a release based on the amazing solo shows Joel does in the area, but in an interview with KUNI recently, he said that he really wanted to have a full band on these songs, so he quickly assembled a band to back him producing a release that doesn't stray far from the last TWINS album's sound, leaning towards folk rock. A fantastic release from one of Iowa's best new songwriters.
David Huckfelt — Room Enough, Time Enough – David Huckfelt released his second solo album in 2021. Since Huckfelt's other gig was over 10 years in The Pines, it's not surprising that his solo work sounds reminiscent of those brilliant albums. With Room Enough, Time Enough he continues his own musical path surrounding himself with brilliant sidefolks including luminaries Howe Gelb and Billy Sedlmayr as well as notable . The album has an overarching concept regarding land rights and the plight of native Americans. As a solo artist Huckfelt has expanded beyond the folk atmospherics of The Pines to a bold sound of his own. My review for Little Village Magazine.
Alex Ramsey – Bonsai – Speaking of The Pines, keyboard player and brother of Benson Ramsey, Alex released his debut solo record in 2021– a release that was a long time coming. He recorded it before COVID, but the mastering and mixing all happened during it. All of the instruments were played by Alex at home, but certainly doesn't sound like it. The album, as you might expect leans towards his keyboards and vocals, which makes it stand out from the catalog of The Pines. Delightfully complex record. You can read my review and Q&A with Alex in Little Village here.
Hex Girls – Pop Fluff – Cedar Falls band Hex Girls returned with their second EP titled Pop Fluff, but the title was more tongue-in-cheek than an accurate description of what was contained inside. The band gained some polish by filling the group out with a dedicated keyboard player moving from their rough-and-tumble post-punk sound to something I think is more akin to the no wave sound of early Talking Heads and Television. The band's dedication to offbeat humor continues to make them one of the most interesting bands to come out of eastern Iowa. You can read my review from Little Village here.
Anthony Worden and the Illiterati – How Could We Lose When We're So Sincere? – Iowa City band Anthony Worden and the Illiterati's 2021 album How Could We Lose When We're So Sincere? finds the band returning to the winning pop rock formula they used on their 2020 album Voilá– beautiful melodies and harmonies, polished production. Again, the secret sauce is letting Penny Peach take lead in spots. WOW. Killer formula. The constructs of the album are clearly influenced by a time when AM radio would bring the hit singles– a time sorely lost, I'm afraid. If you're a fan of Elvis Costello, Todd Rundgren or Big Star, I think there is enough here to satisfy. Plus this album is available on super limited edition vinyl– well worth occupying your turntable.
Penny Peach – brain gamez Speaking of Ms. Peach, she put out her debut EP in 2021. I described the record on Facebook as being, "a shoegazer cupcake with sludgy frosting." Thick distorted guitars provide a bed for Elly Hofmaier's powerful vocal acrobatics: swooping to dizzying heights, yodeling and dipping to growling metal. It's at once pop and dark.
loess – totems – Somewhat unexpectedly, loess released their first album since 2017's brilliant Pocosin. Earlier in the year there were some photos in Ian Pullman's Facebook feed that hinted that there was some activity in the duo's camp and then the album kind of dropped with little notice at the end of September. totems continues the beautifully glitchy soundscape loess has been known for now 20 years on (wow). Some say that the sound of loess is derivative of the early works of Boards of Canada, but since BoC didn't stay in that mode long, and I welcome more of the pretty clockwork sounds.
Hiss Golden Messenger – Quietly Blowing It / O Come All Ye Faithful – In 2021 we got not one, but TWO new releases from Hiss Golden Messenger! In June, the follow-up to the fantastic Terms of Surrender came out. Titled Quietly Blowing It, it feels like a sequel to me as it shares the intimate emotion of the previous album. The band backing him is largely made up of his touring group and the locked-in grooves benefit from the road wear.
In October we were gifted another release in the form of a holiday album. O Come All Ye Faithful is a mix of holiday standards and original tunes. Not content with straight readings of perennial favorites, the HGM spin on songs like the title track and "Silent Night" end up being dramatically new readings: new keys, changed rhythm and melody. If you're not listening closely, these seem like HGM originals. Not a bad thing, and ends up being a really fresh addition to my expanding Christmas collection on vinyl. I ordered the "Peak Vinyl" variant which came with a 2nd LP called The Sounding Joy: Hiss Golden Messenger Meets Revelators on South Robinson Street which is a dub/remix record of some of the tracks from the album. Incidentally, The Revelators is a new side-project/collaboration with Cameron Ralston that is supposed to have a release in 2022 and will be dub and free jazz influenced.
Elsa Hewitt – LUPA– Kind of an unexpected release from Tompkins Square in that it doesn't really fit the typical American Primitive guitar or archival releases they're known for. For me this release really establishes Tomkins Square as a curator of music– no matter what genre. Hewitt hails from the UK and her latest release is a jaw droppingly gorgeous blend of her vocals and electronic production. It seems like this release was overlooked by many this year.
Floating Points, Pharoah Sanders & The London Symphony Orchestra – Promises – This release is seemingly on everyone's Top list for 2021 and for good reason. It's a compelling blend of Floating Points electronics, sax (and vocals) from jazz legend Pharoah Sanders and lush orchestral additions by the London Symphony Orchestra. The main composition in multiple parts is titled "Promises" and is composed and scored by Sam Shepherd aka Floating Points. Sanders and Shepherd worked together in the studio, with the LSO part added later. Since the album is really one large work in movements, there are recurring themes throughout as you'd expect but the payoff for me is listening to the work as a whole. I'm always looking for new directions for jazz beyond the standards, and this album fits that bill nicely.
Eleventh Dream Day – Since Grazed – One of the more surprising things about the latest from Chicago band Eleventh Dream Day is the how this band continues to be GREAT after 40 years. The formula of the band is pretty straightforward– strong garage rock with heavy Neil Young leanings makes for a sound that is both classic and uniquely fresh in the current landscape of rock bands. This album started as a solo Rick Rizzo album but morphed into an EDD album. Sprawling over 2 LP's it moves around stylistically. More so than their last couple of albums which were well-heeled rockers. After I picked this album up, I decided to revisit their earlier releases again.
Marisa Anderson/William Tyler – Lost Futures – Tyler and Anderson met while doing a tribute show to the late David Berman and became quick friends. The obviously have simpatico ideas about guitar music and Lost Futures cements that idea. I was less familiar with Anderson's albums than William Tyler's but listening to Lost Futures, it isn't possible for me to tell who is doing what– the two of them together creating a work bigger than the both of them. A wonderful addition to my growing collection of Tyler's work.
I Think Like Midnight – Interim Contingent – I Think Like Midnight started out as sort of a tribute to the defunct American instrumental rock band Pell Mell, and certainly their first album Warm Seclusion Structure achieved that goal in its intuitive understanding of the source music. It wasn't a cover album, but it sounded like what Pell Mell might have sounded like had they stayed together. Fast forward seven years and I Think Like Midnight has moved away from strictly being a guitar effort but holds tight to instrumentals. Every release from ITLM is worth checking out– cinematic and unique with enough obscure tips of the hat in the mix to keep music geeks searching for references. ITLM had planned to hit the studio to work on their next album, but these plans were derailed by COVID and Interim Contingent was birthed instead. This album leans heavily towards loops of electronics as the basis and as a result makes a really compelling argument for the band to work more in this arena. "Kit Lambert Begins To Dream" sounds like an outtake from the Wang Chung "To Live and Die in L.A." soundtrack. "Dot Outlier" sounds like Michael Brook– breathtaking and reverbby. This is a record any instrumental rock band should check out. Brilliant release.
Neal Francis – In Plain Sight – In Plain Sight is the second album from Chicago songwriter Neal Francis and the first on his new label home ATO Records. His first album Changes was on Colemine Records' subsidiary Karma Chief, which is how I first heard him since I follow all of the releases on that label. Francis's particular blend of Dr. John and Leon Russel funky keyboard-driven soul is earthy and real and it fuels his trajectory as one of the bigger independent artists.
Jason Isbell and the 400 Unit – Georgia Blue – Fulfilling a promise that Isbell made on election night in 2020 where if Georgia "turned blue" he recorded an album of covers of Georgia music. We have two tracks from R.E.M. ("Nightswimming" and "Driver 8"), James Brown, Indigo Girls, Gladys Night, The Allman Brothers and more. Anyone who's been to an Isbell concert is familiar with the covers he'll usually bring out– he's a fan of music. So, this album is a really great addition to the Isbell catalog. Plus, he does "Driver 8" which is my very favorite R.E.M. song. I picked up the blue vinyl version for RSD which is gorgeous.
Surf Zombies – In Color – More tasty surf-influenced guitar rock from Iowa's premier guitar instrumental band. Can't get enough from Surf Zombies' modern take on surf rock.
Nathan Salsburg – תהלים = Psalms – Nathan Salsburg is usually known for his albums of American Primative-influenced guitar work. For Psalms his inspiration was the joy he experienced as a child singing Hebrew at camp and a desire to bring that joy back to his own life. For this album he created wholly new arrangements of these to fit how he wanted to sing them. The resulting album is a beautiful testament to his spirituality and desire to share it. I love "Psalm 147."
El Michels Affair meets Liam Bailey – Ekundayo Inversions – In 2019 Leon Michels produced UK artist Liam Bailey's album Ekundayo for Michel's label Big Crown. Michels is "El" as in El Michels Affair who is maybe best known for their Wu-Tang Clan instrumental covers albums. I was familiar with El Michels Affair, but not Liam Bailey or the Ekundayo album. I first heard about Ekundayo Inversions from an email from Colemine Records and the sample track was enough for me to decide to order it. Ekundayo Inversions is remixes and dubs of some of the songs from Ekundayo plus some interstitial skits. Plus, it has what is probably the last appearance of Lee "Scratch" Perry (R.I.P).
Jeff Parker – Forfolks – Just barely making 2021 is the latest from jazz guitarist Jeff Parker (it came out 12/10/21 digitally). I was pretty surprised about this release considering all of his work in 2020, including the BRILLIANT Suite For Max Brown. Forfolks is a strictly solo Jeff Parker record. Stripped down guitar and loops, but really big sounding ironically. Beautiful record.
Charlie Parr – Last of the Better Days Ahead – Duluth musician Charlie Parr's sixteenth album is on the legendary Folkways label after a brief turn on Red House Records. He's not braving any new territory here, but we get more of the amazing Piedmont Blues style guitar work and Parr's warm and human songwriting. Double LP!