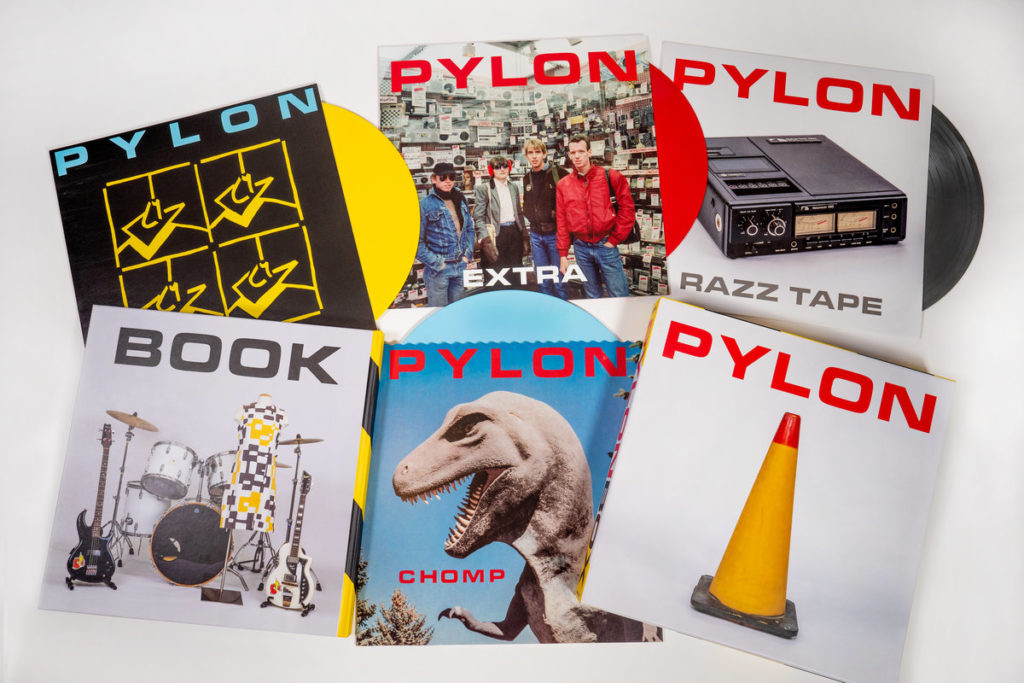 On August 26th, New West Records announced that they will be reissuing the first two Pylon albums as well as an extensive box set with the two albums, an LP of extras and an LP called "Razz Tape" of a recording that pre-dates the albums along with a gorgeous 200-page hardbound book.
For the uninitiated, Pylon was a band from Athens, GA that started in the late 70's by some art school students at the University of Georgia. For context in the larger history of Athens bands, they're post-B-52's and contemporaries of R.E.M. Their distinctively angular and beat-heavy sound would be described as post-punk and follows a path blazed by New York City bands like Talking Heads and Television.
The first phase of their career started in 1978 and after two albums on the now-defunct label DB Recs Gyrate and Chomp and enjoying some well-deserved exposure supporting bands like R.E.M. U2 and Mission of Burma on tours, they split up in late 1983.
Pylon would have just been a footnote in the history of the Athens music scene if it hadn't been for the 1987 documentary "Athens, GA Inside/Out" which turned leagues of R.E.M. fans like myself on to the band. R.E.M. also recorded a cover of the Pylon song "Crazy" and released it as a b-side to "Driver 8" and it was the first track on Dead Letter Office, a collection of outtakes and b-sides. Peter Buck said in the liner notes, "I remember hearing their version on the radio the day that Chronic Town came out and being suddenly depressed by how much better it was than our record."
The jittery energy of the live version of "Stop It!" with the militant growled vocals by Vanessa Hey was like nothing I'd ever heard before and even though it was the R.E.M. songs that drew me to the film and soundtrack, it was the Pylon track that ended up being my favorite part of that soundtrack. (Honestly, I always kind of felt like R.E.M. sort of phoned in their contribution with that Everly Brothers cover…)
Pylon reunited and in 1989 released a compilation called Hits which had notable tracks from the two albums as well as some tracks from singles. In 1990 they released another studio album Chain.on Sky Records. They went on tour with R.E.M. and then split up again in 1991. The band reunited for shows sporadically over the years that followed until they finally broke up for good after guitarist Randy Bewley passed away in 2009. Vanessa Briscoe Hay fronts a Pylon tribute band "Pylon Reenactment Society" along with members of other area bands and have even recorded a couple new songs.
In 2007 DFA Records, owned by Tim Goldsworthy of UNKLE and James Murphy of LCD Soundsystem reissued Chomp and Gyrate on CD with bonus tracks . Titled Gyrate Plus and Chomp More, they went immediately out-of-print and the CD's are now super-expensive in the secondary market. So, clearly there is demand for this catalog to be reissued again.
For Black Friday Record Store Day in 2019, New West Records sort of tipped their hand in the matter by reissuing Pylon's debut single "Cool"/"Dub." I reached out to the label about whether they were going to reissue the albums and at the time they confirmed it, but weren't going to announce anything for a few months. Then COVID happened which messed up record manufacturing, so I'm guessing that's why the announcement happened much later for the albums and the box set.
The box set comes in two versions, black vinyl and a limited-to-500 colored vinyl version. Four 140g LP's include new remasters of Gyrate and Chomp, an LP of Extras which include singles, b-sides and other rarities, and Razz Tape, which is a recording of the band which pre-dates their 1979 debut single recorded in their practice space by Chris Razz. 47 tracks total with 18 of them unreleased.
Since they aren't also reissuing the 1989 compilation Hits which also included some non-album tracks and there were extra tracks on the DFA releases, how do the tracks compare and what are we missing with the box set?
We've seen "Cool," "Dub," "Crazy" single mix and the "Danger!!" remix from the !! import EP on Hits and the DFA reissues as I indicate below. We have two completely new songs "Untitled" and "3×3" plus a couple of new mixes of "Danger III" and "Spiders." Not to mention all of the new versions and tracks on the Chris Razz tape.
Notably missing are some tracks included on the DFA reissues. "Crazy (Original Version)" on the Chomp More reissue seems to also be referred to as the single version. "Yo-Yo (Pylon Mix)" or "Male version" (it has slowed-down versions of the vocals) and "Gyrate (Pylon Mix) are two versions that were recorded during the tracks that were recorded at Mitch Easter's Drive-In, but the versions that were used on the album came from the sessions at Channel One. We're also missing the 6-minute version of "Beep" that is called "Four Minutes."
Interestingly, "Functionality" was listed on the Gyrate Plus reissue as a "Studio Demo." But the liner notes say it was recorded in 1979 in their practice space in Athens, GA, so that is from the Razz tape.
Here are all the tracks for the boxset and the breakdown of where the Extras have been released before:
Gyrate LP
Volume 04:13
Feast On My Heart 03:35
Precaution 02:48
Weather Radio 02:16
The Human Body 03:11
Read A Book 02:02
Driving School 03:53
Gravity 02:37
Danger 05:38
Working Is No Problem 03:29
Stop It 03:06
Chomp LP
K 04:32
Yo-Yo 04:14
Beep 03:23
Italian Movie Theme 02:01
Crazy 03:13
M-Train 03:48
Buzz 02:58
No Clocks 02:57
Reptiles 03:56
Spider 03:58
Gyrate 04:06
Altitude 03:19
Extras LP
Untitled – New track
Cool – from Cool/Dub debut single, also Gyrate Plus and Hits
Dub – from Cool/Dub debut single, also Gyrate Plus and Hits
Recent Title – from Hits
Danger!! (Danger Remix) – from !! EP also Gyrate Plus
Crazy (Single Mix) – from "Crazy" single and Hits and probably Chomp More.
Reptiles (Channel One Version) – New version
No Clocks (Channel One Version) – New version
Spider (Alternative Mix) – New version
3 x 3 (Live) 02:19 – New track
Danger III (Live) – New track
Razz Tape LP – all new tracks except "Functionality"
The Human Body 03:08
Modern Day Fashion Woman (Version 1)
Read A Book (Instrumental)
Working Is No Problem
Precaution
Cool
Functionality – from Gyrate Plus
Efficiency
Information
Dub
Modern Day Fashion Woman (Version 2)
Danger
Feast On My Heart (Working Version)
Pre-order the box set from New West Records HERE or at their Bandcamp site (where you can stream some of the tracks).