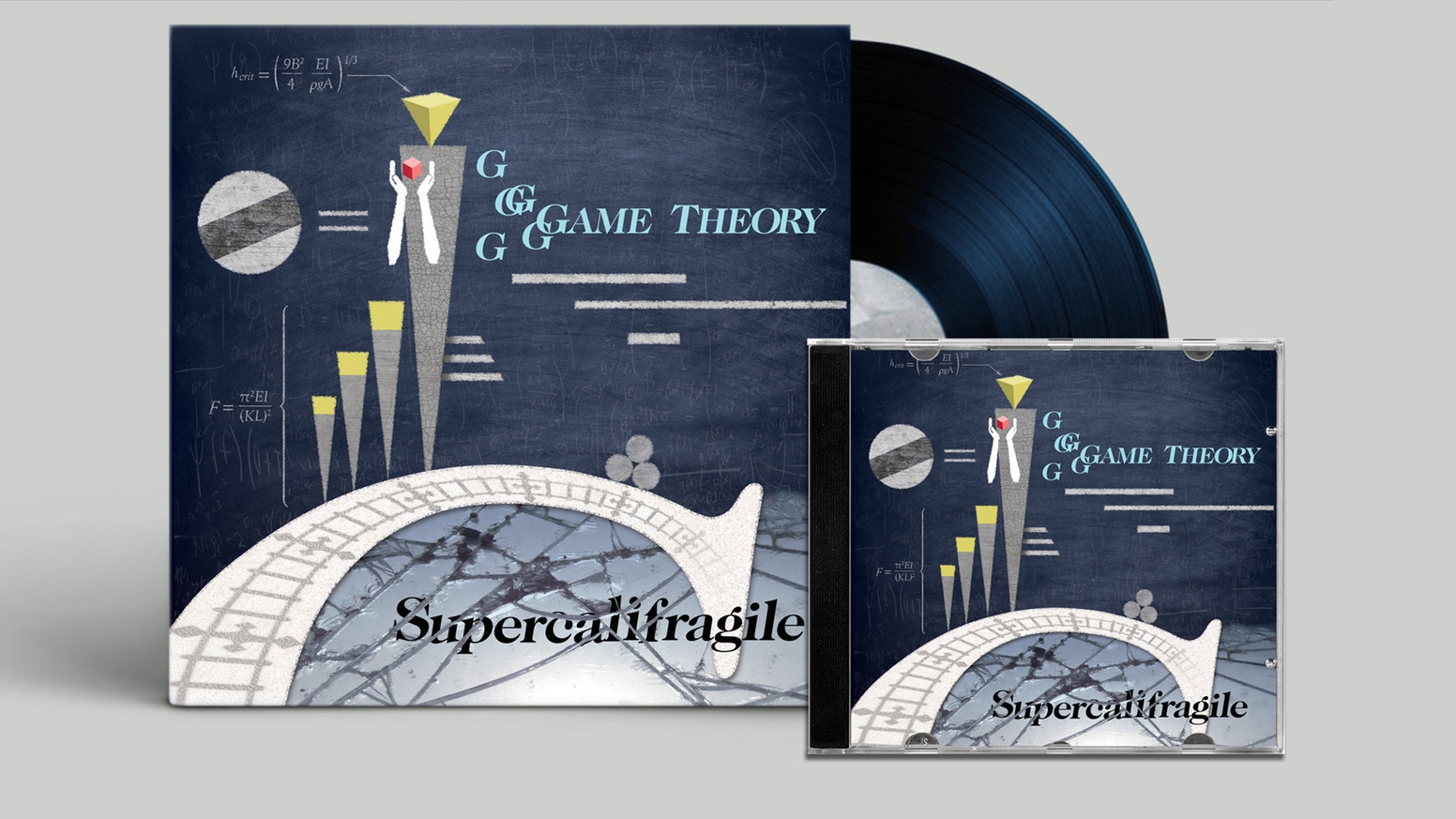 At the time of his death in 2013, Scott Miller of seminal power pop bands Game Theory and The Loud Family was working on a new record. He was in varying degrees of completed on a bunch of songs– some songs had vocals and guitar, some of them had detailed notes. His wife Kristine reached out to Ken Stringfellow of The Posies to help coordinate finishing this record titled Supercalifragile based on conversations she had with Miller about the album (which, incidentally always included collaborations of singers and co-writers). In May of  2016, a Kickstarter was established to help fund the completion of the record. By July 4th it was 161% funded! At the time of the launch of the Kickstarter, they had already been recording for over a year, so the fundraising was primarily to wrap up some of the sessions, get mastering done and the rest of the process to get physical and digital product completed and distributed.
The list of contributors to Supercalifragile include former members of Game Theory (Jozef Becker, Nan Becker, Dave Gill, Shelley LaFreniere, Gil Ray, Donnette Thayer, and Suzi Ziegler) and notable guests including (of course) Ken Stringfellow (The Posies, R.E.M., Big Star), Jon Auer (The Posies, Big Star), Aimee Mann, Ted Leo, Peter Buck (R.E.M.), Will Sheff (Okkervil River), Doug Gillard (Guided By Voices, Nada Surf), Mitch Easter, Alison Faith Levy (The Loud Family), Anton Barbeau, Jonathan Segel (Camper Van Beethoven), Allen Clapp (The Orange Peels), John Moremen, Stephane Schuck, Chris Xefos, Dan Vallor (GT Reissue producer for Omnivore),  The inclusion of the former Game Theory members helps add continuity of this release to the Game Theory catalog, which has enjoyed renewed focus in the Omnivore Recordings reissues.
In a post to the Facebook group dedicated to Scott Miller, his wife has posted a lot of wonderful insight into how she and Stringfellow curated the release.
"This album is as close to what Scott would have created as is possible. I knew the artists he wanted to work with (he had even contacted a couple himself before he died as the artists confirmed this with me), and in a few cases which instruments he wanted them to play or which songs he wanted them to sing. Yes, he wanted guest vocalists and cowriters all over the record. Scott and I talked about his ideas and as he had worked with (and socialized and played tennis with) Ken Stringfellow, he proposed Ken help him organize and help produce this project. Scott spoke of having various artists bring their "arcs of influence" to the record. He said he would ultimately have veto power if anything got too out of hand (😉), but he was looking forward to having lots of great artists he admired and/or worked with to participate. (Scott even considered making track breaks mid-song when a new artist was introduced to the album. This was an idea we went with in the traditional sense by bringing on artists for entire songs. Not sure Scott would have brought this unusual idea to fruition or not.) So, in this case, with this record, completed without Scott's final "veto," no, we can't possibly make the exact record Scott would have made. (And in fact, even Scott wouldn't know what it would become until after working with everyone and it was done!) But with so much overwhelming respect for Scott's work and in honor of his life, we all kept as much of it "Scott" as we could. All his ideas, all his lyrics, all his riffs, all his ideas for bridges and choruses…everything preserved and used as much as musically possible. In some ways, it might in fact be more "Scott" than the record Scott would have made. ❤️ And that's why I think we all love it so much."
In August of 2017 the finished product was shipped out to everyone who contributed to the Kickstarter and early reviews and posts to the Facebook group have been glowing. Now that the Kickstarters have been shipped out the team is ready to make the release generally available. In an email sent to people who signed up from the website, the album will be available on Bandcamp (the link isn't available yet) this week: August 24th in download, CD and vinyl.
Tidal featured the first song from the album, a duet with Aimee Mann called "No Love" and it is striking how Mann's vocals compliment Miller's.
Here is a video of a rough take of "I Still Dream of Getting Back to Paris" shot at Abbey Road Studios in London during the recording sessions with Anton Barbeau on vocals. Miller (credited as The Loud Family) and Barbeau put out a kind of split release in 2006 titled What If It Works?
As a long-time fan of Scott Miller's work, I'm really looking forward to getting this release. Like many, Miller's sudden and unexpected loss was painful; too early in a career arc that certainly would have generated more significant releases. Supercalifragile brings some closure with this release in that regard and should provide influence for future artists the way the Big Star catalog has.
Order CD, LP or digital at Bandcamp: