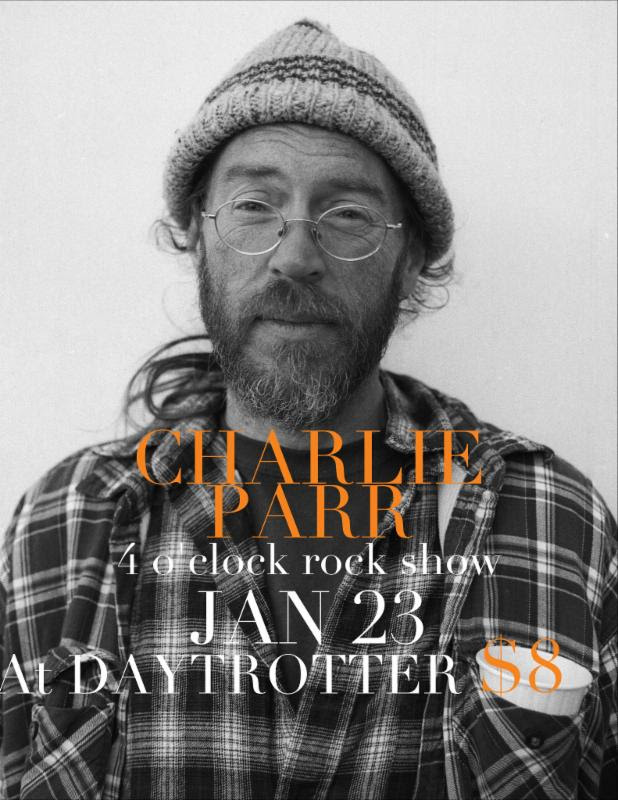 As part of the week of Grand Opening celebrations for the Brand Spankin' New Daytrotter HQ in Davenport, Duluth, MN country blues aficionado Charlie Parr is playing a "Four O'Clock Rock" matinee show! Parr's new album Stumpjumper made my list of "Top 20 of 2015." Produced by another of my Top 20 recipients Phil Cook, it gives Parr's signature boogie a much-deserved fleshing out.
The new digs for Daytrotter are a big upgrade over the old location in Rock Island– with its climate control issues and its control and live room dating back to its original use as a TV studio– but that was part of its charm, certainly. The expanded facility now has a live venue in it and I'm sure they brought some of the mojo from the old location with them. I bet that minifridge stocked with PBR is somewhere in the new space.
Charlie will be hitting the stage at 4PM– doors are at 3PM– on Saturday, January 23rd. Tickets are a reasonable $8, and while you're there you can try out their selection of Daytrotter Pale Ale beer brewed by Exile Brewery. The new location is at Renwick Building at 324 Brady St. next to the Davenport Public Library.
Get your presale tickets HERE.
Listen to Charlie Parr's latest Daytrotter.com session, which includes songs from Stumpjumping.
Here is Charlie Parr performing my favorite song "Over The Red Cedar" from Stumpjumping.