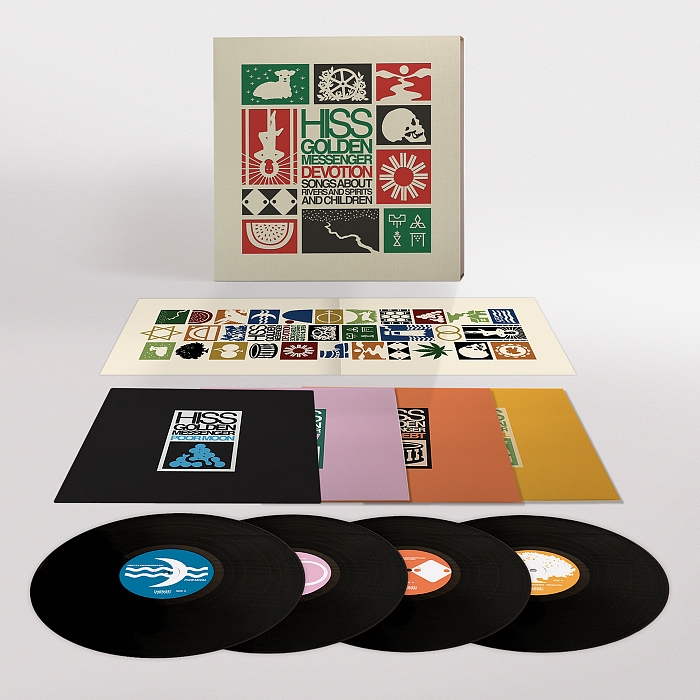 News of a new Hiss Golden Messenger release was nestled discretely in a new interview with frontman M.C. Taylor in The Atlantic today. The article mentioned that he's also working on a new album, keeping up with the nearly-yearly release schedule he's been maintaining. The article is a nice snapshot of where he is these days, balancing the demands of home life and working musician. The article provides a quick history of Taylor's career, which is probably new information for many who are only familiar with his recent releases.
This blog started around the time of his previous band The Court & Spark's last release Hearts in 2006. In fact, I think my review of it might have been the first or second review I did. Just over a year later the band called it quits and Taylor and Scott Hirsch started working on the nascent version of Hiss Golden Messenger. At the time I was exchanging messages on MySpace with Taylor and he sent me rough mixes for what would be the first studio release Country Hai East Cotton. The article in the Atlantic describes it as "[not] bad, just listless." When I was still in regular communication with Taylor, I used to suggest that he resurrect those songs live, but it was clear he was drawing a line in the sand of his catalog. His 2010 release Bad Debt represented a reboot of his songwriting. He's quoted in the article: "I had to figure out how to sing a song that I meant, that I could carry around every night for months or years. I didn't have that when I was in my late teens. I sure as shit didn't have it in my 20s," he says. "When I made Bad Debt it felt like I wrote the book of my life. I had never had that feeling creating music before."
So, this is where the new boxset from Merge Records Devotion: Songs About Rivers and Spirits and Children starts. Due out 11/2, it is a gorgeously appointed package with the three main Hiss Golden Messenger releases that were released on the Paradise of Bachelors label (Bad Debt (2010), Poor Moon (2011), and Haw (2013)) plus a collection of rarities called Virgo Fool. The three albums have been out of print for a while and are now remastered for this box set and will be offered also as regular releases in the Merge catalog with new similarly-themed cover art. Here is what Merge says about the box:
"Individually numbered in a one-time pressing of 2,200 of each format, the four-album set is housed in a beautiful cloth-wrapped slipcase with three-color foil detailing and includes an exclusive foldout poster. Each CD is packaged with liner notes and complete lyrics inside a mini-gatefold wallet with a debossed cover. Each LP, pressed on black vinyl, includes a two-sided insert with liner notes and full lyrics plus a download card, all inside a heavyweight jacket with a debossed cover."
For the ardent HGM collectors among us, the chance to get the rarities on one LP is worth the price of admission– it is only available in physical format in the box sets. Here is the track list for Virgo Fool along with where the tracks came from:
1. Rock Holy – From the Merge Records 25th Anniversary 7-inch box set Or Thousands of Prizes
2. Black Country Woman – Led Zeppelin cover from the Mojo Magazine compilation Mojo Presents Physical Graffiti Redrawn
3. Joyce & Joel – previously unreleased, but "Joyce & Joel Martin" are credited as being the house where "Brother Do You Know the Road" was recorded.
4. Lion/Lamb – Not sure if this will be the same version, but this song was included on the Root Work, Live on WFMU LP.
5. Father Sky – From the 2012 compilation of outtakes called Lord, I Love The Rain.
6. Issa – Haw outtake included in the digital only Glad EP. We're missing the other original song "Roll River Roll" from that collection.
7. Back to the River Again – previously unreleased
8. Tell Everyone – Ronnie Lane cover from Lord, I Love The Rain.
9. Karen's Blues – from Lord, I Love The Rain
10. The Revenant – Michael Hurley cover from Lord, I Love The Rain
11. Hard Promises – previously unreleased
Not one to give it all away, we're missing a few rarities that maybe we'll see collected in the future:
"Shiloh Town" : a Tim Hardin cover that was included on a split 7″ with Moviola. RSD 2012 limited to 200.
"Fennario" : a Michael Chapman cover which was included in the tribute album Oh Michael, Look What You've Done: Friends Play Michael Chapman. Was also included in the Glad digital EP.
"Brown Eyed Women" from the Day of the Dead Grateful Dead tribute.
"Lion of Judah" : a cover of Clive's Original Band song. Included on the Glad digital EP.
"The Beast and Dragon, Adored" : Spoon cover from the digital only Or Thousands of Prizes covers collection.
"My Cousin's King" – Elephant Micah cover from the shared split 7″
"I Wish I Had Not Said That" (JJ Cale cover), "Still Life Blues" (Elephant Micah cover), "Smoke Rings" (David Wiffen cover) from the Three-Lobed Recordings split LP with Michael Chapman as part of their Parallelogram series of collaborative releases.
"Jesus Dub" : Dub version of "Jesus Shot Me In The Head" that was the b-side to the RSD 7″
"Passing Clouds"/"Passing Clouds Dub" – Hiss Golden Messenger meets Spacebomb benefit 7″
There might be other songs I'm forgetting. I like the other songs on the Lord, I Love The Rain, so those could show up on a future collection.