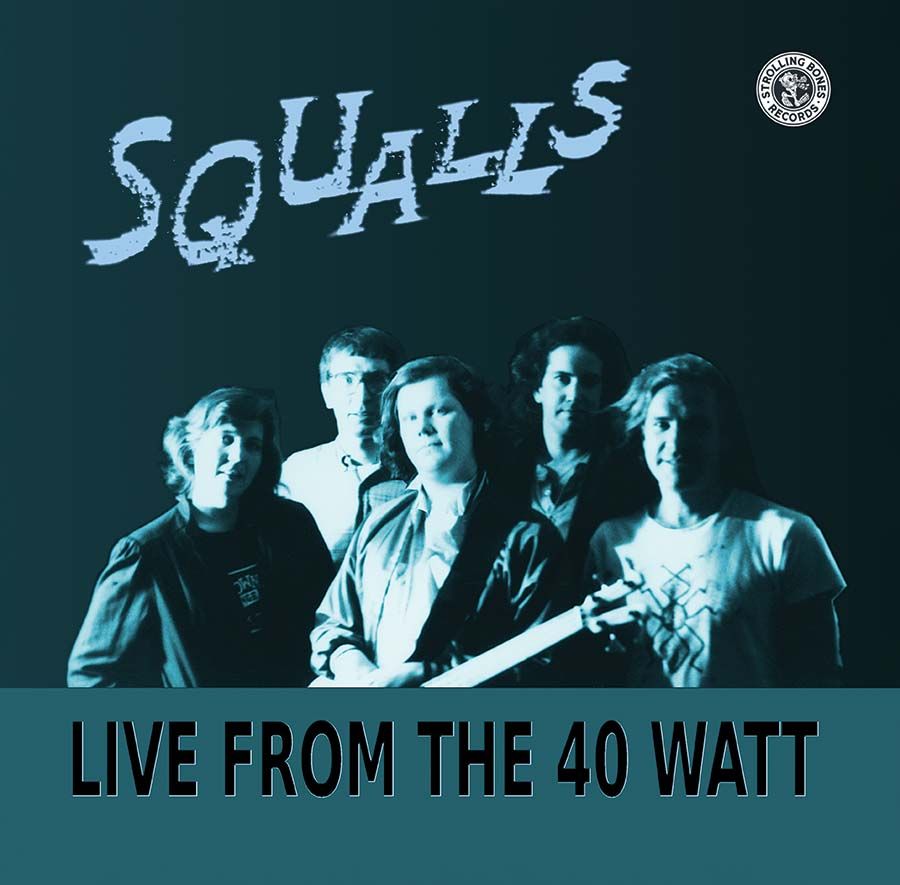 The national awareness of Athens, Georgia as a vibrant art and music scene in the 80's was largely accomplished due to a plucky, quirky and loose 1986 documentary film by director Tony Gayton titled "Athens, GA: Inside/Out" and its associated soundtrack on I.R.S. Records, which at the time was R.E.M.'s label.
In many ways, the film happened at the right time: R.E.M.'s Document, their last and biggest album on I.R.S. Records would come out in Fall of 1987 and blow up with "The One I Love." Fans like me who were hungry for everything related to R.E.M. ran out to pick up the VHS tape of the film and the soundtrack to hear and see the two R.E.M. tracks performed in the Seney-Stovall Chapel: acoustic versions of "Swan Swan H" from Lifes Rich Pageant and a cover of an Everly Brothers classic re-titled "(All I Have To Do Is) Dream."
A side note: the legend of R.E.M. includes the fact that they lived in an abandoned church and their first concert was in this same church. Until today, I assumed that the performance in the film was in that church, but they really lived in St. Mary's Episcopal Church, which was demolished in 1990 by developers. The steeple still stands today as a landmark to R.E.M.
As someone growing up in a very small midwestern town in the 1980's, I had very limited access to underground non-Top 40 music. I didn't even have MTV! So, the soundtrack and filmed performances in "Athens, Ga : Inside/Out" were eye-opening experiences! In many ways this soundtrack defined the music I would follow for many years. As a compilation, the songs and bands are all over the map: soon-to-be radio darlings R.E.M., twitchy frenetic post punk of Pylon (who recently got their much-deserved recognition in a boxset I covered here.), the instrumental workings of Love Tractor (the use of "Fun To Be Happy" as the opening music was brilliant and set the tone for the film), moody guitar rock of "Dreams So Real" (whose major label debut Rough Night in Jericho disappointingly made them sound like The BoDeans and not like the moody and beautiful "Golden"), The B-52's were included in the film, but not the soundtrack, the hardcore punk of Bar-B-Q Killers, the hyper retro two-piece rockabilly of The Flat Duo Jets (who are obvious influences on The White Stripes). The thoughts of these bands playing bars and stages in Athens was breathtaking, and my friends and I all wanted to make a trip there. (It's still on my bucket list of places to visit)
Out of all of those bands on the soundtrack, the ones that really stood out for me (and are favorites to this day) were Pylon, Love Tractor and Squalls. Squalls had two songs on the soundtrack, their big hit (such as it was) "Na Nanana" and "Elephant Radio." Both of these songs were on their debut self-released EP from 1984, and by 1986, when this film came out, they were regarded as one of the bands who deserved to make it to the national spotlight. The Squalls mix of epic harmonies and melodies combined with smart and sometimes progressive rhythms to me makes them a shoo in for a band that could follow in the footsteps of bands like Talking Heads and Adrian Belew.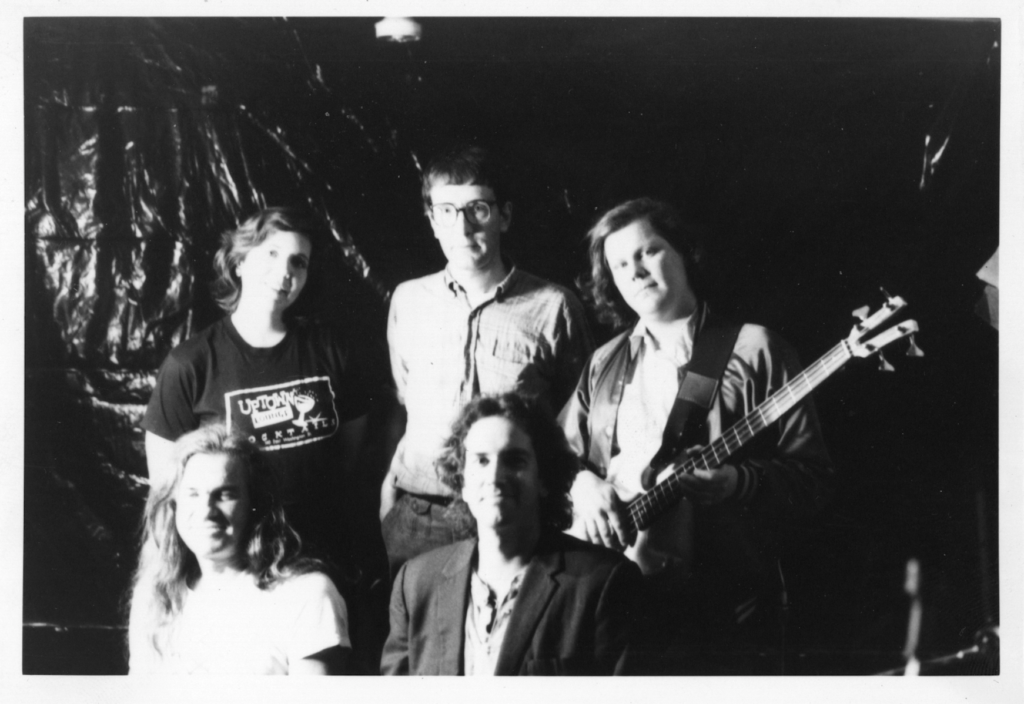 The Squalls were signed to R.E.M. manager Jefferson Holt's label Dog Gone Records, and released two albums there before the band hung it up in 1989.
On August 19th, the band is releasing a compilation of live recordings made over five dates made at the legendary Athens, GA bar The 40-Watt Club between 1983 and 1985 (predating the performances in the film). These performances were recorded by 40-Watt soundman T. Patton Biddle. Titled Live from the 40 Watt, the songs span the EP and the two albums and are a great representation of the band's body of work. Here is the tracklist, with my notes of performance date and what album the songs come from. I've also provided links to the tracks that have been released for streaming.
Bride Of Frankenstein (8/2/1985) from No Time and "Crickets" 7″
Catholic Girls (2/11/1983) unreleased
The Prince Of Wails (5/31/84) from Rebel Shoes
Ellie Dee (8/2/1985) unreleased
Relax (5/31/1984) from Squalls EP
Cindy (2/14/1985) from Rebel Shoes
Na Nanana (5/31/1984) from Squalls EP
Pop Roots (5/31/1984) unreleased
Waltzing Mathilda (8/2/1985) from Rebel Shoes
Information (5/31/1984) from Squalls EP
Crickets (8/2/1985) from "Crickets" 7″
Snowman (5/31/1984) unreleased
Dancing Example (8/2/1985) unreleased
Satellite (11/29/1984) unreleased
Tell Me Now (8/2/1985) unreleased
Unrelated Happenings (8/2/1985) unreleased
Kathy (11/29/1984) unreleased
The Sheik (2/14/1985) from No Time
Kalinka (8/2/1985) from Squalls EP
S.P.Q.R. (8/2/1985) from No Time
Strolling Bones (11/29/1984) from Squalls EP
Modern World (11/29/1984) unreleased
What You Get (11/29/1984) unreleased
Elephant Radio (11/29/1984) from Squalls EP
The striking thing about this compilation is how much unreleased music is included! I exchanged messages with Bob Hay, the principle songwriter in Squalls whether this release was indicative of the live sets from this pre-Dog Gone era of the band, or whether he was attempting to get these unreleased songs released formally. He said:
It's kind of both. On "LIVE" I wanted to include every song that was released on vinyl before 1986. (8 songs – the EP and the single.) and also rescue from the sands of time a bunch of songs that were staples of our live shows in those days and a few that we played only a few times but are too good to be forgotten. We were primarily a live dance band and played live for almost three years before we set foot in a studio.

Facebook chat 7/10/22
The idea of a band packing bars playing all original songs seems foreign, if not kind of quaint these days. Bob sent me a scan of the show calendar for The 40-Watt Club from February, 1986: the month that they filmed the performances for Athens, GA: Inside/Out. I commented about the incredible lineup of bands that were playing that month– (not to mention all of the bands who were in the film)– Alex Chilton played a Thursday night show, The Georgia Satellites and the Del Fuegos (who would share a tour with Tom Petty the next year), Giant Sand, and Jason and the Scorchers played a three night stand. Bob replied, "I tell you, it was something during that time."
In addition to capturing a wildly creative time for Squalls, Live from the 40-Watt also is a reminder that Athens was (and still is) a very special place where bands were drawn to be more free creatively and where audiences were excited to hear new music. The recordings show a band wide-eyed and excited to bring their art to the world.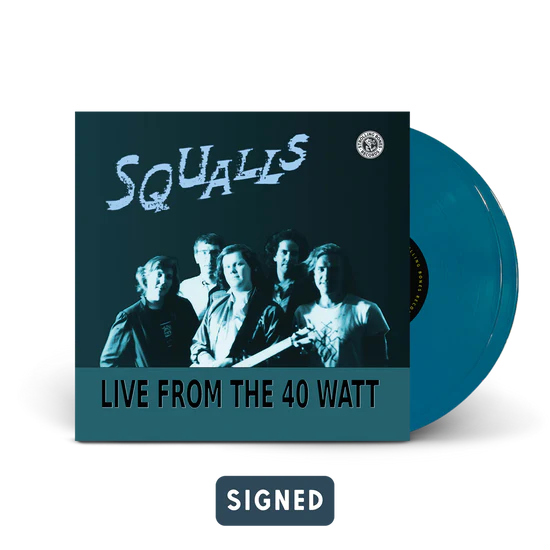 Live From The 40-Watt will be released on August, 19th, 2020 and will be available on beautiful 2 LP blue vinyl, CD or digital. Click here to order from Strolling Bones records site, or you can order it from Bandcamp.