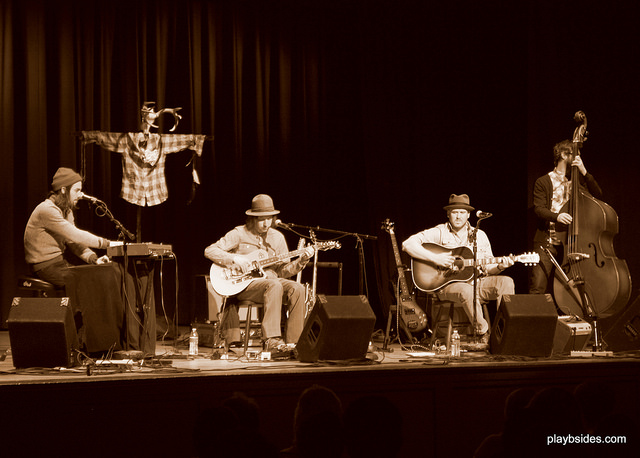 To add to the things we're thankful for this year, The Pines are making a return to CSPS Thanksgiving Weekend! The combination of the soft atmospheric folk of this band and the passionate, attentive crowds and the huge ambience of the room (and frankly, well stocked selection of handcrafted beers and local wines) always makes for a memorable not-to-miss show.
This show is on the heels of the announcement of their new album Above the Prairie, due out February 5th on Red House Records. This is their first new album since the brilliant Dark So Gold in 2012. In the interim, the band released a digital single of "The Highwayman" in 2013,  and earlier this year they released an EP of covers titled Pasture: Folk Songs.
Above The Prairie includes help from the extended Ramsey and Brown families with contributions from Greg Brown, Iris DeMent, Pieta Brown and Bo Ramsey, who also co-produced the album with The Pines. The first listen we're getting from the new album is "Aerial Ocean" with Benson Ramsey on lead vocals, it has all of the trademark nuances of The Pines– the chimey clean picking, the washes of synths, but owes a lot to classic Dire Straits. But, they always kind of had that same vibe as mellow Mark Knopfler as well as JJ Cale.
So, grab a quick sandwich of leftover turkey and dressing on your way out the door to CSPS Saturday night to see The Pines. I can't think of a better way to cap off the weekend.
The Pines with opener Ryne Doughty
Sat Nov 28 2015 – 8:00 pm • CSPS Hall
$16 advance | $19 door
Above The Prairie tracklist:
Aerial Ocean
There in Spirit
Lost Nation
Hanging From the Earth
Here
Where Something Wild Still Grows
Sleepy Hollow
Villisca
Come What Is
Time Dreams feat. John Trudell & Quiltman