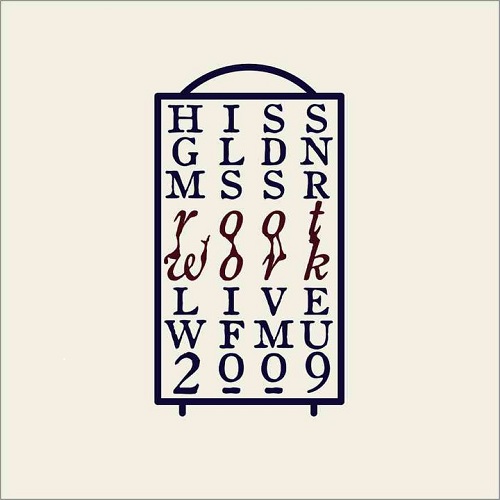 When I heard that the next Hiss Golden Messenger release was going to be made available on vinyl I was pretty excited to hear it. I was a little disappointed that it wasn't going to be new HGM songs but an EP to be titled Root Work based on a live radio session in August recorded by Irene Trudel on WFMU. I'd had the tracks that would make up Country Hai East Cotton since 2007 and the album proper came out last year. I was getting pretty hungry for some new material from MC and company!
In appreciation for the general love that playbsides.com gives Hiss Golden Messenger, MC Taylor sent me the mp3's of Root Work to peruse in April.  "At first, I wasn't sure about commercially releasing this material as it appears on Country Hai," he said in a later e-mail, " but it sounds so good– through no fault of mine, really– that I thought it would make a really nice  limited-edition vinyl release. That particular lineup of the band was special, in that we only played together three times (this  recording was the second time), and it all came together."
The lineup for Root Work is Slim Diamond (MC Taylor) on vocals and guitar, on bass and lapsteel is regular HGM member Scott Hirsch, Yair Evnine on guitar, Terry Lonergan on percussion, Robert Stillman on piano and Fender Rhodes, and Crowmeat Bob on horns.
The resulting six-track recording is less a re-hashing of Country Hai East Cotton than it is a re-imagining of the source. I think this is partially a product of the chemistry of the musicians as well as MC and Scott benefiting from a perspective two years after the original album was recorded. The fresh perspective seems to allow the band to exercise some light improvisation.
"John Has Gone to the Light" goes from an almost five-minute track to an almost nine minute song. The band spends more time riding the loping dub beat before succumbing to the double reggae-time chorus.
"Lion/Lamb" actually gets edited from the epic Traffic-ish "Lion" on Country Hai down to a just over three-minute stripped down folky strumming guitar and mandolin.
"Resurrection Blues" was a cursing post-death two-beat march on Country Hai. On Root Work it becomes a bluesy sax-driven gospel swagger. The call-and-response makes me think that the Blind Boys of Alabama should cover this version!
"O Nathaniel" is stripped and slowed down to reveal the rich palate of the vocal melody at the sacrifice of the more pronounced double-time Fleetwood Mac glissando payoff at the chorus on. But, on the Root Work version of this song we get a really great guitar solo as the song wraps up that would make Lindsey Buckingham take a second notice.
"Isobel" doesn't vary much from the original version, but it is clear that MC is comfortable hanging on notes in his vocal making the whole song a more relaxed and bluesy experience. The new mix of instruments and in particular the piano riffing is a welcome development to the song.
"From a Lincoln Continental (Boogie Interpolated)" I thought this Tim Rose cover from Country Hai ended up sounding a bit like a "Digging In The Dirt"- period Peter Gabriel due to the clockwork approach to the instrumentation. On Root Work "Boogie" gets a welcome extended swampy blues workout. The song ends up sounding a lot more like the original Tim Rose version this way.
I caught up with MC last week and the pre-sale is up on the Heaven & Earth Magic Company website. Heaven & Earth Magic Company is the record label MC and Scott Hirsch started for their projects. Their first release was Country Hai East Cotton. The vinyl release of Root Work is a frighteningly limited one-hundred records– each numbered with covers designed by Brendan Greaves and hand screened by MC! The record is $15 (around $20 shipped) and comes with a digital download from bandcamp so you can get 320Kbps mp3's or FLACs (or just about anything else actually). This is a steal, frankly. If you're not into the vinyl thing, you can just order the download for a very reasonable $6 or you can pick individual tracks for $1 apiece.
The debate over the versions of the songs between Country Hai East Cotton and Root Work is akin to debating the merits of red versus white wine. Either is appropriate depending on when you're drinking. I'm looking forward to drinking in the subtle tannins and liquorice notes of the vinyl pressing of Root Work.
Click Here to listen to tracks from Hiss Golden Messenger's Root Work and to order digital download or vinyl pressing with digital download.