I started hearing about a supergroup of Taylor Goldsmith of Dawes, John McCauley III of Deer Tick and Matt Vasquez of Delta Spirit when they performed at "MG+V" at SXSW this year in March. Both Dawes and Delta Spirit played Daytrotter Barnstormer tours (Dawes in October 2009 and July 4th 2010; Delta Spirit in April/May 2010). The guys hit a studio in Nashville last fall to lay down the tracks with Griffin Goldsmith (brother of Taylor, also of Dawes) on drums. The results of those sessions are going to be released in March 2011 under the moniker "Middle Brother" on Partisan Records.
In an interview with Mary Lucia on the Current in Minneapolis, Taylor said that the sophomore release from Dawes is already recorded and ready for release May of 2011. The delay of the release is so that they can release the album for Middle Brother ahead of it. All three bands (Dawes, Deer Tick and Delta Spirit) will go on tour in support of the Middle Brother release and everyone is going to play in each other's sets. This sounds like one of those tours that people will talk about for years, frankly.
The pre-order for the album is up already and has CD ($12),  vinyl ($15) and a limited-to-500 vinyl + 10″ bundle with tracks recorded at the sessions that didn't make it to the album proper ($25). The vinyl releases also have mp3 and lossless downloads available with them.
Click Here to pre-order Middle Brother.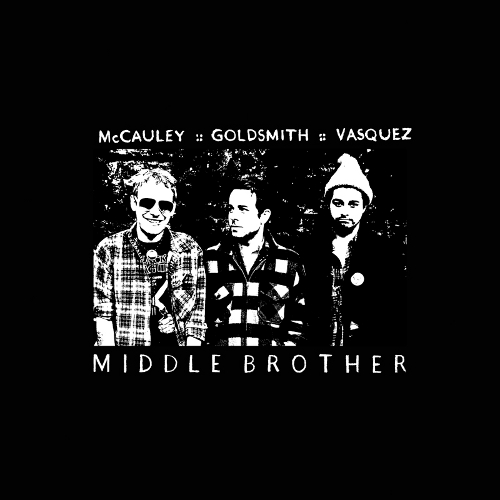 Tracklisting for Middle Brother
1. Daydreaming
2. Blue Eyes
3. Thanks For Nothing
4. Middle Brother
5. Theater
6. Portland
7. Wilderness
8. Me Me Me
9. Someday
10. Blood and Guts
11. Mom and Dad
12. Million Dollar Bill
IFC filmed their set at SXSW in March. Here is their performance of "Daydreaming" the first track on the album.

Here is a performance of "Someday" with Matt on vocals:

Here is a performance of the stomping rocker "Me Me Me"

McCauley, Vasquez & Goldsmith Perform at Ale House SXSW
Uploaded by brooklynvegan. – Music videos, artist interviews, concerts and more.
Here is one with Taylor on vocals called "Thanks for Nothing"

Thanks to the always-awesome Brooklyn Vegan for the links to these songs.