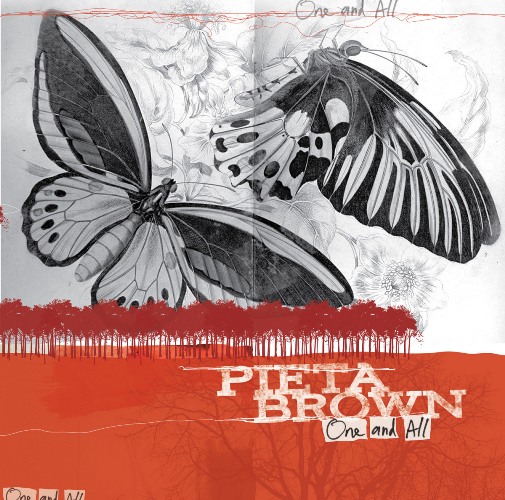 Just ahead of the shopping holidays, Red House Records and Pieta Brown have announced a 180g vinyl version of her latest album One and All which was released on April 6th this year on CD. As I've pointed out earlier, this album and the previous EP Shimmer marks a sort of coming home for Pieta as Red House was the original label started with Greg Brown, and is also where The Pines have been for the last two albums.
Based on the conversation I had with the gentleman taking phone orders at Red House, this marks the first vinyl put out by Red House since the early 90's to the best of his recollection. He said that Red House had licensed a recording for vinyl recently, but this is the first that Red House has done under its imprint.
For this foray back into vinyl, I think Red House is getting the release right– pick a relatively high-profile artist like Pieta Brown, issue it on audiophile-appeasing 180g vinyl, and they are offering new packaging for the release. This cover seems to be based on the poster I got with the CD release back in April which I think is pretty striking. I think the label is testing the vinyl waters a bit, the gentleman I talked to on the phone hinted at a Pines release possibility as well!
One and All 180g vinyl is available for pre-order right now through Red House for $23 (plus shipping).
Click Here to read my review of One and All.
Click The Red House Logo to Order:

Click Here for Pieta Brown's official web site
Click Here for Pieta Brown's Facebook Fan Page