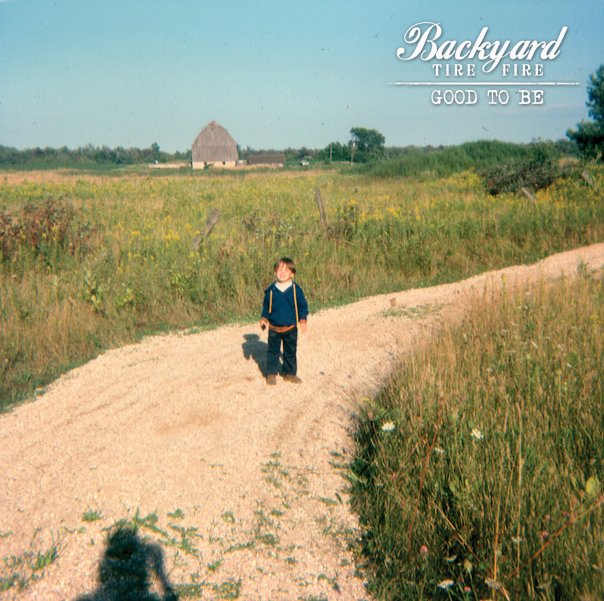 As we reported back in January, Bloomington, IL bar-rockers Backyard Tire Fire went into the studio with producer/member of Los Lobos Steve Berlin. The band announces that the new album will be called Good to Be and will be released on February 16th, 2010 on the band's own record label Kelsey Street Records, and will be distributed by Thirty Tigers/SonyRed.
The band has put two songs from Good to Be up on their MySpace Page. The title track "Good to Be" I've heard performed live already and has the trademark Tire Fire sound. The other track is "Food For Thought" which showed up in their Daytrotter.com session. It is one of my favorite songs from that session. My first impression of the tracks is that Berlin didn't really mess too much with the band's sound, but I think I'm noticing some new reverbby guitar sounds that I don't think existed on the other records.
Backyard Tire Fire released their last record The Places We Lived on vinyl– they have been very upfront about their desire to keep the recordings very analog. I'm hoping they continue the tradition with a vinyl release of Good to Be, too.
Tracklisting (with links to recent performances on archive.org — build your own Good to Be!):
1. Roadsong #39 (Live 10-17-09)
2. Ready or Not (Live 5-22-09)
3. Learning to Swim (Live 1-17-09)
4. Brady (Live 5-22-09)
5. Food for Thought (Live 5-17-09)
6. Estelle (Live 6-6-09)
7. Hell and Back (Live 4-11-09)
8. Good To Be (Live 10-17-09)
9. A Thousand Gigs Ago (Live 7-3-09)
10. Piss and Moan (Live 5-22-09)
11. Once Upon a Time
Click Here for Backyard Tire Fire's Website
Click Here for Backyard Tire Fire's MySpace Page
Click Here for Backyard Tire Fire's Daytrotter session that also includes a version of "Food for Thought."
Click Here to hear Backyard Tire Fire Live courtesy of archive.org