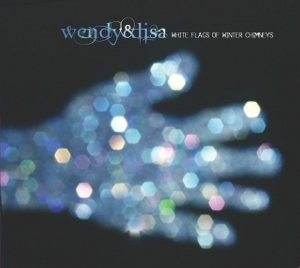 On December 7th, the notorious duo of Wendy & Lisa self-released the digital version of their latest album White Flags of Winter Chimneys. In the ten years since their prior effort Girl Bros., the two have busied themselves with a bunch of production, side work and notable soundtrack work like NBC's "Heroes" and HBO's "Carnivale."
From now until March 2009 Wendy & Lisa's website has an exclusive digital download of the new album in various formats. After that it will be available via your favorite digital outlets like iTunes, Amazon and Rhapsody.
The reason you should order it now is that you have more options for how you want to receive the album. For $9.99 you can get a 320 Kbps mp3 download of the album with digital artwork and bonus tracks. The highest bitrates you'd be able to get from iTunes, Amazon and Rhapsody is a respectable 256Kbps. You also have the option of getting the album delivered in lossless FLAC (Free Lossless Audio Compression) format if you don't want compression for $9.99 as well. This is a deal since a lot of places that provide lossless downloads charge a couple of bucks more for it. This download has five bonus tracks, too. One is a home demo of the sweeping "Niagra Falls" track from White Flags. The other four tracks are home demos from the 1990's.
As if that wasn't enough, you can also order the CD version for $12.99 (+ $3.00 shipping) which you can choose to get 320Kbps mp3's or FLAC. The CD comes in a 6-panel Digipack.
For the audiophile fans or collectors of Wendy & Lisa there is a Deluxe package which gives you an 180g vinyl pressing of White Flags done in nifty splatter-blue vinyl plus you get the CD and your choice of 320Kbps or FLAC download! All for $39.99 (+$10.00 shipping).
Whew! It's pretty obvious that Wendy & Lisa have been paying attention. They are self-releasing this album and providing tiered options for people to purchase. Frankly, the pricing is about right as well. This approach seems to cover the interest of any fan from casual to collector.
The digital downloads are available right now for any of the purchases and the CD's and Deluxe packages will ship in March.
The album on my first listen seems to remind me of an updated shoegazer sound of bands like My Bloody Valentine or some of my favorite 4AD bands like the Pale Saints or Lush. Lots of layered sounds and a wide-range of dynamics. At times it reminds me of David Sylvian or maybe Radiohead.  Certainly not the sound of the artists who worked with Prince during the 80's– but a very current sound. Admittedly, I hadn't been following Wendy & Lisa's career closely since they left the Revolution, but I plan to do some more listening to this album and try to go back an catch up with where they've been. 
Click Here to visit Wendy & Lisa's website where you can order White Flags of Winter Chimneys. They are also streaming other tracks from the album in an embedded player.
Click Here to read my interview with Wendy & Lisa.