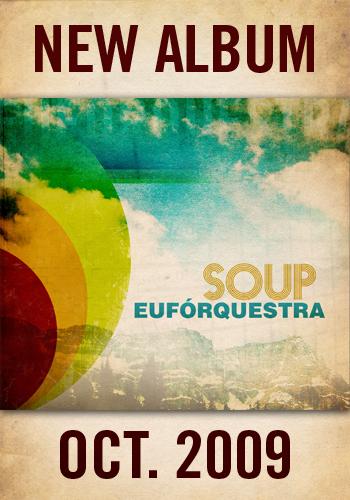 Iowa City-expats and current Fort Collins, CO residents Euforquestra have a new album titled Soup coming out on October 6th. The band is offering up the title track for free download.
As if that wasn't enough– as a motivator to get people to "fan" them on Facebook, the band planned to give a free download of Soup on October 6th if they achieved 3,000 fans by October 1st. Looking at their fan page they seemed to have accomplished that at 3,427 fans at 11:30 AM today!
The band also posted a download of their 7-18-09 Camp Euforia set which had their BFF's Public Property on stage with them. The show was taped by Ryan Sibert and it sounds amazing! The first seven songs are Euforquestra and the rest of the set excluding the encore has the band joined by Public Property on stage calling the amalgam "Public Porquestra."
If you pre-order Soup online, you can get two unreleased bonus tracks: "Ochun (Dub Remix)" – mixed by Sir Mel F. Lewis, and "The Events of December 11" – Live in Lone Tree, IA – April 25, 2009.
Additionally, the band will be playing four dates in Iowa as a record release before returning to Colorado. Here are the dates lifted from the band's website:
Wed. Oct 7
The Hub
Cedar Falls, IA
Thu. Oct 8
DG's Taphouse
Ames, IA

Fri. Oct 9
Iowa City Yacht Club
Iowa City, IA

Sat. Oct 10
Magic Bus
Iowa City, IA
Click Here to become a fan of Euforquestra on Facebook and get the details for the Soup download.
Click Here to visit Euforquestra's website and download "Soup" from Soup.
Click Here to download a .zip file of "Public Porquestra" live at Camp Euforia '09.
Here is the setlist of that show courtesy of the band:
1. Intro by Ty Byerly
2. Ogun>
3. Called You>
4. Change Me
5. Trinidad Blue Basin
6. Free
7. Girlfriend Is Better
8. Melody Truck
9. Dread None*
10. Obatala*
11. Smoothie*
12. Work To Do>*
13. Reggae Got Soul*
14. Mutha Funk Y'all*
15. E: Samba
*= w/ all of Public Property (aka "Public Porquestra")