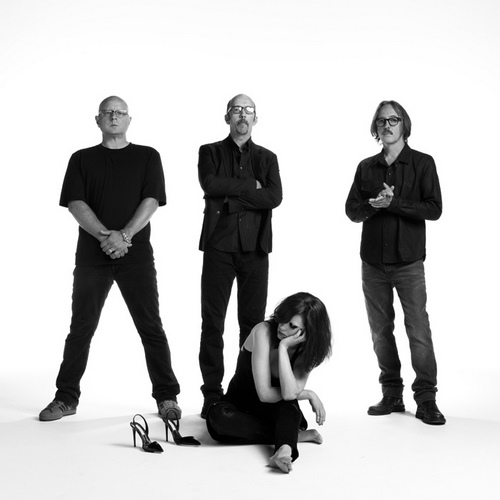 Today it was announced that Garbage is back in the studio in L.A. after a seven-year hiatus following their 2005 studio album Bleed Like Me, which was their highest-charting album at #4 on Billboard Top 200 Album chart. As-yet-untitled, the album is projected to release in Spring 2012, and the band posted earlier that there should be a song coming out in October.
They've been in the studio all summer in L.A. recording in a basement, and apparently at the infamous Western Recorders (now called EastWest Studios).  The progress of the sessions has been tracked on the band's official Twitter and Facebook pages along with photos and small video clips, and the little bits we hear seem to point to the trademark bombastic, distorted and compressed sound Garbage is known for and Shirley Manson seems as gothic as ever.
They posted a picture of themselves recording in Studio 3, which is where the Mamas and the Papas recorded "California Dreaming." A bit of a scenery change for the band who had recorded at drummer Butch Vig's now-defunct Smart Studios in Madison, WI for their previous albums. Smart was the landmark of recording during the grunge period when Vig worked with bands such as Nirvana and Smashing Pumpkins, so it's a little sad in light of the anniversary of Nevermind (which was demoed there) that Garbage isn't continuing their tradition of recording there.
Apparently they are free-agents from a label perspective. From the press release: "Now free of all their corporate obligations, the band has been able to start again with a clean slate on their own terms. They add, 'We are making a record filled with the music we love to hear. The new songs have been inspired more by what we haven't been hearing rather than by what we have.'" It does seem that the band is coming into the record refreshed and taking a new-world-view of things. Considering that the first part of their career represents "big label" times it will be interesting to see how they embrace the new modes of distribution and promotion.
I still remember the first time I heard Garbage on the radio in Minneapolis on the late, great REV105. It was late one night and the lady DJ who spun the record– literally, it was a 7″ in a metal tin, likely the Discordant import– talked about the connection with Butch Vig and Duke Erikson and their 90's band Fire Town (and Spooner before that). The aggressive and angry single "Vow" was earthshattering to me– I hadn't heard anything like it with a woman lead singer. I kept my eyes peeled on AOL (pre-internet days for me) for any kind of sign that the promised album would drop. I picked up the domestic version of the CD single on Almo Sounds.
When the CD finally came out, it included an e-mail address for the band and I shot a quick note over about how much I loved the record and that I had seen Fire Town perform at Loras College in Dubuque in the 90's and that I was a fan of their jangle-pop record In the Heart of the Heart Country
Rock Music CDs)

(which I have on cassette, and has apparently been reissued). To my delight, I got a reply back from Garbage guitarist/keyboardist Steve Marker, who was the sound engineer for Fire Town. He said that he remembered that particular gig, even though it was a long time ago– he had been running sound that night.
Thus, for some of us, Garbage is the "home team" coming from Madison, WI and showing what the Middle West of the US could do. I hope they play a hometown gig as part of their comeback– I know I'll be there!
Here is a Spotify Mix I made of Garbage Songs.
Stay tuned– I'll post updates as I get them! Meanwhile here is the official video for "Vow"
"I nearly DIED!"
Click Here for Garbage's Website.
Click Here for Garbage on Facebook
Click Here for Garbage on Twitter