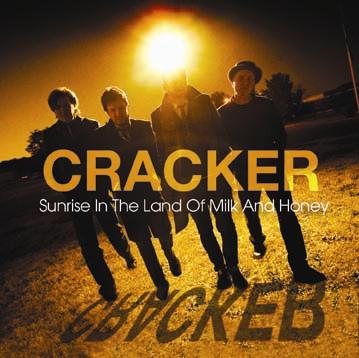 As posted earlier here, Cracker has been working on a new album– their last studio album Greenland was released in 2006. The album titled Sunrise in the Land of Milk and Honey will be released on May 5th, 2009 on a new label 429 Records. 429 Records is "a unit of the Savoy Label Group (SLG). SLG is the North American unit of CME (Columbia Music Entertainment), the oldest music company in Japan." According to Wikipedia, CME is not affiliated with SonyBMG, who own the U.S. label Columbia Records. I guess that is why this company operates as Savoy Label Group in the U.S. Either way, I'm sure Cracker got a better deal than they ended up with at Virgin.
According to the Press Release the first single will be "Turn On, Tune In Drop Out With Me" which will be added to whatever radio plays Cracker on April 7th. "Turn On" has been getting a workout on the road lately, and it is a pretty spirited rocker like the other tracks seem to be on the record, which was produced by one-time Sugar member David Barbe, which seems like a copasetic partnership. Other noted musicians joined the fold for Sunrise. In addition to Barbe's production, Patterson Hood from Drive-By Truckers (who was also produced by Barbe) lends a hand on long-time live favorite "Friends" as well as Adam Duritz of the Counting Crows on "Darling One" and John Doe from X on "We All Shine A Light."
Here is the tracklisting with links to archive.org when a song has been played:
Yalla Yalla (Let's Go) (Live 4/19/09 in Chicago)
Show Me How This Thing Works (Live 2/7/09 in Dubuque)
Turn On, Tune In Drop Out With Me (Live 2/7/09 in Dubuque)
We All Shine A Light (w/ John Doe)
Hand Me My Inhaler
Friends (w/ Patterson Hood) (Live 2/7/09 in Dubuque)
I Could Be Wrong, I Could Be Right
Time Machine (Live 2/6/09 in Palatine, IL)
Hey Bret (You Know What Time It Is)
Darling One (w/ Adam Duritz)(Live 10/20/08 in Vienna, Austria)
Sunrise In The Land Of Milk And Honey (Live 10/20/08 in Vienna, Austria)
Cracker has released two music videos to YouTube, one for "Hand Me My Inhaler" earlier, and one for "Yalla Yalla":
Click Here to visit the 429 Records page with samples of the new album.