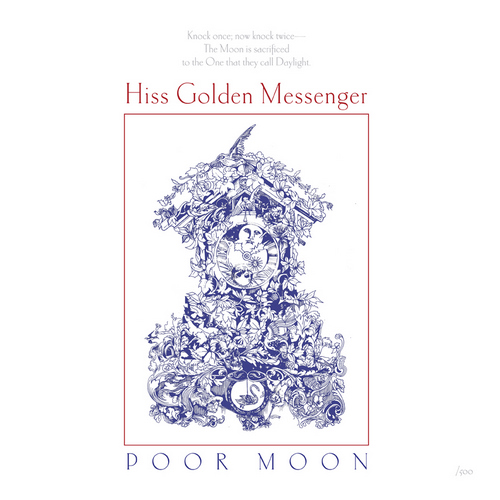 Hiss Golden Messenger is the band name that former Court & Spark members MC Taylor and Scott Hirsch have been using since the dissolution of their previous band in 2007. Since then there have been four releases under this moniker: Live in Big Sur in 2007, Country Hai East Cotton in 2008 (which was re-released last year on Black Maps), and in 2010 we saw Root Work which was based on live in-studio Country Hai tracks and Bad Debt which was a recording of spiritually-themed songs Taylor recorded in his kitchen to a cassette recorder.
On November 1st, Hiss Golden Messenger will be releasing a new album called Poor Moon. Poor Moon will be released on a new record label, Paradise of Bachelors and will come out in a hand-numbered limited edition of 500 on beautiful 150g vinyl with a tip-on sleeve designed by Brendan Greaves from Paradise of Bachelors featuring a beautifully-detailed illustration by Alex Jako.
As if this wasn't enough reason to jump on this purchase, there are tiers you can purchase at which get you bonus downloads. The base $20 "Oak" level gets you the vinyl on your doorstep around 11/1/11, but also a digital download of the album via Bandcamp on 10/15, so you can enjoy it whilst you wait for the physical version. (By the way, they are charging a very reasonable $5 domestic shipping and handling, as opposed to typical shipping charges seen via TopSpin these days). If you order at the $25 "Ash" level, you get an EP of demos and outtakes titled Lord, I Love the Rain which has some tracks from the Bad Debt sessions as well as some studio tracks from an "conceptual soundtrack" called He Wore Rings on Every Finger. At the $30 "Rowan" level you get the aforementioned EP, plus a live recording from 2008 called Plowed: Live in Bovina which was recorded in upstate New York around the same time that the Root Work radio session was taped.
Notably, the tracks on Lord, I Love The Rain will be the basis of the next HGM release, which is targeted for Spring 2012!
As for Poor Moon itself– the album shares it roots with the kitchen table ruminations of Bad Debt in that most of the songs started there. We get full-band treatments of  "Balthazar's Song," "O Little Light," "Jesus Shot Me in the Head," a driving "Super Blue (Two Days Clean)," Balthazar's Song" and "Call Him Daylight" (which was a bonus track on the vinyl version of Bad Debt). The Lord, I Love the Rain EP also includes a Bad Debt version of "Westering." So, you might consider Bad Debt and Poor Moon together as being a "deluxe" edition.
There are few songwriters today that have the ability to capture the sentiment of reaching desire that really grabs me. I think that MC Taylor is in a small group of current songwriters that includes Kurt Wagner of Lambchop and Richard Buckner that excel in this. If you've been following the combined story of The Court & Spark and Hiss Golden Messenger, the music on Poor Moon is not as much a revelation as it is a reinforcement of this fact.
Poor Moon captures a certain timelessness in its sound– the production doesn't stand in the way of the music. Taylor confirms this in a recent conversation, "That was the intention. I wanted sort of a neutral production with the rhythm section fairly up front– which it is– and more acoustic instruments than Country Hai and Root Work. Country Hai was a concerted effort to feature no acoustic guitar whatsoever."
To that end, Taylor has never been afraid to draw inspiration from his very diverse musical tastes and Poor Moon to these ears has some subtle but definite vibe and tone from early 70's Van Morrison and Grateful Dead (more American Beauty than Aoxomoxoa, though). Certainly a more rustic setting than Country Hai, I would say, but no less enjoyable.
Below are the Bandcamp links to samples of tracks from Poor Moon and the two bonus releases and the links to order.
CLICK HERE to go to the Ordering Page for Poor Moon
Click Here for the Hiss Golden Messenger MySpace Page
Click Here for the Hiss Golden Messenger Facebook Page
Click Here for the Paradise of Bachelors Website
Click Here for Heaven and Earth Magic Recording Company
Click Here for MC Taylor's Blog "The Old Straight Track"