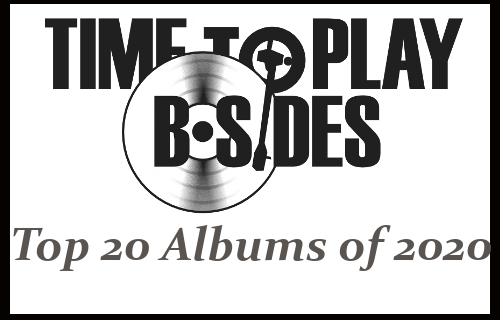 The year-end lists are upon us again. Time for me to list out the ways I'm getting further away from the beaten path of popular music.
The worldwide pandemic of 2020 had a gigantic impact on the music industry. The most obvious of which was the cancelation of most tours. Artists were forced to figure out new revenue streams or at least better utilize the revenue streams they had. Many artists embraced live streaming to varying degrees of success. The ones who did it right were the ones who either partnered with someone to provide the streaming, or if they did it themselves made sure the quality was up to the standards of produced live content. A significant upswing of Patreon use helped many artists weather the lack of income storm and Bandcamp's "Bandcamp Friday" once-a-month event where they waived their own fees had the double effect of raising awareness of bands who had merch as well as the long-tail effect of encouraging more regular use of Bandcamp. I was a fairly avid shopper at Bandcamp, but in 2020, I was buying multiple releases per month as acts I follow released Bandcamp-only albums or songs. As a result, my Best of 2020 includes some digital-only releases for the first time that I can remember.
From a vinyl perspective, 2020 was as screwed up as everything else due to COVID-19. Just ahead of the widespread lockdown one of the two plants that manufacture the lacquer plates required to start the process of creating the physical stampers burned down taking out about 70-80% of the lacquer plate availability. Add to that the fact that manufacturing in general was impacted either by the infection rate of employees interacting, or by limiting the number of employees when they could work, pretty much all release dates for vinyl were pushed way out. Add to that the fact that the US Postal Service suffered losses due to sorting facilities being limited as a kind of way to prevent mail in ballots for the 2020 primaries and the impact of COVID-19 cases with the employees, it's a miracle any titles were released this year.
Record Store Day in April was delayed to June and then eventually re-tooled as three "RSD Drops" in August, September and October. Most of the titles for RSD in April were manufactured in 2019 in anticipation for the usual vinyl manufacturing delays surrounding the April event. As such, most of the big titles for that event came out as planned, with some titles being pulled out and released outside of the drops and some delayed to later Drop dates or Black Friday RSD (which happened as planned). RSD 2021 is slated for June 12th, presumably so that manufacturing can better deal with these restrictions. The other obvious reason for pushing the date out is that it is predicted that general availability of vaccines for COVID-19 should be out by then and the risk of going to a store would be lessened and as such, the stores can have a regular "big" event. The downside of it being in June is the temperatures are starting to get warmer and will increase the risk of warping the records both in shipping to the stores as well as any shipping for online purchases.
Here are my Top 20 releases from 2020 (in no particular order):
Jeff Parker – Suite for Max Brown – Parker's follow up to his brilliant 2016 album The New Breed finds him continuing the very contemporary blending of jazz and electronic elements. Fans of his work in Chicago Post Rock outfit Tortoise will find a lot to enjoy with this release and maybe will enjoy it more than the odd sidestep of 2016's Catastrophist. Get Suite For Max Brown from Bandcamp.
Chicago Underground Quartet – Good Days – Speaking of Jeff Parker, the reunion of one of Rob Mazurek's more notorious projects Chicago Underground Quartet– an expansion of his Chicago Underground Duo with drummer Chad Taylor whose last album was the self-titled release on Thrill Jockey back in 2001 (way out of print and copies go for over $75 when they show up…). This session was an unplanned reunion in that producer Chris Schlarb instigated by getting the individual musicians to come to L.A. to work on another project and then offered to produce a Chicago Underground Quartet record. The album was recorded in one day, but doesn't sound thrown together due to the fact that most of the songs were actually composed for the other members prior to the recording.
Exploding Star Orchestra – Dimensional Stardust A third album with Jeff Parker on it and a second album from Rob Mazurek. I loved the 2010 release Stars Have Shapes on Chicago Blues and Jazz label Delmark. (Still in print!) Exploding Star Orchestra is an expansive interpretation of Mazurek's experiments in abstract jazz. To me the best parts of Dimensional Stardust are when the band hits a groove, like on track 2, "A Wrinkle in Time Sets Concentric Circles Reeling"
Parker's clean guitar runs run counterpoint to the horns on this track which lends a lot of complexity for the listener to follow through the various musical strands of the work. The flute from Nicole Mitchell is fantastic and adds a fluttering beauty to the proceedings. Very much recommended for fans of Thrill Jockey bands.
Tame Impala – The Slow Rush – I honestly kind of forgot that this was a 2020 release! Some of that might be that it came out in early February, but also that a couple of tracks had been floating around for a while. "Borderline" came out in April of 2019! I picked up the indie exclusive green vinyl version of this from Ragged Records in Rock Island, IL. The kind of pissy thing about this vinyl release was they didn't provide a download with it and there wasn't a good way to get a download of it. Now, you can either buy it from Amazon, or if you buy the vinyl release from Amazon, you can do the "Auto Rip" download, so that is a good option, now.
My solution to this back in February was to buy a new CD of it on eBay from a seller who seemed to have a grey market source for a lot of new titles. These shipped from Asia even though the seller was from Massachusetts. Because the shipping took so long, the seller provided a download of the CD as well! I doubt any part of this was legal, strictly speaking. But, the CD I got was in shrink and included all of the CD artwork which was a calendar due to the theme of the album of being a year. That calendar artwork is not part of the vinyl release, incidentally.
Matt Wilson Orchestra – When I Was A Writer – Matt Wilson was part of the seminal Minneapolis band Trip Shakespeare along with his brother Dan Wilson. Trip Shakespeare made the leap to a major label in the early 90's where they ultimately ended breaking up. Dan Wilson and John Munson formed Semisonic of "Closing Time" fame. Dan would go on to pen songs for the likes of Adele, and Semisonic has reformed in 2020. Matt Wilson joined Twin Cities band Polara briefly and also released one solo record in 1998 and also formed The Twilight Hours with Munson. Matt Wilson's latest project "Matt Wilson Orchestra" represents a return to songwriting for Wilson after a break. The "Orchestra" is made up of largely acoustic instruments and heavenly vocal harmonies. The lineup of instruments includes banjo and harp, as odd as that seems, but it totally works here and really comes as close to what I think Trip Shakespeare might have sounded like in 2020 as anything. The vocal harmonies recall The Mamas and the Papas. An all around gorgeous record and really should be on more peoples' radars. You can order the CD/LP/Download from Wilson's new label Pravda Records HERE.
Jason Isbell and the 400 Unit – Reunions Jason Isbell was quoted somewhere (I can't find it at the moment) that his goal is to write songs that feel like the songs we heard on the radio years ago. To that end, I think he has achieved his goal. Isbell's particular take on country and rock (he's considered Americana, but these days I feel like he is really just rock to me, maybe in the same way The Eagles are really a rock band, even though they have "Desperado" and "Seven Bridges Road" in their catalog). Recognizing the tough position that brick and mortar record stores were in due to the pandemic, he released Reunions early to record stores in a special "Dreamsicle" orange pressing that came with a print of the album art and an art print of his 1959 "Red Eye" Les Paul done by Iowa artist Karl Haglund. This was a constant soundtrack this summer as I worked on my landscaping as a distraction from not being able to do anything out of the home.
TWINS – Dream On – Cedar Falls, IA band TWINS came back with a new album and new sound in 2020. Known primarily as a power pop band based on their guitars, hooks and harmonies of their first three records, the four years between Square America and Dream On saw the band change their lineup and gave lead singer and lyricist Joel Sires a chance to dig through his personal record crates to find inspiration in Springsteen, Mellencamp and Steve Earle. The resulting record represents a welcome maturity in the band and Sires flexes his lyric craft opening the door to his first solo release which comes out this year. Read my review at Little Village.
Tom Misch and Yussef Dayes – What Kinda Music – Tom Misch got his start as a Soundcloud celebrity and released a few records under his own label. For his Blue Note Records debut, he partners with drummer Yussef Dayes to create what I think is the best example of what Blue Note Records should be in the new century. A blend of nouveau ideas about the landscape of music and jazz tonality. Misch is young enough to claim John Mayer as an influence, and the guitars on this album owe a debt to Mayer, but more than that, the album draws from Hip Hop and electronic music. In that regard it fits in with the likes of Thundercat and Kamasi Washington. The lyrics on What Kinda Music are a bit shallow so the tales of a tortured artist are not here, and honestly this would have kept this album off of a shorter list. But, the album sounds great and I found myself going back to this and his Mix Tape 2 album quite a bit in the last quarter of 2020.
Reno Bo – You Can See It All From Here – Reno Bo has been somewhat quietly cranking out brilliant rock records for about ten years. As a sideman he's worked with the likes of Albert Hammond Jr. (of The Strokes) and Brendan Benson, and has been pretty busy in that capacity, but I anxiously await his solo releases. For his 2020 album You Can See It All From Here he returns with a sound that to me really reminds me of Tom Petty and Matthew Sweet (particularly "Like A Stone"). Bo is part of the Cabin Down Below band which holds Tom Petty tribute shows, so that isn't probably far from the influences he would claim.
Monophonics – It's Only Us – For Monophonic's fourth album, the band returns with Kelly Finnigan on vocals and keys (at this point he's a permanent member, I guess).The sunny 70's soul and funk has been polished to a shimmer on It's Only Us. In fact, I hear a lot of Marvin Gaye's What's Going On? and The Spinners "I'll Be Around" on it. This record is a banger from beginning to end. The title track is sheer brilliance.
Kelly Finnigan – A Joyful Sound – Speaking of Kelly Finnigan, he released another solo record in 2020, relatively soon after his 2019 solo record Tales People Tell (which got an RSD-exclusive instrumentals release in 2020) and the aforementioned Monotones album! A Joyful Sound is a holiday record on par with the Phil Spector A Christmas Gift For You. A stone cold classic that everyone needs in their collection. I wrote a review of it here.
Calexico – Seasonal Shift – Calexico put out its first holiday record in 2020. It was a collection of covers and originals. The covers include "Christmas All Over Again" by Tom Petty and "Merry Xmas (War Is Over) from Lennon and Ono. I would have liked to see "Gift X-Change" from the Aerocalexico tour album on here. Such a beautiful song from the band. Either way, a welcomed addition to the slowly-growing collection of Christmas vinyl.
Johnnie Cluney – Love Is Law – If you know of Cluney, it's likely due to his signature illustrations for Daytrotter.com (R.I.P.). His musical output is equally notable and the Bedroom Shrine record was a favorite of mine. He continues the dusty lo-fi journey on his first album under his own name. The album sits somewhere in the neighborhood of Dinosaur Jr, Elliott Smith and Sebadoh. The physical release is a cassette and that's pretty much the best way to listen to it. Read my review here.
Hiss Golden Messenger – Forward, Children and School Daze: Fundraisers for Durham Public Schools students – I'm kind of cheating here by lumping two releases together, but honestly they are a pair of releases that belong together, and likely everyone who bought one bought the other. Proceeds from the sales of these Bandcamp releases go to support Durham Public Schools, which ended up being even more essential as they needed to gear up for students newly in distance learning. The live shows from HGM are places where the recorded songs take on a life of their own. These two releases are made up of performances from the same tour in support of Terms of Surrender. The retooling of "Jesus Shot Me In The Head" on Forward, Children is worth the price of admission. Both of these releases support the idea that HGM could stand to have a physical live album release.
Anthony Worden and the Illiterati — 'Voilá – Iowa City musician put out one of my favorite releases in 2020. Shining bits of guitar pop brilliance. Recommended if you stan Britpop from Costello or Nick Lowe. The additional vocals from Penny Peach take this record over the top. When's her solo record out? Read my review in Little Village.
Elizabeth Moen – Creature of Habit – 2020 derailed the album release plans for Moen. She released two singles from her album that was supposed to come out ("Headgear" and "Ex's House Party") and had a tour planned to correspond with the release and then the pandemic hit. Stuck at home she started working on new songs that were anchored in synthesizers rather than her trusty guitar. The songs are some of her best yet and I can see how this "experiment" in different instruments could inform her songs going forward.
High Waisted – Sick of Saying Sorry – NYC surf-meets 60's girlband outfit High Waisted is back with another slab of sunny dance-able pop rock. Front woman Jessica Dye really nails the 80's girls with attitude vibe– think Linda Ronstadt, Debbie Harry and Pat Benatar. Her powerful soprano coupled with giant guitar is an infectious combination. This record was lost in the fog of COVID undeservedly and everyone should check this out.
Dope Walker – Save Save – Dope Walker is an Iowa-Minnesota supergroup/side project made up of William Elliott Whitmore, Aaron Mader (producer Lazerbeak from Twin Cities hip hop collective Doomtree), Zach Westerdahl of Ten Grand, Mike Schulte from The Pork Tornadoes, Joel Anderson from FT (The Shadow Government). Save Save is the debut record from the collective and has a very polished post hardcore sound. This album kind of missed the radar of folks (including me for most of the year).
Grateful Dead – Buffalo 5/9/1977 Box Set – For the third RSD "Drop" on 10/24, we were treated to the second vinyl box treatment of the four-night May 1977 run represented in the Get Shown The Light CD box set released in May of 2017 for the anniversary of that 4 night run. In 2017 the legendary Cornell show was released as a vinyl boxed set. The second box set is from Buffalo the night after Cornell. This show is notable for the fantastic "Help Is On The Way" > "Slipknot!" > "Franklins Tower" opener, largely regarded as the best performance of this sequence. The Cornell show was the one that opened the door to the Dead for me, so I'm super happy to have this show. I think that the existence of the Buffalo show might hint that we'll get the other two nights with a similar vinyl treatment.
Pylon – Box Seminal Athens, GA band Pylon got the reissue treatment from New West Records in 2020. The first two albums were returned to print on vinyl for the first time since the 80's and the first time on CD since I think 1997 when DFA Records reissued them with bonus tracks. As part of this effort a WONDERFUL box set was released which, along with the first two albums Chomp and Gyrate also included the "Razz Tape" — an early recording of the band and "Extras" which included b-sides and rare tracks. There was also a beautiful hardbound book with photos and other ephemera from the band which also acts as a compliment to an exhibition at the University of Georgia of the band. I wrote an in-depth breakdown of the boxset here.