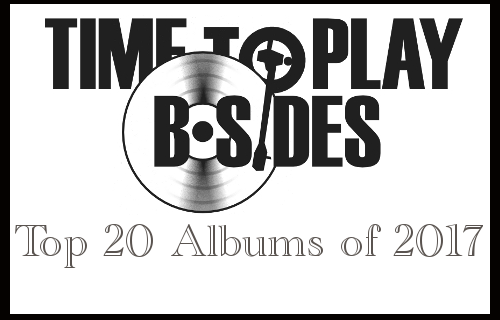 2017 to me felt like a transition year in many ways– personally, politically, culturally and certainly musically. For me personally 2017 will represent the year that my wife and I made the biggest steps away from 2011 when I was unemployed for eight months following a 13-year run in IT middle management. We bought a house after renting for over six years– the house hunt was a crazy one with lots of ups and downs. But we found a house that we love and it ends up being kind of perfect for being a place our grandson can come hang out and listen to records with Papa.
2017 was another year in a troubling pattern of musician deaths. The biggest of these is the unexpected passing of Tom Petty which for me was as big a loss as Prince was in 2016. I discovered Petty in 1986 with the release of Southern Accents. Although I had heard the big singles on the radio up to that, Southern Accents was released when I was searching for music that spoke to me. In that regard I look at Tom Petty as being "my Beatles." The Beatles were a big part of my musical rearing, but they were already broken up by the time I started striking out on my own musical tastes. Petty was someone whose career set a benchmark for everyone who made guitar driven rootsy rock and roll. Petty continues to be something I can put on at any time and never tire of listening to. I was fortunate to be able to see him during his 40th Anniversary tour this summer in Des Moines and it was kind of full-circle as I was there with my dad and my brothers– just about 30 years after the first Tom Petty concert we saw in Chicago.
As far as new notable albums for 2017, I'm kind of out in left field again. My other writing gig as album reviewer for Little Village Magazine ends up determining what I listen to the most at any given time as I crash-listen to new Iowa-based or related albums and that is reflected again in my list.  That said, these are all really strong releases that hold up against the deluge of new major releases. Albums that others are including in their lists that I probably need to give at least a cursory listen to include the new Foo Fighters album Concrete and Gold, Queens of the Stone Age's Villains, Jason Isbell and the 400 Unit's The Nashville Sound, Kendrick Lamar's DAMN. Some releases that nearly made the list were the new National album, the new Fleet Foxes album, and the new War on Drugs.
Here's my Top 20 for 2017 (In no particular order):
Beth Bombara – Map & No Direction – Beth Bombara has been cranking out really solid albums for a while now. She's a gifted songwriter and musician and her releases are always really strong. With her 2017 album, she has taken her spin on folk, Americana and rock and turned the "rock" knob up a bit putting out a record that is up there with the best releases Sheryl Crow put out. Bombara is kicking off 2018 with her first tour of Europe which will give her more deserved exposure.

Pieta Brown – Postcards – Brown's latest album is a collection of "musical postcards" which are made up of collaborations with folks like Calexico, Mark Knopfler, The Pines and David Lindley. The resulting album still sounds like a Pieta Brown album which is always a good thing. You can read my interview with Brown for Little Village Magazine here.

Charlie Parr – Dog – Dog is Charlie Parr's second release for Red House Records and he's continuing the full band trend for releases. Dog doesn't have Phil Cook and friends behind him like Stumpjumper did, but the album still has the same energy and blistering slide guitar and picking we've come to expect from Parr.

Crystal City – Bartenderly – Iowa City's Crystal City is primarily the duo of Dave Helmer and Sam Drella who stylistically occupy an intersection somewhere between John Prine and Paul Westerberg. Their latest album Bartenderly is a celebratory salvo of headbuzz rock for the bruised blue collar. You can read my review for Little Village Magazine here.
Deer Tick – Deer Tick 1 & 2 – This couple of albums from Deer Tick is as close to a #1 as I'm willing to commit to on this list. Aside from John McCauley's stint in the supergroup of Middle Brother with Taylor Goldsmith of Dawes and Matt Vasquez of Delta Spirit I really hadn't listened to any Deer Tick until this two LP release this year. The band took a four-year hiatus while the members did things like start families. They came back together and pulled a Use-Your-Illusion two album release this year. The band says that these are not to be considered as one release, but really it would be tough choice to only buy one of them. The band said that they were always kind of two bands: an acoustic folk band or an electric rock band. So, this is what we got, an acoustic album in Vol 1 and a rock album in Vol 2. These records are both full of brilliant songs– no filler (unlike the Guns 'n' Roses pair mentioned earlier).
SUSTO – & I'm Fine Today – SUSTO is a "friend of Codfish Hollow" band that's played there a few times and I managed to catch them during the first GARP Festival in 2016 and was really impressed. They played a few songs from this album, so I was interested in hearing it when it came out this year. & I'm Fine Today is an album that slides around stylistically with ease and comfort making this album musically more interesting than their previous releases to me. This album was on a very regular rotation for me in 2017 and one that I never get tired of spinning. The song that rips me up every time I listen to it is what I consider to be the spiritual successor to "Smalltown Boy" by Bronski Beat : "Gay In The South." Brilliant song.
Hiss Golden Messenger – Hallelujah Anyhow – If you've been following my Year End posts, it shouldn't be surprising to see this album on here, since M.C. Taylor has been a favorite of mine since before he launched Hiss Golden Messenger. His partnership with Merge Records and with Phil and Brad Cook (formerly of Megafaun) has created a music juggernaut: touring nearly incessantly and creating four albums in three years of head-nodding rhythm and groove albums which draw inspiration from the golden era of Van the Man and The Dead. Releasing Hallelujah Anyhow so soon on the heels of the double album Heart Like A Levee and Vestapol is counter-intuitive based on the typical album release/tour/album release cycle. Taylor said that when he and manager Brad Cook were talking about wanting to release an album right away, they thought it felt good to do it and Merge was amenable to the idea, and certainly it was the right time because this album fires on all cylinders.
Game Theory – Supercalifragile – Prior to his unexpected passing in 2013, Scott Miller of Game Theory and The Loud Family was working on a new album of collaborations. To be titled Supercalifragile, it was going to be the first album of songs under the Game Theory moniker since the 1988 album Two Steps from the Middle Ages (itself was reissued in 2017 as part of the massive Omnivore Records reissue campaign). Miller's wife Kristine took the mantle of finishing the album by taking the notes and her memories of what he had planned and called in friends, former bandmembers and collaborators in to finish the album. The songs were in varying degrees of completeness: some had demo recordings Miller had created, some just notes. The resulting album is bittersweet: equal parts official posthumous release and tribute to the fallen songwriter. I find it to be a fitting closure. You can read my post on this site here.
Grateful Dead – Cornell 5/8/77 – When the Grateful Dead archivist David Lemieux announced that Cornell 77 was going to be released as a Dead Archives official release, I was really excited (as many were). Cornell was one of the first full Dead tapes I ever heard and was really amazed by how good it sounded– both performance and recording itself. I had pretty much been avoiding Dead tapes due to how much of a mixed bag they were. As luck would have it, one of the early peer-to-peer trading networks (pre-dimeadozen) had the full cache of the Betty Boards tapes, which included the legendary 5/8/77 show. These were early rips of the reel-to-reels done by a close-knit group of Dead fans who bought the contents of the storage facility that she'd let lapse. Eventually the Dead pulled electronic trading of soundboards, but I had the show I cared about downloaded. I managed to snag one of the 5 LP box sets of which 7700 were pressed used on eBay. It had a crumpled box corner, but the contents were in fantastic shape. They did a fantastic job of cleaning up this recording and somehow even fixing the first missing couple of minutes. The bootleg that circulated had spliced in part of an audience recording which created a really annoying transition. The box has has re-energized my interest in the Dead, and I've added some LPs to my vinyl collection and I'll continue to do that, I'm sure.
Ryan Adams – Prisoner B-Sides – 2017 brought the newest album from Ryan Adams titled Prisoner. It was his third release since his signing to Blue Note Records, and second album of original work (his full-album cover of Taylor Swift's 1989 was also on Blue Note). In many ways Prisoner was kind of self-titled part 2. Most of the songs to me seemed like outtakes from Ryan Adams. Pretty good, but ultimately just more of the same 80's influenced power pop mixed his trademarked Americana. For me, Adams is most interesting when he's experimenting, and to that end, the massive 17-track collection of "B-Sides" from Prisoner is far more satisfying a listen. He still brings on the Smiths-influence here, but I just like the songs more. The B-Sides were released as a box set of 7-inch singles (that I should consider picking up at some point) and digital download. I'd love to see the 17 tracks released as a 2 LP (hint, hint Blue Note).
Loess – Pocosin – 2017 brought the glorious reunion of Clay Emerson and Ian Pullman as Loess. Their particular spin on electronic music comes from the Boards of Canada and early Autechre diced up and distorted ambient influence. I have loved everything that Loess has put out and Pocosin was an exciting addition for me this year. You can read my article about the release here.

The Right Now – Starlight – Chicago R&B and Soul band The Right Now's third album came out this year and it veered a bit away from their more classic sound towards a sound very influenced by more recent disco and funk. While still fronted by the signature powerhouse vocals of Stefanie Berecz, the update is a welcome one as the push in this direction has inspired some of the best songwriting to date from the band. All Killer No Filler indeed! Here is my article about the release on this site. Here is an article about a remix from Starlight that has a 60 minute mix of songs that inspired the album, Here is an article I wrote for Little Village Magazine about a show at The Mill.
Gloom Balloon – Drying the Eyes of the Goddess of Gloom, Underneath the Stars and the Moon – Gloom Balloon is the moniker for Des Moines producer/artist/label head Patrick Tape Fleming. This album ends up being kind of the sonic brother from another mother of Christoper The Conquered's album I've Given Up on Rock and Roll. I love this record– it sits somewhere around The Flaming Lips and ELO for experimentation and bombast at times. My review for Little Village is a good place to start reading about what I think.

Har-di-Har — we will will you – Julie and Andrew Thoreen released their first full length album as Har-di-Har in 2017. They used to live in Cedar Falls, but relocated to St. Paul a few years ago. we will will you is an album that captures a marriage in a precarious state of doubt. The resulting album is a compellingly personal album featuring their signature vocal harmonies and spiderwebby chord and percussion infrastructure.
The Pines – Pasture II – The Pines returned with a second EP of covers. This time we get covers of a Bo Ramsey and a Pieta Brown tune. Read my review for Little Village here.
TIRES – LP1 – Phil Young is in a whole bunch of bands in and around Des Moines including The Wheelers. His instrumental side project TIRES put out their debut album in early 2017. It comes from the same "emergency rock" post rock space as bands like Trans Am and Cougar and I dig it a lot. The vinyl has a hand-screened cover, which is really cool. Here is my review for Little Village.

Colleen – Vol. 1 – Cedar Rapids synthpop duo Colleen put out their debut EP in 2017. Reminds me of Polica or Portishead. They have a new EP already recorded and should come out pretty soon. Read my review for Little Village Magazine.
NAOMI – Good Riddance to Bad Rubbish – Iowa band NAOMI is named after its lead singer and cranks out "snarky pop rock" which is as apt a description of the proceedings as any. A fun, anthemic guitar driven album that picks up where Avril Lavigne and No Doubt left off in the early oughts. Check my review for Little Village here.
Ryne Doughty – Date Night – Ryne Doughty has been crafting is particular singer-songwriter folk for a few years. I happened to catch him opening for The Pines at CSPS a while ago. He openly admits to worshiping at the temple of Greg Brown and that influence is obvious, but he's got his own style and really we don't have enough of the storytelling songwriters around. Read my review of Date Night for Little Village.

The Dawn – Wooly – The Dawn are the jam band ambassadors for the Quad Cities. Their latest album Wooly is the first for Cartouche Records and, I think is a bit of a departure for them. Wooly draws more R&B influences– specifically Prince into the mix which makes this album my favorite of their catalog to date. Here is my review for Little Village.