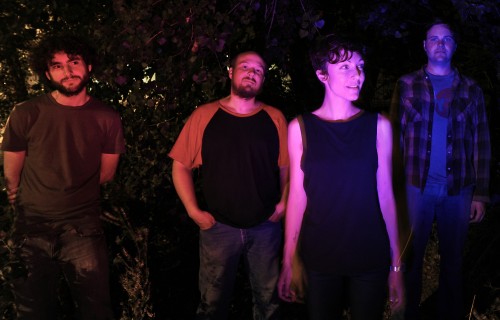 What does one do when Ryan Olson, the mastermind behind the Minneapolis Supergroup Gayngs suggests that you start your own band? Well, if you are Channy Leanagh (née Casselle) formerly of Minneapolis folk band Roma di Luna and one of the vocalists in Gayngs– you take the suggestion and help. Olson took some of the songs that Channy had been writing and added some of his own electronic wizardry– a process similar to how he grew the Gayngs album. Olson then called in some other musicians he had worked with the vision of creating not just a solo Leanagh project but a complete band.
The unique formula of Poliça (pronounced POE-LISA) takes the vocoder fetish from Gayngs (and Bon Iver for that matter) and layers it over a no-guitars lineup of electronics (mostly handled by Leanagh in a live settng), insane bass guitar by Chris Bierden of Twin Cities Indie Psych band Vampire Hands, and twin drummers Drew Christopherson (of Olson's bands Digitata and Blunts) and Ben Ivascu (of Olson's bands Building Better Bombs and Marijuana Deathsquads). Mike Noyce of Gayngs and Bon Iver guests on a couple of tracks, too. Poliça brings a significant pedigree to the table and the results are impressive– a very trip-hop electronica sound reminiscent of Portishead in my opinion.
Since Poliça released their debut album Give You The Ghost on February 14th on Olson's Totally Gross National Product label (on CD and LP) they've been touring seemingly non-stop in the US and Europe. They played Iowa City in February as part of their album release shows, so it's pretty interesting that they will be back in Eastern Iowa playing the Voices Warehouse Gallery on September 25th. Voices is a really special venue down in the Warehouse district of Dubuque. Beautiful exposed brick and pipes with a well-worn wood floor housing interesting sculptures, prints and paintings. I've seen a couple of shows there– Tortoise and Bo Ramsey and both were cozy personal shows.
Poliça played "Dark Star" on Jimmy Kimmel last week, and it was announced that they have signed to Mom + Pop Music (home of Andrew Bird, An Horse, Sleigh Bells) who will reissue the album and have already released a remix EP for "Dark Star." All really great news for the band who will be opening for Bon Iver's upcoming four-night run at Radio City Music Hall, which is just before the Dubuque show.
Opening the show will be Canon Blue, aka Daniel James. James' new album Rumspringa is a orchestral/chamber pop album that was recorded while on tour with Efterklang. Check the audio out on his site– beautiful stuff.

Tickets for Poliça and Canon Blue are $12 in advance and $15 at the door. The show starts at 8PM. For more information check out the Voices Warehouse website.