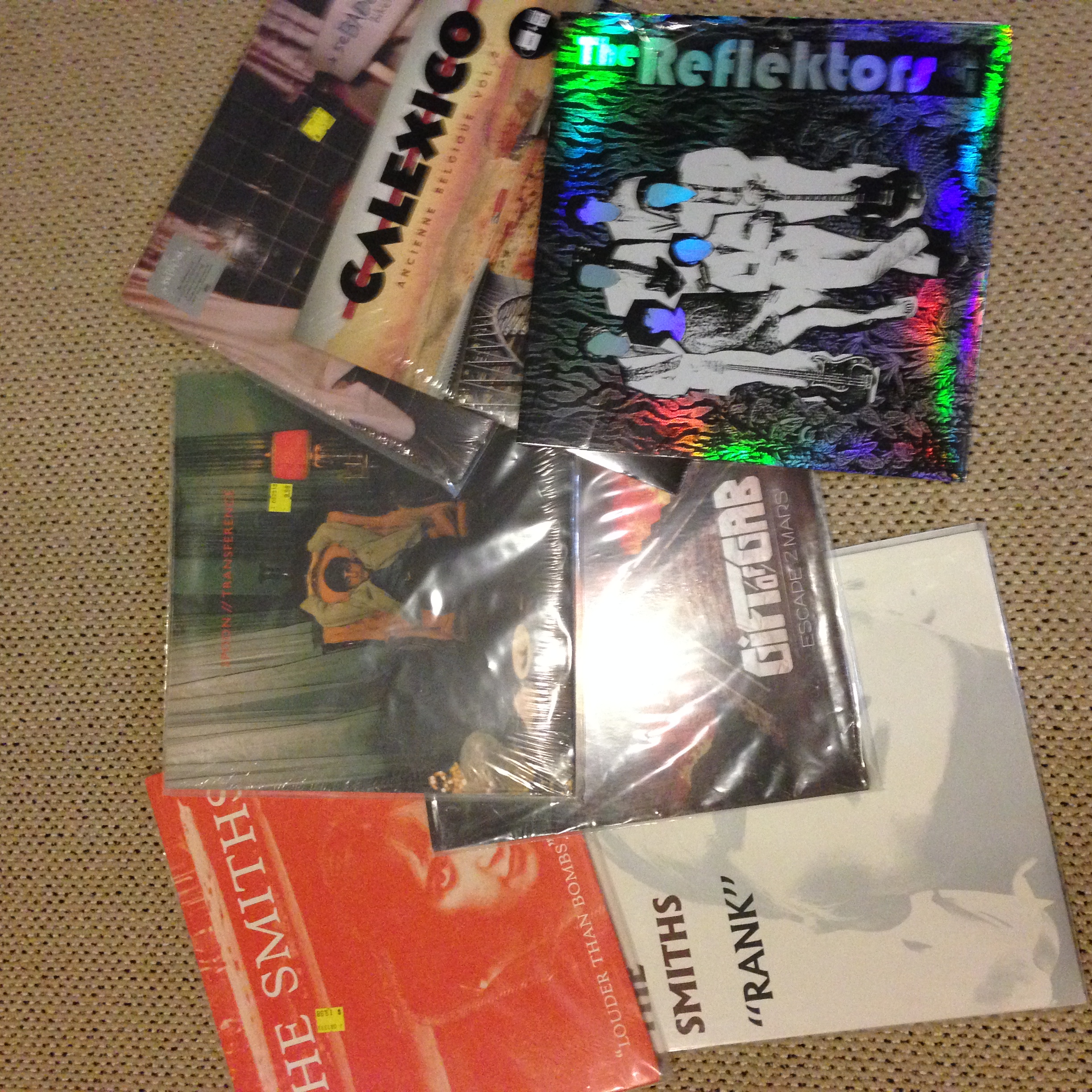 Well, it's been a while since I've posted one of these. I guess it's because I tend to post about individual albums via other social media outlets like my Instagram which cross-posts to Twitter and Facebook. But, this week had a lot of new additions to the collection, so I thought I'd collect them for the blog.
I was in Dubuque yesterday helping with some wireless network issues at the family business so I thought I'd run over to one of my favorite record stores, Moondog Music. I had intended to pick up the new sophomore release from Justin Vernon's (Bon Iver) collaboration band with members of Collections of Colonies of Bees Volcano Choir. Titled Repave, it's a more cohesive release than their first album. Even though Vernon is the frontman in this band, it isn't exactly Bon Iver part 2. More direct rock on this album and less vocoder falsetto vocals. I was also hoping that the vinyl version of Wise Up Ghost by Elvis Costello and The Roots would maybe be in the bins ahead of this Tuesday's release.
Moondog had Repave for $19.99, but they didn't have Wise Up Ghost on LP (they did have the CD). I had Volcano Choir in hand and was going to buy it until I started digging through the used and came up with a few surprises!
The Smiths – Louder Than Bombs (2 LP, Sire Records, 1987) ($19.98) WOW! On my wish list for YEARS. Really nice and clean copy of this album, which is probably my favorite Smiths album even though it's technically a compilation of non-album singles. Initially, this was a US-only release used as a way to bring these tracks stateside. The UK had a couple of singles comps on Rough Trade– The World Won't Listen and Hatful of Hollow— and Louder than Bombs was the vehicle to bring some of those tracks here. UK Smiths fans being what they are, they started importing this release to the UK, so Rough Trade ended up releasing this over there which solidified its position as a regular catalog release.
My friend Julie in college turned me on to both the Smiths and Depeche Mode letting me borrow The Queen Is Dead and Black Celebration— bands very different from my jangly guitar preferences at the time. I distinctly remember buying Louder Than Bombs and Def Leppard's Hysteria on the same day on cassette. Odd to think that these albums are both from 1987!
The Smiths – Rank (LP, Sire Records, 1988) ($14.98) And, as soon as I get into the band, they break up… Bombs was released in March of 1987, the Smiths' final studio album Strangeways Here We Come was released in September, 1987 and by that time the band had officially split up. I have the entire studio releases of the Smiths on cassette and CD plus Bombs on cassette and CD and Hatful of Hollow on CD (it was in a used bin otherwise I wouldn't have picked this up as I consider it to be redundant). When Rank came out in September of 1988, I had pretty much moved on as far as paying attention to new releases and I didn't think a live album was essential. I still haven't listened to it, but will. The recording is a distillation from a BBC-1 live concert from 1986. The album was released as a contractural obligation. I decided to buy this because it is rare to find any Smiths in used bins around here and the new 180g Rhino reissues of the Smiths catalog are $35 which is pretty steep for my budget, so I'll continue to keep an eye on the bins to complete my Smiths collection.
Gift of Gab – Escape 2 Mars (LP, Cornerstone Recording Arts Society/Quannum, 2009)($16.98) An unexpected find– the R&B and Hip-Hop selection at Moondog is usually very thin. I've been building my Quannum/Solesides vinyl collection lately– lots of gaps since I had really been focusing on CD's up until five years ago. That said, I didn't have this on CD either. Gift of Gab is more recognized as the MC for Blackalicious– his effort with producer Chief Xcel,  but has had a run of solo work that is notable. We listen to 4th Dimensional Rocket Ships Going Up quite a bit in the house, so I imagine that this release will be as good– I totally slept on this release so it will be good to get caught up.
Spoon – Transference (LP, Merge Records, 2010)($9.98) While I was digging through the used section I saw a whole bunch of nearly-new indie releases. Looked like they were opened and maybe played once? Some Sundazed releases, a few Sub Pop releases all for under $10. I didn't find out what the story was on those, but I picked a couple of great ones including this one from Spoon. Transference wasn't as good as Ga Ga Ga Ga Ga, but still pretty great. I remember listening to this a lot in the car in early Winter 2010. We had a major car breakdown that had Sherry and I commuting together in one car for a few weeks– she was getting her Professional Makeup training so I'd drop her off in the morning and pick her up at night.
Sebadoh – Bakesale (LP, Sub Pop Records, 1994/2011 Remaster)($7.98) Another of the mysterious "new" LP's in the used bins at Moondog. A grey marbled vinyl release as part of the reissue campaign for the Sebadoh catalog. I loved this album when it came out– I listened to it repeatedly. In 1994, I was working in Dubuque at the time and I think living with my parents following a failed cohabitiation with a girlfriend. I was on the road installing computer systems in the Midwest and East, with a lot of road time, so my CD's were constant companions. Brilliantly flawed but accessible album. At the time I definately thought that Sebadoh was a better band than Dinosaur Jr was (the band that Lou Barlow used to be in with J Macsis). I'm really happy to have this in my collection– I need to pick up the Harmacy reissue as well.
A really great haul from Moondog Music! While I was there they were playing the new album from Iggy Pop and the Stooges titled Ready to Die which sounded pretty good, may need to check that out.
In the mail this week:
Calexico – Ancienne Belgique Vol. 2 (2 LP, Our Soil, Our Strength, ) OSOS9, 2013)($20 + shipping) 2012 and 2013 has been a year of many releases from Calexico— the brilliant Algiers came out in September of 2011 which included a live album titled Spiritoso if you ordered the box set. This eventually came out as a numbered release for Record Store Day in April in the US. Soon after that the band put out a 2 LP live sequel to Ancienne Belgique (which got the vinyl treatment as part of the Road Atlas box set as well).  Then they announced a Europe tour-only 5-track EP of covers titled Maybe on Monday.  My copy of Ancienne Belgique Vol. 2 delivered this week. I had pre-ordered it in June (I think). They were supposed to have copies of this on tour, but they weren't done in time for the Iowa City show. (I was out of town and missed that show anyway). Another really nice addition to my growing Calexico collection.
Arcade Fire (as The Reflecktors) – Reflektor 12″ (12″, Sono Vox/Merge Records, MRG484, 2013) ($8.99, free shipping) Merge put some copies of Arcade Fire's mysterious "Reflektor" single in their online store. Released under the pseudonym The Reflektors, it was timed with the announcement of the album and single of the same name on September 9th at 9PM (9/9/9). Lots of speculation and rumor about the announcement leading up to the time and an accurate leak of the song the day before. The 45 RPM 12″ has the full version of the song and an instrumental version on the flipside. The song was produced by James Murphy of LCD Soundsystem and features guest vocals by none other than David Bowie. It's a pretty decent song and apparently points to the direction of the new album due out October 29th as being, in the words of Win Butler as a "mashup of Studio 54 and Haitian Voodoo." (S.I.C.)
I also received four of the Daytrotter split LP's this week, including the amazing Gary Clark Jr. split with Son House, and Grace Potter and the Nocturnals. We're up to 13 of 14 of the preorders shipped (still waiting on the Maine one which is #13) I got the PHOX one ordered and will order the Tegan and Sara one in the next couple of weeks.