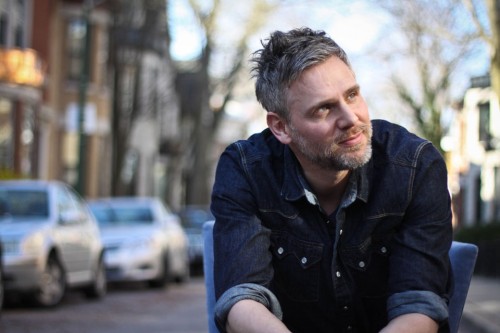 Well, it's been a pretty great week for acts at CSPS! The Duncan Sheik show on Thursday night was pretty damn amazing, and I found a couple of acts I want to keep an eye on– that new Alpha Rev album coming out next year will be one that I'm looking forward to.
Tonight the big stage at CSPS will be graced by Dick Prall who used to live in Iowa, but now crafts his Brit Pop-influenced Midwestern Rock from the Windy City. He's put out a solid run of pop rock masterpieces since his first release Somewhere About Here in 1998.
This year he is kicking off a new project that is a little different than his standard album releases. He is working with Pat Sansone of Wilco and The Autumn Defense to release a series of digital singles which will culminate in a full release with bonus material next year. In an e-mail exchange with Prall he said, "We're trying a different methodology this time around to hopefully keep folks interested and engaged on a monthly basis – that's the theory, anyway. All the songs are being done with Pat Sansone, who digs the idea, so I'm in good company."
If the first single "Wanted Blue" is any indication, it will be one for the "Best of" list for 2013! Prall also said that they are considering vinyl for this release! Listen for yourself and download:
Dick is bringing a band with him tonight that he describes as "drums, bass, violin, & hollow-bodied guitar put together in a sort of laid-back Buddy Holly & the Crickets meets Elvis Costello backed by Spoon sort of way." Sounds like my kind of lineup!
The show is at 8PM at CSPS, and tickets are $17 in advance and $21 at the door. The opener is Stolen Silver. Details at the LegionArts.org site.
Listen to Dick Prall's acoustic session on Daytrotter.com (it's a free trial if you don't have a subscription)
Here are upcoming shows (from dickprall.com)
November 17, 2012

Cedar Rapids, IA – CSPS (w/ Stolen Silver)

8:00 pm

November 29, 2012

Kalamazoo, MI – Bells Eccentric Café

8:30 pm

December 1, 2012

Traverse City, MI – Inside Out Gallery

7:00 pm

December 5, 2012

Chicago, IL – Uncommon Ground, Devon (w/ Dave Tamkin)

8:00 pm

December 6, 2012

Madison, WI – Froth House (w/ Miles Nielsen)

7:00 pm

December 19, 2012

Denver, CO – The Walnut Room (w/ Dave Tamkin, Kevin Mileski and Josh Queen)

7:00 pm

December 22, 2012

Louisville, CO – The Waterloo (w/ Dave Tamkin)

8:00 pm

December 30, 2012

Chicago, IL – Double Door (w/ Butch Walker)

8:00 pm

December 31, 2012

Chicago, IL – Bottom Lounge (NYE Bash w/ Butch Walker)

9:00 pm