As many things do any more, it all started with a tweet.
Around the time that Dawes played the "Barn on the Fourth" show in Maquoketa, IA at Codfish Hollow in 2010, Adam Duritz of the Counting Crows tweeted that he wanted to play in a barn. Last month it was announced that Counting Crows would be performing in Cedar Rapids as part of their RAGBRAI event. At that time, I speculated that it would have been a good time to do a Daytrotter Barnstormer show and mentioned it to Tiffany Biehl (Tiffany and her husband organize the Barnstormer shows on their farm) on Facebook, and she responded with "I wish."
For the last couple of weeks Daytrotter has been featuring some of the notable sessions from the previous Barnstormer shows, so when Codfish Hollow posted to Facebook yesterday about some big news coming up, I figured it was going to be a Barnstormer announcement since Codfish Hollow has had the distinction of being the home base for these shows.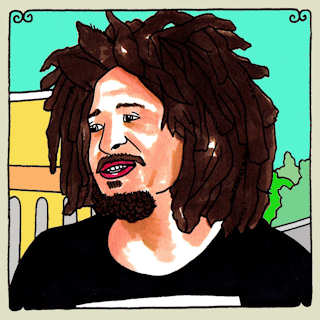 Wishes apparently come true! This morning Counting Crows sent out an e-mail to their fans about their decision to release their newest album of covers Underwater Sunshine for free via BitTorrent. Included in this e-mail was an update about their upcoming Outlaw Roadshow summer tour, which included this:
The first leg (Featuring Counting Crows, Good Old War, Foreign Fields, and Filligar) has already been onsale for a week. It starts in Asbury Park and heads north through Connecticut and upstate NY to Ontario then criss-crosses down through the Great Lake States and the Shenandoah Valley, passing back & forth through Ohio, Michigan, Kentucky, Indiana, and Virginia before traveling down south to Alabama, South Carolina, and Mississippi just west of the Tennessee state line. It ends in Maquoketa, Iowa and Rock Island, Illinois where all the bands will celebrate Independence Day at Codfish Hollow Barn playing a Barnstormer show and then retire to Rock Island to record Daytrotter Sessions. (emphasis mine)
The details for this show are only just finalizing right now, so there isn't any information about tickets yet, but considering that the venue (also known as a "barn") has a reasonable capacity of around 500, these tickets will be as rare as hen's teeth, as they say. I'll update this post with any information that I get.
What a wonderful opportunity for Eastern Iowa!
You should consider signing up for a subscription to Daytrotter— a fantastic deal at $2 per month for some amazing sessions and other perks.
Click Here to listen to Counting Crows last Daytrotter Session.