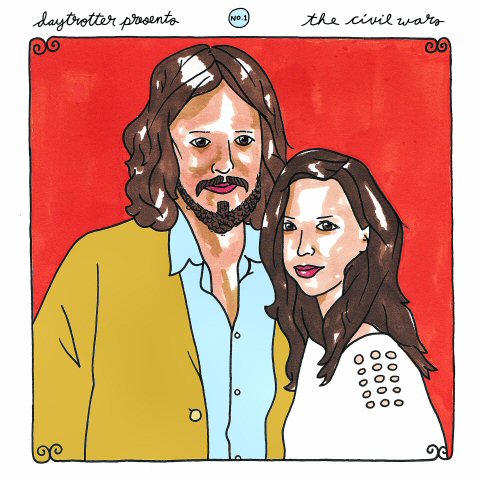 Though obviously not the first foray into vinyl releases by the gem in the crown of Rock Island, IL known as Daytrotter.com, it is the first of what I hope will be a long-running series of split releases of Daytrotter Sessions. There have been a few releases that have sported Daytrotter lineage– notably the 2011 Nathaniel Rateliff Live 10″ (still in the store!), the Iron and Wine/Low Anthem split plus some 7″es that included a track here and there.
The most recent release was announced this week, and is a split of Grammy Winners The Civil Wars backed with The Lumineers. This release is being touted as "Daytrotter Presents No. 1" and is available for pre-sale right now. The really nice aspect of this is although the ordering window is until July 3rd, Daytrotter is going to press as many as are ordered! Talk about a really nice way to accommodate collectors while also preserving limitedness! The vinyl will be pressed in 180g vinyl and will bear the trademark Johnnie Cluney representations of the two groups.
The album will be $35 plus shipping or $26.25 plus shipping for folks who support Daytrotter by subscribing as I do. Between this discount and the discount for the Barn on the Fourth of July Counting Crows show tickets, I've already paid for my year of subscription. But, if you are still on the fence about subscribing– if you buy a 1 year subscription for yourself of a friend, you get this record for free (well, you have to pay for shipping)! In fact, this is the cheaper route anyway, since the subscription is $24, you effectively save $2.25 off of the regular member price!
I've listened to both the Civil Wars session and the Lumineers session, and both are simpatico– beautiful acoustic folk sessions. A delightful way to kick off this series.
What sessions would you like to see in future installments of Daytrotter Presents? I'd like to see Gary Clark Jr., The Pines, Pieta Brown, Umphrey's McGee, Moby (that version of "Ring of Fire" is fantastic!), Cowboy Junkies, a Dawes double!… The list goes on… Your votes in the comments!
Click Here to buy a subscription to Daytrotter and get the free Daytrotter Presents No. 1 (by July 3rd)
Click Here to buy Daytrotter Presents No. 1 without a membership purchase.