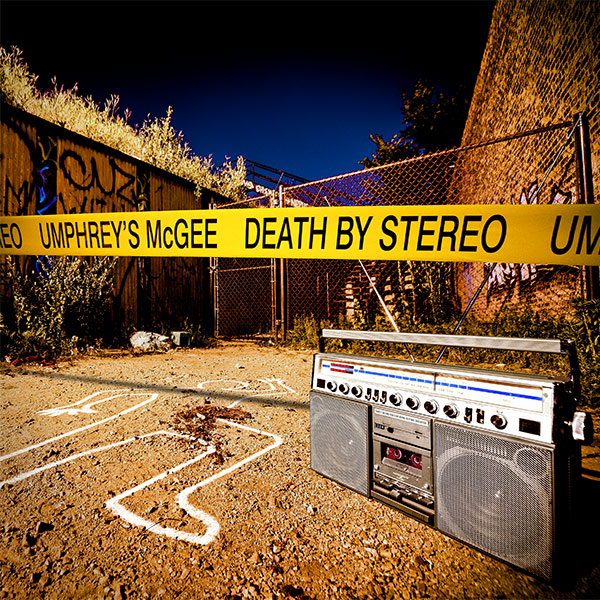 Very soon on the heels of their self-released 2 LP and digital-only release of 2010 Hall of Fame that I reported on previously, Umphrey's McGee announced their new studio album! To be titled Death By Stereo, it will be released on September 13th.
Death By Stereo marks the first release by the band since their move to ATO Records— home of Dawes, My Morning Jacket and Drive-By Truckers. While no explicit reason is given for the move from long-time home SCIFidelity, it is my opinion that this move will probably give the band some resources not available to them on SCIFidelity as far as distribution and promotion, if not visibility.
The press-release which came out earlier this week, says that Death By Stereo is a "lethal musical gumbo" which pretty well describes the genre-crunching band. The tracks mentioned in the article include "Wellwishers" which was originally going to be part of a digital EP series and was freely downloadable as an mp3 in exchange for an e-mail address via TopSpin (who was also the method for selling Hall of Fame) and also downloadable via umlive (my article here). Also mentioned are "Conduit" and "Booth Love" which both have been performed in concert (links to archive.org). "Conduit" was also included in the Summer 2011 free sampler provided by the band. Two tracks we haven't formally heard as of this writing are "Miami Virtue" described as a psychedelic blend of Pink Floyd and Phoenix, and "Black Keys-style blues" track "Domino Theory."
With the amazing pre-sale madness surrounding Mantis with its massive amount of free downloads, I'm sure we'll get something just as cool with this release. Since they are on ATO, I'm hoping that the vinyl release will be 2 LP's of 45 RPM 180g vinyl, just like Dawes has done for their two LPs. The band is already soliciting opinions about whether to include a CD or just download codes, so they are maintaining their practice of keeping their finger on the pulse of the fans.
Stay tuned for more details as they arrive!
Unplugged Musings has an article with some speculation on additional songs that could make Death By Stereo with video clips.