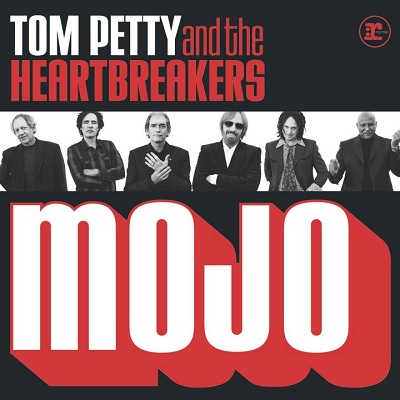 The title of Tom Petty and the Heartbreakers first collaborative effort in nine years is appropriately-enough Mojo which releases on June 15th. If it seems like we've heard from Tom in the last nine years, it is because he had a solo release as well as a "side project." The "concept album" and last studio release with the Heartbreakers The Last DJ was released in 2002. Highway Companion came out in 2006, and he had a reunion of sorts of his pre-Heartbreakers band Mudcrutch in 2008. It's important to note, however, that except for the Mudcrutch shows, he tours pretty much exclusively with the Heartbreakers anyway, so even though those releases were considered non-Heartbreakers releases, he never toured with a different band that I know of.
But, it is the Mudcrutch project where Mojo gets its groove-happy roots. Tom was quoted on rollingstone.com, "I knew there was something in the band that hadn't been brought out. I was listening to early Jeff Beck Group, Peter Green, Muddy Waters and even a little JJ Cale– so that's kind of the way I was thinking when I was writing." According to an article in Billboard last week, the album was recorded live in the studio in a similar fashion to the Mudcrutch sessions which add to the immediacy of the tracks I've heard so far.
In a pretty smart fashion, the Tom Petty camp has been sneaking out tracks starting with "Good Enough" since the announcement of the album and supporting tour in February. For members of the Highway Companions fanclub who purchased presale tickets for the upcoming tour, they were given free downloads of "Good Enough" and "First Flash of Freedom" (you can listen to it below).
Additionally, Tom previewed Mojo tracks on his XM Radio show "Buried Treasure." In addition to "First Flash of Freedom" which was played on April 22nd, he also shared the road story track "The Trip to Pirate's Cove" on April 15th, and "Running Man's Bible" on April 8th. If you have XM Radio you could hear these songs, and if you are a member of the Highway Companions fanclub, you can stream these shows. If you participated in the pre-sale of the tickets you will also be able to get a free download of the complete Mojo album on 6/15 and will also be able to download a 10-track compilation of songs from the upcoming summer tour.
So, four of the 15 tracks have been "leaked" so far and, in interviews conducted since February we found out about two other tracks. Apparently "Don't Pull Me Over" is actually a song in a Reggae-style, and a first for the band (at least on album), and the song "I Should Have Known It" is one of three tracks co-written with Heartbreaker/Mudcrutch guitarist Mike Campbell. The other two co-written tracks were the nearly-seven-minute (!!) "First Flash of Freedom" and the nearly-six-minute (!!) "Good Enough."
I've had a chance to hear all four tracks and it was a bit shocking for me. Particularly the acid-trippy nearly Grateful Dead-sounding "First Flash of Freedom" which is pretty much the mission statement for Mojo, I think. It's sprawling disregard for the typical Heartbreakers economy of melody and composition sort of left me a bit disoriented the first couple of times through! It's particularly satisfying to hear Campbell flex his soloing muscles on "First Flash" and "Good Enough." It will be really great to hear what the band does with these songs on tour.
It makes me happy that the nearly-sixty-year old Petty is feeling like it isn't time to rest on his laurels just yet and is interested in shaking things up a bit. That said, it is a change that isn't 180-degrees away from his regular sound– no Neil Young Trans, here. The chops he's bringing out come from the same place the Heartbreakers always come– 60's blues and rock.
Originally, the album was slated to be released in the Spring, assumedly to coincide with the original May 6th start of the tour. On the 16th, it was announced that the release date of the album was June 15th. At the same time, it was announced that the first nine shows would be moved to the end of the tour which extended the tour into October.
tracklisting for Mojo:
1. Jefferson Jericho Blues
2. First Flash Of Freedom
3. Running Man's Bible
4. The Trip To Pirate's Cove
5. Candy
6. No Reason To Cry
7. I Should Have Known It
8. U.S. 41
9. Takin' My Time
10. Let Yourself Go
11. Don't Pull Me Over
12. Lover's Touch
13. High In The Morning
14. Something Good Coming
15. Good Enough
Tom Petty and the Heartbreakers Summer Tour (from Billboard):
June 5: Oakland, Calif. (Oracle Pavilion)*
June 8: Vancouver, BC (GM Place)*
June 11: Seattle, Wash. (The Gorge)*
June 12: Seattle, Wash. (The Gorge)*
June 15: Calgary, Alberta (Pengrowth Saddledome)*
June 16: Edmonton, Alberta (Rexall Place)*
June 19: Winnipeg, Manitoba (MTS Centre)*
June 22: St Paul, Minn. (Xcel Energy Center)**
June 23: Omaha, Neb. (Qwest Center)**
June 25: Milwaukee, Wis. (Summerfest)***
July 10: Indianapolis, Ind. (Verizon Wireless Amphitheatre)**
July 13: Kansas City, Mo. (Sprint Center)**
July 15: Cincinnati, Ohio (Riverbend Music Center)**
July 17: Chicago, Ill. (United Center)**
July 20: Cleveland, Ohio (Blossom Music Center)**
July 22: Detroit, Mich. (Palace of Auburn Hills)**
July 24: Pittsburgh, Pa. (First Niagra Pavilion)**
July 28: New York, N.Y. (Madison Square Garden) $
July 31: Philadelphia, Pa. (Wachovia Center) $
Aug. 1: Philadelphia, Pa. (Wachovia Center) $
Aug. 11: Atlanta, Ga. (Philips Arena)****
Aug. 12: Nashville, Tenn. (Sommet Center)****
Aug. 14: Darien Lake, N.Y. (Darien Lake Performing Arts Center)****
Aug. 15: Bristow, Va. (Jiffy Lube Live)****
Aug. 17: Hartford, Conn. (Comcast Theater)****
Aug. 19: Boston, Mass. (Comcast Center)*****
Aug. 21: Boston, Mass. (Comcast Center)*****
Aug. 24: East Rutherford, N.J. (IZOD Center)*****
Aug. 25: Toronto, Ontario (Air Canada Center)****
Aug. 27: Saratoga Springs, N.Y. (Saratoga Performing Arts Center)****
Sept. 16: Tampa, Fla. (St. Petersburg Times Forum)
Sept. 18: Raleigh, N.C. (Time Warner Cable Pavilion)
Sept. 19: Charlotte, N.C. (Verizon Wireless Amphitheatre)
Sept. 21: Dallas, Texas (Superpages.com Center)
Sept. 24: Houston, Texas (Cynthia Woods Mitchell Pavilion)
Sept. 26: Phoenix, Ariz. (US Airways Arena)
Sept. 28: San Diego, Calif. (Cricket Wireless Pavilion)
Oct. 1: Los Angeles, Calif. (Hollywood Bowl)
Oct. 2: Irvine, Calif. (Verizon Wireless Amphitheatre)
* with Joe Cocker
** with Drive-by Truckers
*** with ZZ Top $ with Buddy Guy
**** with Crosby, Stills & Nash
***** with My Morning Jacket