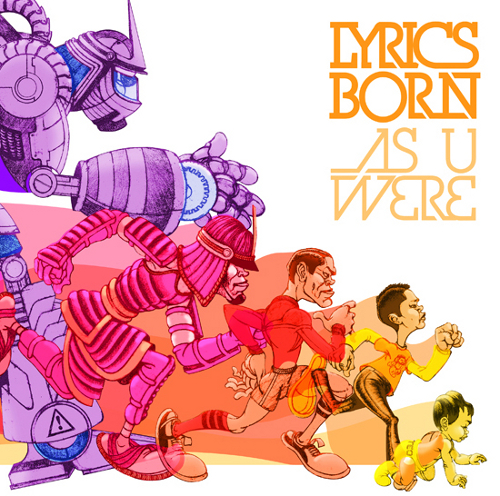 It was March of 2009 when Lyrics Born announced the follow up to the fantastic genre-bending Everywhere At Once. The album titled As U Were has had a sliding release window since then due to LB's insistent and unrelenting demands for perfection. LB has cushioned the blow a bit by providing a steady run of leaked tracks and free downloads which has given us a pretty good picture of what the album will be like.
In March, 2009 we were given the retro braggadocio track "Funky Hit Records" with it's accompanying video. The next track to surface was the reunion of Latyrx (Lateef + Lyrics Born) in the bobbing new-waveish "Pushed Aside, Pulled Apart" with its video produced by Raphael LaMotta of ApSci. In November we were delivered the crazy can't-catch-a-breath windstorm of "Oh Baby" that you have to revisit repeatedly Where's-Waldo-style to find all the funny turns of phrase that LB is known for.
Today the LB camp announced that As You Were will be released on October 26, 2010 and offered up the cover art to prove it! The cover was designed by Brent Rollins who also did Later that Day and Everywhere at Once. As if that wasn't enough, we are also given another track in the pumping finger-jab-in-the-chest spurned lover vent of "Lies X3." "If something just ain't right, it's just plain wrong… You've been lying to me."
As U Were also marks the move to Decon who has an established multimedia track record working deals in licensing and other creative new avenues for music. Aside from the high-visibility Diet Coke commercial a few years ago and songs showing up on the occasional TV show, I always felt that LB's music was bubbling-under a bit. I hope that the Decon partnership will finally kick the lid off that boiling pot.
One of the things I love about Lyrics Born is that he isn't afraid to step out of the straight rap role, and in "Lies X3" he keeps a rhythmic pace in the lyrics, but he sings it all the way through. He's expressed before that he doesn't want to be pigeonholed into a predictable role and in the four tracks leaked from As U Were thus far, it is clear that Lyrics Born is again leaving a predictably worn MC path and stomping into the crunchy underbrush of his own direction.
Click Here to download the new track "Lies X3"
Click Here to download "Funky Hit Records."
Click Here to download "Pushed Aside, Pulled Apart"
Click Here to download "Oh Baby"
Click Here to visit Lyrics Born's website
Click Here to visit Lyrics Born's Facebook Fanpage
Click Here to follow Lyrics Born on Twitter.