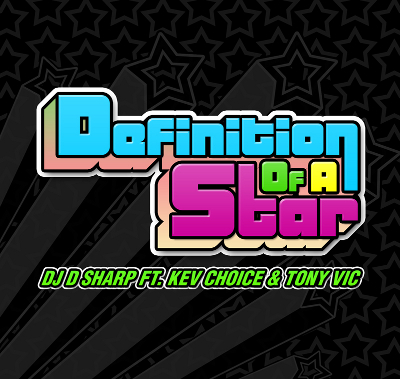 Admittedly, I tend to favor L.A. and Bay Area Hip Hop which might not be surprising when you consider that my music website history starts with Solesides/Quannum labels. The crews out there tend to be pretty closely-knit, so you get a lot of really cool side projects and collaborations.
This week DJ D-Sharp has made his new single "Definition of a Star" available for FREE. The woodblock and strings-stabbing head-bobber features D-Sharp in a classic boasting MC role in addition to production. Kev Choice and Tony Vic have his back with their vocals. "I AM… The definition of a star," D-Sharp announces.
I first became aware of D-Sharp when he came to Iowa City as Lyrics Born's DJ last year. The fact of the matter is that D-Sharp has been around the Quannum camp since he was introduced by his friend Lateef Dumont– aka Lateef the Truth Speaker. Since then he has toured and worked with most of the acts on the label including Blackalicious and The Lifesavas in addition to LB and Lateef. His bio also includes a fairly extensive resume of working with A-List hip hop acts like Black Eyed Peas, Jurassic 5, and Lauren Hill.
The single comes down as one zip file with two versions of the single– the clean and dirty versions as well as the acapellas (in case you want to take on remixing!).
Click Here to download "Definition of a Star"
Click Here to visit DJ D-Sharp's Website.
Click Here to visit DJ D-Sharp's MySpace Page