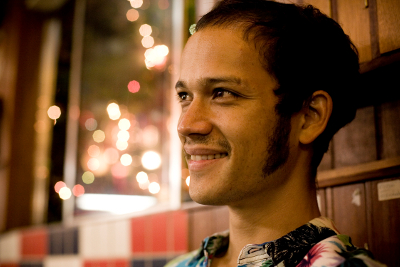 This might be as close as a Quannum artist will get to Cedar Rapids…
While touring Brazil, Chief Xcel of the formidable Blackalicious fell in love with the locally released Achados e Perdidos and quickly signed Luciano Nakata Albuquerque who performs under the moniker Curumin (KOO-roo-mean). Achados e Perididos with its pan-continental mix of salsa and funk was re-released on Quannum in September 2005 to critical praise– quite an achievement for an artist who sings primarily in Portuguese!
In October, 2008 Curumin released the much-anticipated follow up JapanPopShow— the title of which is a nod to his split Spanish and Japanese heritage. JapanPopShow picks up where Achados left of with its strong samba-soul vibe and warps it with the heat of afro-beat, dub and experimental funk with refreshing spritzes of tropicalia. At times it reminds me of Air or Gilberto Gil in it's easy casual feel. The Quannum collective jumps in to lend a hand on some of the tracks– Herve Salters from Honeycut, the Gift of Gab and Chief Xcel from Blackalicious and Lateef. Frankly a brilliant and original album. I especially dig Curumin's testament to his love of 45RPM records "Compactu."
So, Cedar Rapids will be warmed with Brazil's ambassador of samba soul in the dead of winter on Monday, January 26th at Cedar Rapids own CSPS! The show starts at 8PM and tickets are $13 in advance and $16 the day of the show.
According to his press releases, Curumin typically tours with a couple of musicians and each took the stage armed with an MPC sampler providing live beat manipulations combined with live instrumentation. Curumin also switches between live drums and cavaquinho which is like a ukelele.
Don't sleep on this, folks– it promises to be a head-bobbin' evening.
Click Here to visit the Facebook Event for Curumin at CSPS.
Click Here for more information on the show
Click Here for Curumin's MySpace Page which has streams of some of his tracks.
Click Below to download "Compacto" (personal favorite)
Curumin

"Compacto" (mp3)
from "JapanPopShow"
(Quannum Projects)


Buy at Pre-order from Insound

Buy at iTunes Music Store

Buy at Rhapsody

Buy at Napster

Stream from Rhapsody

Buy at Puretracks

Buy at mTraks

More On This Album