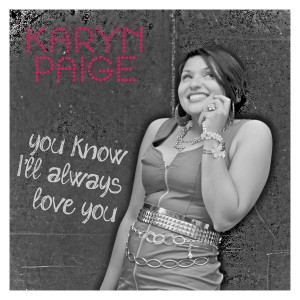 It's no secret that I'm a big fan of Bay Area Pop Funk Chanteuse Karyn Paige. Today, I'm happy to announce that she's dropping a new single to tide us over until she finishes her full length album.
Consistent with her first release, The KP EP (I reviewed here), her latest single "You Know I'll Always Love You" pays tribute to the Pop R&B heyday of the 80's with swelling and buzzy synthesizers. Ms. Paige transforms from the sexy fuming diva sitting on the bed in "Stay Away Tonight" to a sunny girl in love that reminds me of Paula Abdul's great singles.
The smartly spare arrangements, and loping percussion draws us very close to Karyn's lovely soprano with an adopted affected stuffiness that recalls 1920's and 30's jazz singers. Factor in the slightly-kitschy talk box harmony vocal effects and you have one perfect pop song.
I asked Karyn why she chose to release this single ahead of the full length album she's working on.
"The motivation for releasing the song  ahead of the full LP was simple: Fans who have seen us play it live are constantly asking when we are going to put it out. People are really drawn to it, from music heads to moms. I wanted to give my fans something new to enjoy until the LP comes out. It was written by my co-producer and keyboard player Matt Berkeley, and I've always been honored to sing it."
Listen for yourself:

Then buy it on iTunes!
While you're there, check out The KP EP, too.
Click Here to visit the Karyn Paige official website where she has some great videos to check out, too.
Click Here to visit the Karyn Paige Facebook Fanpage