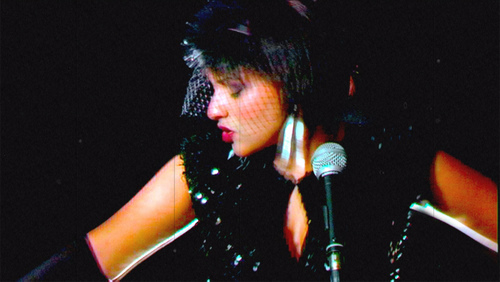 If last night's Grammies shows us anything, it is that music that draws inspiration from the rich history of 70's and 80's Pop music is always going to be popular. Arcade Fire owes a lot to Springsteen, I think Lady Gaga should write Madonna a check for her new single "Born This Way" which is almost a direct rip of "Express Yourself." John Legend and the Roots took home a trophy for an album of 70's R&B covers.
Last year, I posted a couple of articles about another artist that puts her unique spin on her 70's and 80's new wave, soul and funk influences, Bay Area-based singer Karyn Paige. Her slamming single "Want To" and the follow up EP, known simply as the KP EP got a lot of play for me last year and I will admit that the "Want To" single sounds like it came right out of Prince's stable of musicians when he held court in Minneapolis.
Karyn, along with video director and editor Justin Berger (who also does the popular Lyrics Born LBTV installments) and her backing band The Scoundrels (Joe Bagale (drums/vox), Matt Berkeley (keyboards), Chris McGee (bass/vox) and Teeko (keyboards/turntables)) visited Soundwave Studios for three days of shooting that make up the debut video for "Want To"  Karyn's smoky and funky testament to a paramour. The video makes its premier here, appropriately enough on Valentines Day!
The video showcases the singer by providing a number of different settings with and without the band. The video is clearly influenced by classic videos of the era she draws her inspiration but with updated video effects. This is a great song, and this video should prove to be an effective calling card for her.
Karyn's great wardrobe in the video was custom made by Gracie Ginian.
The video premiered for the first time ever at Beta Lounge in Berkeley, CA just this past Saturday (Feb 12th) along with a special performance by Karyn and some of her friends (Aima the Dreamer, Dublin, Teeko, DJ Tap.10)
So, here for your enjoyment– I present "Want To" by Karyn Paige!

You can download the mp3 to "Want To" here.
Make sure you buy her EP 'THE KP EP' at iTunes, Amazon.com or at her website, http://www.karynpaige.com
Facebook: http://www.facebook.com/karynpaigemusic
Twitter: http://www.twitter.com/karynpaige