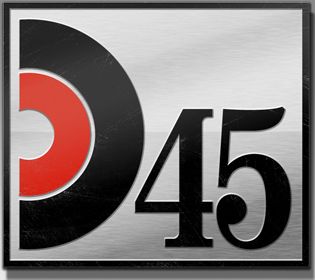 In what seems to be a gobsmackingly obvious move, the major labels in conjunction with digital music retailers like Zune Store, Amazon, Rhapsody and iTunes have announced "Digital 45s" on the 60th anniversary of the 7″ 45 record.
The big announcements are really in conjunction with Apple's iTunes Store that they are calling "D45" and use that nifty logo pictured on the left. Digging through the press-releases shows that Warner Music Group is represented by Rhino which should represent the full compliment of WMG labels which includes Atlantic/Atco, Elektra/Asylum, Warner Brothers, Reprise and Sire– so this should bring a very wide and deep catalog and the first releases are already showing some promise.
EMI stepped up with a press-release as well although they don't have a site dedicated to their Digital 45 initiative. EMI stable of labels include EMI, Apple, Capitol, Virgin, Blue Note, Manhattan– and interestingly, Caroline, Mute, Definitive Jux, and Astralwerks making for some potentially interesting releases.
The Concord Music group has titles released as well, but no press release. According to the Wikipedia article on  Concord, UMG handles the physical distribution of Concord, but I don't think that would apply here. Concord includes Fantasy's labels– Fantasy, Stax/Volt and a number of jazz labels (Riverside, Prestige). There is a Sam & Dave Digital 45 of "Soul Man," I hope this means we see some interesting Creedence Clearwater Revival releases– they were on Fantasy. There has been a long-standing Stax/Volt Singles box set with b-sides, but these Digital 45s would allow someone to pick and choose if they released the whole Stax catalog.
SonyBMG have brought some Digital 45's as well, but I couldn't find a press release on it. SonyBMG is a significant collection of labels as well with Sony, Epic, Columbia, RCA, Arista and all of their associated spinoff labels. One of the first Digital 45's is a Michael Jackson single for "Billie Jean" b/w "Can't Get Out of the Rain."
A quick review of the online retailers shows a pretty impressive participation– iTunes, Amazon.com, Zune Music Marketplace, Rhapsody mp3 store, but eMusic seems to be the lone holdout– or shut out. Sony just signed an agreement with eMusic to be able to sell older titles, but apparently this doesn't extend to Digital 45s, yet.
Comparing the offerings between the retailers shows that mostly everyone is adopting the $1.49 for 2 tracks, with the individual tracks at standard pricing of $0.99. Zune Marketplace has the 2 tracks at $1.69, with individual tracks at $0.99. The Sony titles seem to be priced differently– "Billie Jean" 2-track is $1.99 with "Billie Jean" at $1.29 and the b-side at $0.99. Right now it looks like iTunes is the only retailer who has the SonyBMG titles. I'm not sure what the future holds about this situation, since all of the retailers have other SonyBMG titles.
All of that detail aside, there are some pretty cool titles available already and based on an interview with Rhino Marketing Veep David Dorn by Billboard, they will be releasing "bundles" of Digital 45's monthly, so there will be many more to come!
Some releases of interest to me:
Prince and the Revolution- "Kiss" b/w "Love or Money" (Warner Brothers) This is a single I own in 7″. Interestingly this was a B-Side left off of the 1993 3 CD compilation The Hits/The B-Sides, so its existence here is welcomed.
INXS – "What You Need" b/w "Sweet As Sin" (ATCO) During their heyday, INXS used their b-sides to provide songs that were a bit more experimental. "Sweet As Sin" is a two-steppish country tune. Not a bad track, but certainly didn't fit on Listen Like Thieves. One of my favorite b-sides from INXS from this period is the jazzy instrumental "Begotten" and the really out-there "I'm Coming (Home)" from the "I Need You Tonight" single.
Erasure – "A Little Respect" b/w "Like Zsa Zsa Zsa Gabor" (Warner Brothers) Another great bubbly dance track from Erasure. Could have easily been on  The Innocents, really.
The Cure – "Just Like Heaven" b/w "Breathe" (Elektra) The Cure is a veritable treasure trove of b-sides. This is most evidenced by the amazing 2004 Rhino/Fiction box set Join the Dots : B-sides and Rarities, 1978-2001. I had this on cassette single. According to one of the reviewers on iTunes, the "Just Like Heaven" mix is the mix by Bob Clearmountain used in the video.
Steve Martin and the Toot Uncommons – "King Tut" b/w "Hoedown At Alice's" (Warner Brothers) I have this 7″– in fact you can see it in the header picture on this blog. With Martin's new 5-string banjo album The Crow out, it makes sense for this b-side to show up as it is a banjo workout by Martin.
The Cars – "Let's Go" b/w "That's It" (Elektra) The lead single from Candy-O in 1979 had the non-LP track "That's It" with Benjamin Orr on lead. This track was included in the 1995 Just What I Needed : Cars Anthology.
What I would like to see for singles (which is really about the b-sides)
INXS – "Listen Like Thieves" b/w "Begotten" (Elektra) I mentioned this one above.
Terence Trent D'Arby – "Sign Your Name" b/w "Greasy Chicken (Sony) My brother Steve was a big fan of TTD when Introducing the Hardline came out. He had the cassette single to "Sign Your Name" with the really funky workout "Greasy Chicken" as the b-side.
Bruce Springsteen – "One Step Up" b/w "Roulette" (Columbia) The Boss is pretty famous for having some really great songs "in the can" that eventually showed up as b-sides to singles or elsewhere. "Roulette" is a great example of this. Recorded in the Spring of 1980, it is a galloping song about nuclear holocost that just never made it to an album. This song eventually showed up on the very cool Tracks boxset. In fact, you can download it now from Amazon.com and other places.
Men At Work – "Who Can It Be Now" b/w "Anyone For Tennis" (Columbia) Another favorite around the house. My brother had this 7″ and played the b-side all the time. For some reason Sony Legacy omitted this song from the bonus b-sides appended to their 2003 remaster. "Anyone For Tennis" is a quick-tempo slightly ska-ish track demonstrates how much Men at Work owed the Police.
The Rolling Stones – "It's Only Rock 'N Roll (But I Like It)" b/w "Through The Lonely Nights" (Rolling Stones Records) When you're a kid and your mom picks up records for you– you play the crap out of them. In my mind the flip side of the rocker "It's Only Rock N' Roll" is as notable as the A side. "Through The Lonely Nights" is a slinky, almost funky country rocker. Mick does his best American drawl. An absolutely gorgeous classic and largely ignored. This song was resurrected in a 2005 remaster done for a Starbucks compilation that is now out-of-print called Rarities 1971-2003. Really, I think that a box set of singles similar to the Singles Collection : London Years should be done for the post 1971 period.
Prince – All of the Warner singles! While it's true that the 3 CD version of The Hits/The B-Sides is relatively available, they don't seem to be available for digital download! So, this would be an inventive way to remedy this! Plus, there are still songs that didn't make that 3rd disc– "Alexa de Paris" for one. In fact, maybe it's time to reissue the Prince protegee bands' singles as well!
Click Here for Rhino Records' Digital 45 Page
Click Here for the press release from EMI which lists the initial singles they will be releasing.