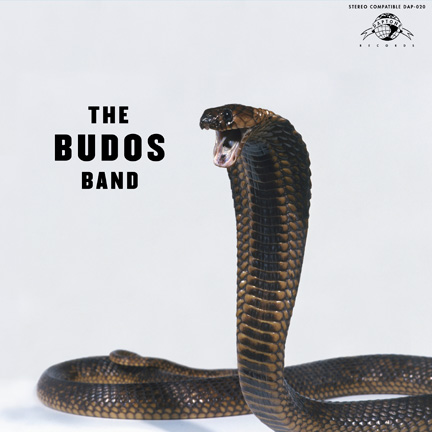 Last week the mighty instrumental afro-funk band The Budos Band— which bills itself as the "Staten Island's Undesputed Champions of Afro-Soul" announced the release and details of their new album The Budos Band III. To be released on August 10th on the formidable Daptone Records label the record is the band's first release since 2009's The Budos Band EP and the first full length since 2007's The Budos Band II.
Coincidentally,  I was in Boston this week for work and managed to sneak in a run to Newbury Comics. I was hoping to pick up the new Suckers vinyl, but it has been delayed. Instead I ended up picking up a couple of records I've had on my Amazon Wish List for a while– The Budos Band and The Budos Band EP. I still need The Budos Band II. I've been a fan of The Budos Band since I did a review of the Scion Daptone Records compilation.
The Budos Band is a band with a distinctive sound– influenced by African– specifically Ethiopian– music coupled with organ and guitars lead melodically by a muscular horn section. The Budos Band shares guitarist Brenneck with the other signature Daptone house band– The Dap-Kings. Other Dap-Kings Neal Sugarman and Binky Griptite were on-board for the first Budos Band album.  It's clear that the cross-pollination has helped establish them.
The first Budos Band Record featured a volcano in full eruption with the lava coming right for the viewer presumably representing "The Volcano Song." The second Budos Band featured a scorpion ready to sting, representing the "Scorpion" album track. Continuing the "dangerous" cover art of the Budos Band records, III has a cobra on the cover– likely representing the "Black Venom" track– but I think may also be a sly reference to the expression "The Third Time is a Charm" where the charm would be for that cobra.
"Heading into the studio for Budos III, I really thought we were going to make the first psychedelic, doom-rock record ever recorded at Daptone," said front man and baritone saxophonist Jared Tankel, "but somehow it ended up sounding like a Budos record." I've had the opportunity to listen to the album and the familiar formula of the Budos Band is continued but I do get the sense of some underlying darkness.
I like the whole album– the songs on III fit comfortably next to the rest of their catalog in my opinion. Early standout tracks for me are "Unbroken, Unshaven" (this has to be a reference to the fact that the band used to be called Los Barbudos or "The Bearded Ones") with its clean strumming leading the song, "Nature's Wrath" has a great loping circular beat but has the BEST FLUTE SOLO this side of Ray Thomas' solos in The Moody Blues! In my mind, Mother Nature is PISSED about the BP oil leak and this song is the warning before she tears us a new one! One nice bonus to this album is "Reppirt Yad" which wraps the album up. For Record Store Day this year, Daptone put out a split 7″ of Sharon Jones and the Dap-Kings and The Budos Band. The Budos Band track was an interpretation of The Beatles "Day Tripper." They seem to have disguised the song with a backwards title for III.
To get a free download of "Unbroken, Unshaven" click on this link to sign up for a Daptone Records e-mail list (that they admit you can unsubscribe from). I've been on the Daptone e-mail list for a couple of years now and they aren't abusive and it's a good way to stay on top of news from this fantastic label.
The band is off on an extensive tour in support of III and hopefully they bring their snake charming show to a venue near you!
The Budos Band III Tracklisting:
Rite of the Ancients
Black Venom
River Serpentine
Unbroken, Unshaven
Nature's Wrath
Golden Dunes
Budos Dirge
Raja Haje
Crimson Skies
Mark of the Unnamed
Reppirt Yad
Tour Dates :
Sat June 5 Montclair, NJ Wellmont Theatre (w. Les Claypool)
Fri June 11 New York, NY Rocks Off Concert Cruise
Sat June 26 Vancouver, VC Vancouver Jazz Festival @ Commodore Ballroom
Sun June 27 Calgary, AB Calgary Jazz Festival @ The Whiskey
Tue June 29 Saskatoon, SK Saskatchewan Jazz Festival @ Lydia's Pub
Wed June 30 Winnipeg, MAN Jazz Winnipeg Festival @ Pyramid Cabaret
Sat July 10 Chicago, IL Chicago Folk & Roots Festival @ Welles Park
Sun July 11 Bloomington, IN Bluebird
Mon July 12 Chicago, IL Millennium Park
Tue July 13 Ann Arbor, MI Blind Pig
Thu July 15 Quebec City, QC Quebec City International Summer Festival
Fri July 16 Ottawa, ON Cisco Ottawa Bluesfest
Sat July 17 Toronto, ON Lee's Palace
Wed July 21 Philadelphia, PA Johnny Brenda's
Thu July 22 Harrisburg, PA The Abbey Bar at ABC
Fri July 23 Floyd, VA Floydfest
Sat July 24 Washington, DC Black Cat
Sat Aug 7 Brooklyn, NY Celebrate Brooklyn! @ Prospect Park Bandshell
Thu Aug 12 Los Angeles, CA Levitt Pavilion
Fri Aug 13 Pasadena, CA Levitt Pavilion
Sat Aug 14 San Luis Obispo, CA Downtown Brew
Sun Aug 15 San Francisco, CA Outside Lands @ Golden Gate Park
Tue Aug 17 Phoenix, AZ Sail In
Thu Aug 19 Santa Fe, NM Santa Fe Brew Co
Sun Aug 22 Dallas, TX Granada
Tue Aug 24 Oklahoma City, OK Conservatory
Wed Aug 25 Kansas City, MO Record Bar
Fri Aug 27 Denver, CO Larimer Lounge
Sat Aug 28 Boulder, CO Fox Theater
Tue Aug 31 Salt Lake City, UT State Room
Wed Sept 1 Boise, ID The Grove Plaza
Thu Sept 2 Eugene, OR W.O.W. Hall
Fri Sept 3 Portland, OR Dante's
Sat Sept 4 Seattle, WA Bumbershoot
Click Here to visit the Wikipedia page on The Budos Band.
Click Here to visit the Budos Band website.
Click Here to visit the Budos Band MySpace page.
Click Here to visit Obscure Sound page on The Budos Band which has some mp3's.
Click Here to visit The Spinner.com Interface session with video of The Budos Band.