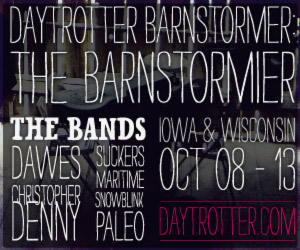 This week Daytrotter.com posted the details of the upcoming Barnstorm Tour– to be called "Daytrotter Barnstormier II" and will start Thursday,  October 8th in Milwaukee, WI and wrap up on Tuesday, October 13th in Johnston, IA.
Via the @realdaytrotter twitter account and the weekly e-mails Sean Moeller (master of ceremonies, general cool guy) had been dribbling out details about the upcoming shows so very little of this is a surprise to those of us who watch Daytrotter goings on closely.
This tour, which is apparently "Barnstormier" than the July shows, happens to hit three of the same stops– the barn of the very cool Biehl's in Maquoketa (now called Codfish Hollow), Mooney Hollow Barn in Green Island south of Bellevue and the Seacrest Octogonal Barn. Sean also added on two Wisconsin stops– the very cool Turner Hall Ballroom on 10/8 and the Treinen Farm in Lodi on 10/9. The tour wraps up on the 13th at the Simpson Farm outside Johnston, IA (Des Moines).
As with the previous shows, these will be free and all-ages– except for the Lodi, WI show where you will gain admission to the other attractions for a measly $5-$8. The bands and Daytrotter are just tryin to recoup expenses by selling posters, teeshirts, records and other stuff in addition to passing the hat.
The bands are a mix of new and some from the July run. Dawes is kind of the headliner– their sound is one that evokes the 70's SoCal sound– slightly country rock with impeccable harmonies– think Eagles, CCR and CSN with a little Band thrown in. Christopher Denny has a unique sound that at times reminds me of Dylan's Nashville Skyline period. The Suckers from Brooklyn sport an angular almost No-Wave pop sound and Milwaukee is bringing the guitar power pop. Listening to the Daytrotter sessions linked below, I'm getting pretty stoked for this run! On a couple of the shows we get Paleo and Snowblink from the first tour.
Here are the shows broken down with links to the bands' Daytrotter sessions where you can find out more about them:
October 8
7 pm — Milwaukee, Wisconsin: Turner Hall Ballroom: 1032 N. 4th St. (Performing — Dawes, Christopher Denny, Suckers, Maritime)
Dawes Daytrotter Session
Christopher Denny Daytrotter Session
Suckers Daytrotter Session
Maritime Daytrotter Session
Maritime Encore Session
October 9
6 pm — Lodi, Wisconsin (15 mintues north of Madison, WI): PUMPKIN PATCH!! Treinen Farm Corn Maze and Pumpkin Patch , W 12420 Highway 60 (Performing — Dawes, Christopher Denny, Suckers, Maritime)
Dawes Daytrotter Session
Christopher Denny Daytrotter Session
Suckers Daytrotter Session
Maritime Daytrotter Session
Maritime Encore Session
October 10
6 pm — Maquoketa, Iowa: BARN SHOW #1: Codfish Hollow Barn, 3437 288th Ave. (Performing — Dawes, Christopher Denny, Suckers, Snowblink, Paleo, Brooks Strause)
Dawes Daytrotter Session
Christopher Denny Daytrotter Session
Suckers Daytrotter Session
Snowblink Daytrotter Session
Paleo Daytrotter Session
Brooks Strause Daytrotter Session
October 11
6 pm — Green Island, Iowa (Near Bellevue, IA): BARN SHOW #2: Mooney Hollow Saloon Barn, 12471 Highway 52 (Performing — Dawes, Christopher Denny, Suckers, Snowblink)
Dawes Daytrotter Session
Christopher Denny Daytrotter Session
Suckers Daytrotter Session
Snowblink Daytrotter Session
Paleo Daytrotter Session
October 12
6 pm — West Liberty, IA: BARN SHOW #3: Secrest 1883 Octogonal Barn, 5750 Osage St. (Performing — Dawes, Christopher Denny, Suckers, Snowblink)
Dawes Daytrotter Session
Christopher Denny Daytrotter Session
Suckers Daytrotter Session
Snowblink Daytrotter Session
October 13
6pm — Johnston, Iowa: BARN SHOW #4: The Simpson Barn, 6169 Northglenn Dr. (Performing — Dawes, Christopher Denny, Suckers, Snowblink)
Dawes Daytrotter Session
Christopher Denny Daytrotter Session
Suckers Daytrotter Session
Snowblink Daytrotter Session