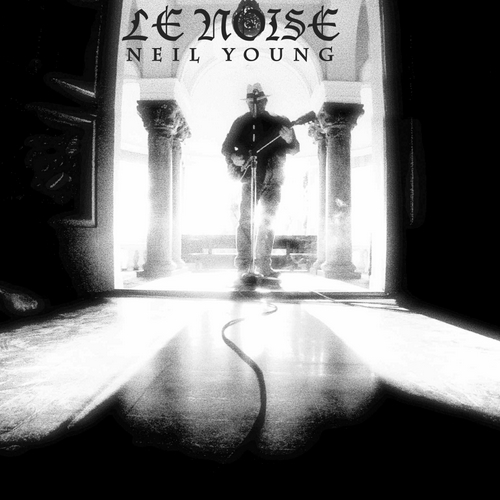 Neil Young's new solo album Le Noise will be released on September 28th. A collaboration with studio-genius and five-time Grammy Award winner Daniel Lanois— the album promises to be sonically one of Neil's most distinctive releases in a catalog that spans over 50 years and 40 albums if you only include titles credited only to him!
Although Lanois has a notable career as a musician, he is probably best known for his work producing or co-producing such bands and artists as U2 (Unforgettable Fire, The Joshua Tree, All That You Can't Leave Behind), Bob Dylan (Time Out of Mind), Peter Gabriel (So, Us), Brian Eno (Apollo, Thursday Afternoon), Emmylou Harris (Wrecking Ball), Willie Nelson (Teatro), Robbie Robertson (Robbie Robertson) just to name the big ones. Even though you can see from just this list how Lanois and Young worked in the same music circles (Dylan, Emmylou Harris, Willie Nelson and Robbie Robertson), this is the first time they've collaborated on a record.
Le Noise— which has to be a pun on Lanois' name– was recorded in Silverlake, CA at Lanois' home which itself is a key to the sonic textures that were brought to this recording. No band, no overdubs– "[Neil] walked in the door and I put an acoustic guitar into his hands," Lanois says "– one that I had been working on to build a new sound."
Considering that Lanois' on solo recording as well as records by guitar-loop wizard Michael Brook are typically built up around a single instrument, I have an idea how this record might sound. Neil Young is generally not regarded as an artist who varies much in his sound– he's either running full-tilt distortion with his 50's vintage Gibson Les Paul known as "Old Black" or in a stripped down acoustic folkie mode. Certainly he has painted very complex paintings with just these brushes in his passel over the years– but he's never to my knowledge worked with a producer that leaves such a distinctive signature as Lanois does.
Le Noise will be released in several formats, including standard CD, vinyl, digital download, and as a deluxe CD/DVD. The DVD portion, shot by cinematographer Adam Vollick, will feature eight black and white films of Young performing each song solo on acoustic and electric guitar live in the studio. In November, Reprise will also release a Blu-Ray edition, featuring Lanois and Vollick's beautifully shot films of Young.
It is comforting to know that an artist with such a legacy and history who is being forced to look back on his career in the form of the work surrounding The Neil Young Archives is also looking forward– and really would we expect anything less?
Tracklisting for Le Noise:
Walk With Me
Sign of Love
Rescue Me
Love and War
Angry World
Hitchhiker
Peaceful Valley Blvd
Rumblin'