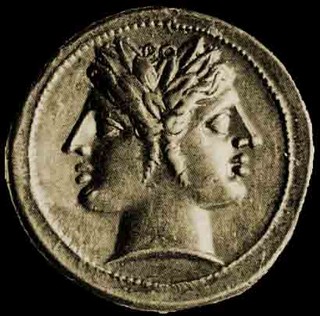 The month of January was named after the Roman goddess Janus who had two faces.  Like the goddess, January is the month of the year when we both look back on the previous year that is over as well as ahead to the year coming up. I just posted my favorite releases for 2012— here is a list of releases that I'm looking forward to in 2013.
Mountains – Centralia (January 22) The Brooklyn duo of Brendon Anderegg and Koen Holtkamp is back with another couple of slabs of acoustic/electronic experimental ambient music (a couple of slabs in the vinyl version anyway). I've been a big fan since Choral and can't wait to get this on the turntable.
Camper Van Beethoven – La Costa Perdida (January 22) David Lowery's non-Cracker concern is back with its first release since New Roman Times in 2004.
Arbouretum – Coming Out of the Fog (January 22) David Heumann is back with another slab of his folk-inspired distortion. If you are one of the early orders at Thrill Jockey, the vinyl comes in "Fog White" – I have one and it is beautiful.
Brokeback – Brokeback and the Black Rock (January 22) – Doug McCombs of Tortoise and Eleventh Dream Day returns with his solo project, Brokeback. Started in 1997, Brokeback had two 7″es and three albums, with the last one out in 2003. Ten years later, Brokeback is resurrected in a new lineup which includes Pete Croke and Chris Hansen of Head of Skulls! (emphasis theirs) and James Elkington of The Zincs, The Horses Ha and Freakwater. The album is typical atmospheric reverbby guitar instrumentals.
Local Natives – Hummingbird (January 29) – The Local Natives are back with their sophomore release. I loved their first album Gorilla Manor, and got to see them during the first Daytrotter Barnstormer tour. They managed to tour for two years on that album. If the first track "Breakers" is any indication, Hummingbird is a strong followup.
Jacob Jones – Good Timin' In Waynetown (January 29) – Just in time for the hubbub over Nashville due to the ABC TV series of the same name, Jacob Jones is releasing his first album in two years. Instead of his typical roadworn acoustic folk country, he hit the studio with an album inspired by the classic R&B of Ray Charles and the "Keep On Movin'" parties on Monday nights at The 5 Spot.
Hiss Golden Messenger – Haw (April 2) – MC Taylor and Scott Hirsch are on a roll. After a very polished release of Poor Moon in 2011 which was followed by a collection of odds and sods in 2012 called Lord, I Love the Rain they are done with another release Haw, which is due to come out on April 2nd and has members of Megafaun on it. Look for a review by me soon.
Golden Gunn – TBD (April) – As if a Hiss Golden Messenger release isn't enough, Scott and MC are collaborating with Steve Gunn on an album which, from the sounds of the little bit I heard, will be more jamming and more stripped down (if that is possible).
Dawes – Stories Don't End (April 9)- The mighty Dawes return for a third album. This time they are releasing the album themselves through their management Q Prime— their first two albums were released by Dave Matthews' label ATO. I've heard a couple songs from the new album live already, and it's sounding like a great one. In an interview with Rolling Stone, Taylor Goldsmith said, "Obviously we have our influences, and I know that some of what we do as a band is of another time, even simple aspects like guitar solos. So I get it, I'm not mad at it, but at the same time, we just wanted to make sure people saw us as a modern band as well. With this album, thanks to what [producer] Jacquire [King] is really good at, we're able to stay a rock & roll band and maintain classic qualities, but at the same time, it makes sense that this record is coming out in 2013."
Jack Logan & Scott Baxendale – Bones in the Desert (TBD) – Jack Logan is back with his first release since 2006 or so. This time he's partnered up with Athens, GA master guitar luthier Scott Baxendale. Joining them on the record are members of Drive By Truckers.
The Right Now – EP (First Half of 2013) In an interview with Chicagoverse, Brendan O'Connell says that the Chicago R&B band has demos collected that they can draw from to make an EP!
Dick Prall – Dick is releasing a song-per month, which he kicked off in October of 2012. The plan is to make the songs freely downloadable with a full-album of the tracks plus some bonuses available at the end of 2013.
Horses Ha – TBD – Carried over from last year's list. The album is pretty much complete and a continuation of the first album Of The Cathmawr Yards. Here's hoping that Janet and James, coming off the recent Freakwater tour will be energized and ready to release this.
History – (First half of 2013) The remains of the Iowa City band The Wandering Bears have formed a new band called History.
Har-di-Har – Third EP/LP – I loved the first two EP's released by the Cedar Falls husband/wife duo Har-di-Har. The third EP in the series is supposed to come out pretty soon. Andrew Thoreen told me that the plan is to bundle the three EP's together into a physical release (possibly vinyl!).