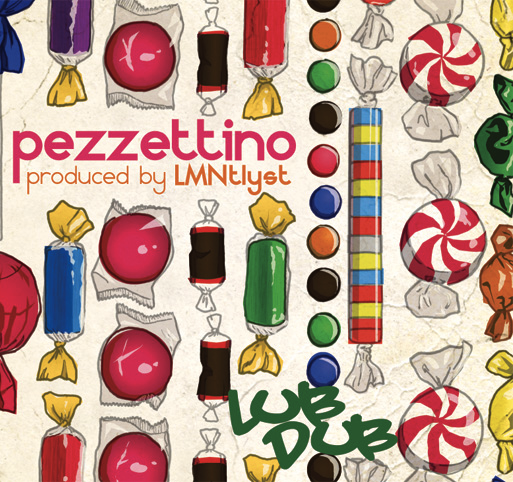 Margaret Stutt who goes by the nom d'cordion Pezzettino has collaborated with Milwaukee-based producer LMNtylist on her follow up to her 2009 release Lion. Titled LubDub, it is a 10-track EP of, well– I guess they are love songs. Well, maybe not all of them are love songs, but certainly they are related to love and appear to be roughly arranged in a timeline of a love affair that is having some fits and starts getting off the ground.
Originally the follow up to the moody, serrated toothiness of Lion was supposed to be a kinder, gentler album to be titled Lamb. In December of 2008 she posted the track listing for both releases on Facebook. When Miss Pezz blew through the Midwest last Fall it would appear that she had already moved into the mental space of Lamb in preparation for recording that album. By that time she had recorded the lead track for Lamb– the insanely catchy "You Never Know" which kind of took on a life of its own with its joyous video and vinyl 7″ release– each with a custom cover done by Milwaukee artist Dwellephant. For that Fall tour she'd already been performing "You Never Know," "Hunting Season," and "Falling Down" all songs that seemed fully formed and ready for the album. She also played a new song that was a quick favorite for me– "Where'd Ya Go."
Anyone who knows Margaret well knows that she is constantly catering to her muse– typically recording inspired fragments of song anywhere and anytime they show up– many songs were written behind the wheel of her now-departed Civic on the long drives between the gigs on tour. It was a collection of these fragments that she gave to Milwaukee HipHop producer LMNTylist who was interested in trying his hand producing some pop songs. When she stopped through Cedar Rapids in January she played me the rough mixes that she had just received. I was at once shocked and excited at what I'd heard– the lead off track for LubDub "Replay" was pretty much cemented at that point as was "Cold Hard Chick." This was a dramatically different direction for Pezzettino– she had given over to the production and the resulting songs still showed the fun and humor typically found in her music, but now had rhythm and were… funky!
The album pulls from a number of different influences ranging from the Reggae/Dub of the title track, to more the Jazzy "Only One" and "She Deserves" to the DooWop spin of "Replay" to a more "classic" Pezz piano track in "For You and Your Headaches." Here is a video Margaret shot of a street mural painter that uses "Only One" as its soundtrack:

So, maybe it is fitting that the more mild-mannered Lamb would be quickly replaced by a more determined and immediate electronic release in LubDub. I guess the chops of Lamb will get to spend some more time slow cooking.
LubDub will be available for download on September 7th and on 12″ colored vinyl later this fall. Pezzettino has a Kickstarter drive going to attempt to raise the $1000 needed to press the vinyl. After an impressive week, she has raised over half of the funds and, at the time of this writing, still has over 30 days to go! Donations range from $1 to $1000 and have varying levels of perks at each level. Any donation over $15 gets you some copy of LubDub with pledges over $20 getting you the vinyl and the CD version of it along with four bonus tracks. Other levels get you things like cookies, her dress from the "You Never Know" video, private performance, or the ability to determine the next cover songs in her popular cover series. Click on the kickstarter widget below to see what your options are to help get this great release out.
The fantastically appropriate album art (shown above) was done by LittleTinyFish.
There are two release shows– one in each of her hometowns:
Milwaukee: September 11th at Turner Hall with Mondo Lucha, 8PM
Brooklyn: October 14th at Cameo Gallery, 9PM
In the middle of these shows is a quick run of the Midwest that includes stops in DeKalb (9/12), Iowa City (9/15 at The Blue Moose Tap Room), Omaha (9/16), Des Moines (9/18 at Vaudeville Mews) and Boulder, CO (9/23). Visit her MySpace Page to keep up to date on this tour. This tour is going to be the first time in a while she has toured with a small band– so I'm looking forward to these shows!
Track Listing for LubDub:
1. Replay
2. She Deserves
3. Cold Hard Chick
4. Only One
5. Intermezzo I
6. Lub Dub
7. Where'd Ya Go
8. Intermezzo II
9. For You and Your Headaches
10. I Did Not Use Those Words Yesterday
Click Here to download "Replay" from LubDub
Click Here to visit the Pezzettino Web Site
Click Here for Pezzettino's Facebook Fan Page
Click Here for Pezzettino's MySpace Page
Click Here for Pezzettino on Twitter
Click Here for LMNTylist's MySpace Page.