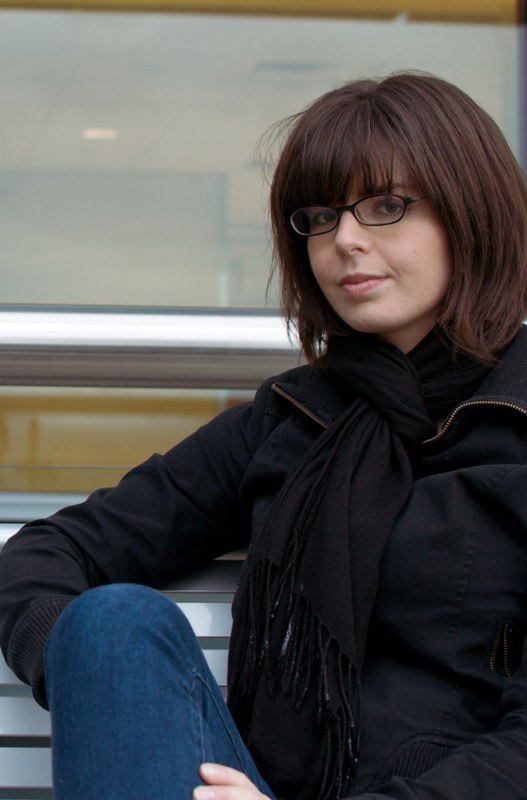 One of my favorite indie releases from 2009 was an EP by St. Louis singer/songwriter Beth Bombara titled Beth Bombara and the Robotic Foundation. The six-song self-released CD by Beth was a stylistic switch from the pop-folk of previous solo effort Abandon Ship by pulling in some indie rock distortion and edginess that recalled Bettie Seveert. In particular, I love the harmonies on the track "Lights" which ended up on a bunch of my roadtrip mixes this past year. You can listen to "Lights" in the player below.
For her next release which will be a full-length, Beth is taking a slightly different approach describing her folk and blues pastiche as "Jenny Lewis Meets Muddy Waters." I raise a questioning right eyebrow at this, however you can judge for yourself as she's included some of the tracks-in-progress in the ReverbNation player below: "Lately" and "Can't Win" at the top of the list are in a more country-influenced vein. I've been playing "Lately" a lot. I like the slightly off-key and off-time darkness about it. "Can't Win" is a fiddle-adorned honest-to-goodness country two-step! She's also giving away a another new track titled "Rainbow" in exchange for an e-mail address that continues some of the country-tinged feel, and I think vocally draws a very pleasing comparison to Natalie Merchant.
Beth wants to release this next album on vinyl and has done all of the math to determine she is going to need around $2,000 to get it done. She feels that a vinyl release of her new album is really important.  So, Beth put together a Kickstarter drive to raise the money needed to get the project done. A month ago she asked for some video of people talking about why they like vinyl records and she put these clips in the introductory video on the Kickstarter page. I gave her a clip which she used as well (which would be the first time I've put any kind of video of myself on the Internet!).
When Beth isn't recording her solo music she is half of the duo known as Cassie Morgan and The Lonely Pine. In this duo, Beth plays everything from percussion to toy piano and glockenspiel in addition to adding some really gorgeous harmonies for Cassie. Their album Weathered Hands, Weary Eyes came out earlier this year and they are soon kicking off a tour through the Midwest where Beth will be performing some of her own songs. Watch this blog for more details as the firm up.
Please check out the samples in the players below, sign up for her mailing list and if you feel as moved as I am by her music, consider throwing some support to her Kickstarter Project. She has many different tiers for donation with a number of different "bonuses" from the vinyl release at $20 all the way up to a private show at the $300 and $500 tiers! While you're at it you can see my contribution to her video. (Be gentle!) She's got less than 24 days left in the campaign and is less than halfway to her goal. I'd hate to see her have to go back to square one.