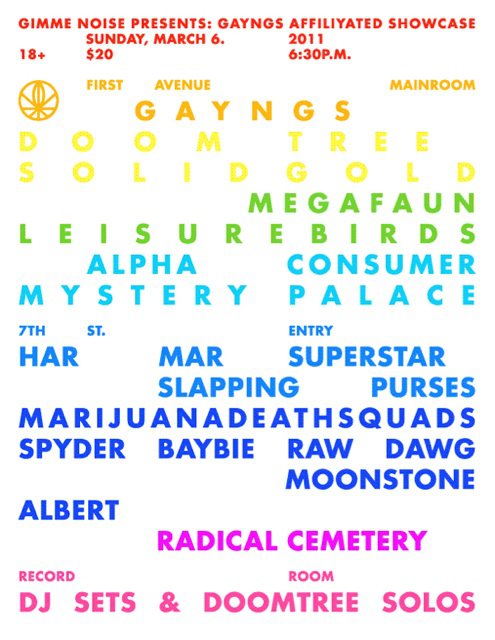 The super-mega-conglomerate quinvicatet known as Gayngs released their debut record in 2010. Titled Relayted, it was quickly praised by critics and fans and made quite a few year-end best-of lists. A seemingly impossible feat for an album with– by anyone's estimation– having way too many cooks in the kitchen and a formula based on 70's and 80's soft rock.
Nonetheless, it is a great album and it works due to the singular vision of Ryan Olson: the court jester, band leader, and love train conductor. He is both the "Space Cowboy" and "Maurice" and capably speaks of the pompatus of love.
As if pulling off an album with 25 members wasn't enough– Ryan gathered all of them for a pair of shows at First Avenue on the Friday following the album release that thematically was "The Last Prom on Earth" complete with limousines, balloons, prom formals and prom portraits. By all accounts it was one of the great live experiences last year. There were no promises that the band was going to ever do another show.
But, it was announced last Fall that a much smaller touring version of the band (a mere ten members) was going to do a quick nine-date run of the East Coast and Midwest culminating with a high-visibility shows in Austin for the Austin City Limits Festival. That tour was received well with a stop on Jimmy Fallon as well as a quick Daytrotter session. Unfortunately, there was some kind of mixup with the tour bus company which caused the band's gear to end up in Nashville the night before their big ACL appearance and caused the band to cancel. But, it looks like Gayngs will be making up for their missed appearance by making it back to Austin in March for a few gigs at SXSW. The band will head out in the spring and summer for some other festivals and West Coast dates in June.
Gayngs is going to perform a "warmup" gig of sorts for SXSW next Sunday by completely taking over First Avenue Mainroom, The 7th Street Entry and The Record Bar with a lineup of "Affiliyated" bands starting at 6:30PM. In other words, this event will be a festival of 15 or so bands that have a connection with the members of Gayngs!
What we get is a kind of who's who of the current Minneapolis music scene. I wasn't familiar with all of these bands, so I did some research, and here is a kind of Guide to the Gayngs Affiliate Showcase.
The first observation I have is that while this might not be the 25-member lineup of Gayngs that played The Last Prom on Earth in May 2010, we should get a bigger version of Gayngs than the 10-person one that toured last fall!
Bands Playing The Mainroom:
Gayngs : Duh. Supergroup that is headlining the showcase. MySpace Facebook Website Twitter Vimeo Daytrotter Session
Doomtree Collective : Minneapolis's premier hiphop collective with members that contributed to Relayted including P.O.S. and Dessa. Looking forward to hearing the other MC's– especially SIMS, whose Lazerbeak-produced album Bad Time Zoo has been getting a lot of spin for me. There will be individual sets performed at The Record Bar as well (see below). Website Facebook MySpace Twitter
Solid Gold : It's safe to say that the core of Gayngs is really Solid Gold since it was the initial collaboration of Ryan Olson and Zach Coulter and Adam Hurlburt of Solid Gold that started the project and they are the core part of the Relayted band. If you listen to Solid Gold's music, you hear the shared DNA of both bands– Solid Gold has a penchant for 80's rock and synths– just check out their slowed-down take of the Kenny Loggins Top Gun smash "Danger Zone" on their Synchronize EP. Website Facebook MySpace Twitter Daytrotter Session Daytrotter Session with Naughty By Nature(!!!!)
Megafaun : The first recruits into the Gayngs Army were North Carolina-meets-Eau Claire group Megafaun– the obvious connection being Joe Westerlund who is the one from Ryan Olson's Wisconsin home town. I'm really loving their latest EP Heretofore– kind of a glitchy atmospheric, vocal harmony Americana. Website Facebook MySpace Twitter Daytrotter Session
Leisure Birds : The garage-psych band Leisure Birds contributed two members to Gayngs- Jake Luck and Nick Ryan. Leisure Birds released their debut album Copper Scroll for the label Totally Gross National Product in October 2010. MySpace Facebook
Alpha Consumer : Alpha Consumer seems to be known more for backing other musicians (Dosh, Andrew Bird) than for their own music– although they have released three albums. Michael Lewis from Alpha Consumer provided saxophone for Relayted. MySpace Facebook Twitter
Mystery Palace :   Mystery Palace is one of Ryan Olcott's (formerly of 12 Rods) projects that center around his circuit bent music. Mystery Palace records for Totally Gross National Product. MySpace Facebook
Bands Playing the 7th Street Entry:
The Entry ends up being a showcase of bands on Ryan Olson's record label Totally Gross National Product.

Har Mar Superstar : Wow– well, this should be interesting. I didn't have an opportunity to see Har Mar Superstar when he was living in Minneapolis– he has moved from being an oddity to being completely embraced for his utter distorted personal view. I love his distinctly 80's sounding Minneapolis funky sound, though. He recorded a cover of the George Michael classic "One More Try" with Gayngs last year. Click Here to download this from Stereogum. Website Facebook MySpace
Slapping Purses : Slapping Purses is the one-man electronic noise + electro beat of Jason Power. Promises to be loud and abrasive. If you're into electronic glitchiness and beats, this is the act for you. Also on Totally Gross National Product. MySpace Facebook
Marijuana Deathsquads : Marijuana Deathsquads is Gayngs head honcho Ryan Olson's other going music project. Marijuana Deathsquads started as a backing band for P.O.S. At the core of the group is essentially Minneapolis hardcore punk band Building Better Bombs also fronted by P.O.S. The lineup of Marijuana Deathsquads changes as they bring outside artists to collaborate with them. I guess you could think of MD as an early template for Gayngs. Records for Totally Gross National Product as well. Currently doing an in-residence with Har Mar Superstar in L.A. at Spaceland. Website Facebook MySpace
Spyder Baybie Raw Dog : Another act from the Totally Gross National Product stable. A spaced-out M.C. I guess you might say. MySpace
Moonstone Continuum : Progressive electronic music. Sounds like 70's bands like Tangerine Dream or Kraftwerk to me. I liked the couple of songs I sampled on their MySpace page. On Totally Gross National Product. Their self-titled release comes as a 150g vinyl LP with digital download and a 23-page book of works by their "Lunarian Minister" M. Mikah Mackert. A really out-there release to be sure. MySpace Facebook
Albert : Analog synth music by Minneapolis musician Albert Elmore. Elmore has been releasing music via his website bbpwc.com since 2004 and encourages reuse and sampling through Creative Commons Share Alike Licensing, which is great. He also performs under a few aliases including Jon Jacob 3, Never Say DJ Fred Equipment and James St. Murder Laden Mitten Wonder among many others. His new album – a compilation of works dating back to 2004– will be released on vinyl on March 15th on Totally Gross National Product. Website Twitter Interview with MPLS.TV
Radical Cemetery : I couldn't find much information about this band other than they had a DIY 90-minute cassette release last June in a limited run of 100 titled Stoned Minors.
Performances at The Record Room:
DJ Sets and Doomtree Solos : I think this has the potential to be a really interesting set of performances. I'm really digging the MC's and producers in this collective. Sims, Dessa, P.O.S., Mike Mictlan, Paper Tiger, Lazerbeak.
The Gayngs Affiliyated Showcase is presented by the City Pages blog Gimme Noise. Tickets are $20 and Doors are at 6:30 PM on Sunday, March 6th. This is an 18+ show.
Click Here for the First Avenue page on this show with information on how to purchase tickets.
Gayngs 2011 Tour Dates (from Consequence of Sound):
03/06 – Minneapolis, MN @ First Avenue
03/11 – Austin, TX @ Stubbs
03/13 – Denton, TX @ 35 Confederate Festival
03/17 – Austin, TX @ SXSW / Mohawk
03/18 – Austin, TX @ SXSW /Lustre Pearle/ Dickies Party
04/15-17 – Indio, CA @ Coachella
05/28 – Portland, OR @ Doug Fir Lounge
05/29 – Quincy, WA @ Sasquatch Music Festival
06/01 – San Francisco, CA @ The Independent
06/04 –  San Diego, CA @ The Casbah