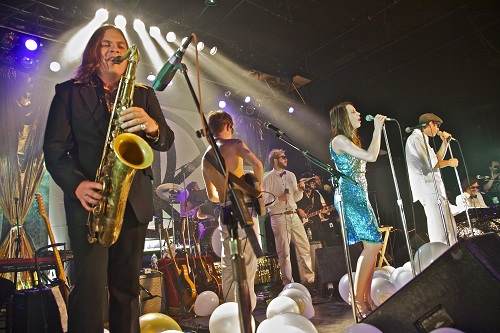 In early April, Sherry and I were in the Twin Cities visiting relatives and I managed to get a trip to the Mecca of Records known as the Electric Fetus. While I was flipping through their used vinyl and discount bins an unfamiliar soundtrack was playing overhead. Sherry asked me what it was, and I wasn't sure but I was as enthralled as she was with the very mellow and groovy music. At one point I found myself singing along with one of the tracks, "You don't know how to ease my pain, you don't know…" I asked the guy behind the counter, "Is this a cover of Godley & Creme's 'Cry'?" He replied that the thought it was and said, "we've been playing this all day and I never noticed that!" He went on to tell me that it was a kind of "Minneapolis Supergroup" called Gayngs (I had to look at the "upcoming releases" board to see how it was spelled). Well, I promptly scoured the file sharing repositories for a leak of Gayngs album titled Relayted and found one. The album quickly entered my regular rotation until it's release date on May 11th when I  purchased the gorgeous 2 LP vinyl in a white gatefold sleeve.
Gayngs is a 23-member (or should I say "participant?") band/project assembled by Ryan Olson who had an epiphany of sorts waking up one morning to the strains of 10CC's softrock mega hit "I'm Not In Love." It was then and there that he decided he wanted to record an album of a similarly-inspired sound. One that would allow them to use all of those cheesy synth patches any self-respecting musician should stay away from. The beginnings of the album started with Ryan and Solid Gold members Adam Hurlburt and Zach Coulter. Over time Ryan added other members to the band drawing from friends and girlfriends until the assembled cast grew to 23. All 23 members don't play together on any one song on the album. Other notable groups who donated members include Bon Iver (Justin Vernon, Mike Noyce), Megafaun (Brad Cook, Phil Cook, Joe Westerlund), P.O.S., Leisure Birds (Jake Luck, Nick Ryan) and Roma di Luna(Channy Moon Casselle). The album delivered by this large union of musicians is surprisingly singular in vision given all of the participants– which can only be a testament to how Olson managed the proceedings.
A couple of weeks ago we had a family get-together and my relatives from Eau Claire, WI showed up with a present for me– a copy of Relayted on CD and a copy of the May Vita.mn magazine with an article on Gayngs with a focus on the band leader/arranger Ryan Olson. Apparently my aunt is good friends with Ryan's mom! It turns out that my aunt and uncle went to The Last Prom on Earth show at First Avenue in May and had a great time! Of course, this was a show that Sherry and I had debated on going to, but couldn't make it and had been kicking ourselves about. Well, thankfully the band will be bringing their 69-beats-per-minute antics to a quick run of dates at the end of September and beginning of October cumulating in a visit to the Austin City Limits Festival on 10/10. While the Last Prom on Earth shows had all of the members of Gayngs, the touring version will only have 10 members— notably without the women but showcasing new arrangements and new material!
TOUR DATES
09/29/10 Milwaukee, WI – Turner Hall
09/30/10 Chicago, IL – Metro
10/01/10 Toronto, ONT – Phoenix Theatre
10/02/10 Boston, MA – Paradise
10/03/10 New York, NY – Webster Hall
10/04/10 Brooklyn, NY – Music Hall of Williamsburg
10/05/10 Washington, DC – Black Cat
10/07/10 Nashville, TN – Mercy Lounge
10/10/10 Austin, TX – Austin City Limits Festival
Click Here for Gayngs website
Click Here for Gayngs MySpace
Click Here for Gayngs Facebook Fanpage
Click Here for Gayngs Vimeo Videos (a must-see, frankly)
Click Here to download "The Gaudy Side of Town" (an edit) from Relayted
Click Here to download "Faded High" from Relayted