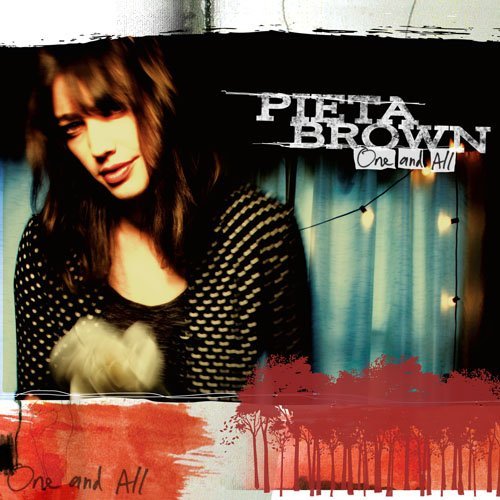 This week we have been treated to some news about Pieta Brown's follow up to her Shimmer EP from the folks at Red House Records. Pieta's new album and first full-length for her new label home, titled One & All will be released on April 6th!
Co-produced by Pieta and Bo Ramsey the record is a culmination of material she's been performing live since the release of her last full-length Remember The Sun which came out in 2007. She started performing "Calling All Angels" during that solo tour, and I first heard it when she played it on Nic Harcourt's Morning Becomes Eclectic on KCRW.
In November, Pieta did a three-night artist-in-residence at The Mill Restaurant called "This Land is Your Music", which she used as a way to try out different band configurations– solo, duo and full band. She also took the opportunity to perform some of the songs which would become part of One & All, including "Other Way Around," "Prayer Of Roses," "Calling All Angels," "Faller," and "It Wasn't That."
Right now on Pieta's MySpace page she has "Out of the Blue," "El Guero" and "Faller" in her music player. Additionally, Red House is making "Faller" available for download. At the first This Land is Your Music show Pieta said that "Faller" is based on meeting Tom Petty when she opened for JJ Cale at McCabe's Guitar Center. Apparently JJ Cale ran into Petty and Mike Campbell at a bar across the street from McCabe's and invited them to join him on stage. So, Pieta and Bo met Petty and Campbell. Here is a picture of Bo talking to Petty.
Pieta is going on a 28-date tour with Mark Knopfler who is out supporting his new album Get Lucky, which should gain her some new fans. Bo will be on tour with her and I think that Knopfler and Bo have complimentary music styles so it would be interesting if they'd perform together!
Red House Records will start taking pre-orders for One & All on March 30th and pre-orders will be autographed! Also, you can preorder One & All
from Amazon.
Tracklisting for One & All
Wishes Falling Through The Rain
Other Way Around
Out Of The Blue
Prayer Of Roses
Calling All Angels
El Guero
Faller
Flowers In The Kingdom
Shake
Grass Upon The Hills
Never Did Belong
It Wasn't That
Pieta Brown on Tour With Mark Knopfler (from The Rosebud Agency)
4/8/2010      Seattle WA      Moore Theatre
4/9/2010     Vancouver BC CANADA     Queen Elizabeth Theatre
4/10/2010     Portland OR     Keller Auditorium
4/11/2010     Eugene OR     Hult Center for the Performing Arts
4/13/2010     Oakland CA     Paramount Theatre of the Arts
4/14/2010     Santa Rosa CA     Wells Fargo Center For The Arts
4/15/2010     Temecula CA     Pechanga Resort & Casino
4/16/2010     Los Angeles CA     Pantages Theatre
4/17/2010     Los Angeles CA     Pantages Theatre
4/18/2010     Phoenix AZ     Dodge Theatre
4/20/2010     Denver CO     Temple Hoyne Buell Theatre
4/21/2010     Kansas City MO     Midland Theatre
4/22/2010     Saint Louis MO     Fox Theatre
4/23/2010     Chicago IL     Chicago Theatre
4/24/2010     Milwaukee WI     Riverside Theater
4/25/2010     Minneapolis MN     State Theater
4/27/2010     Ann Arbor MI     Michigan Theater
4/28/2010     Buffalo NY     University of Buffalo – Center For The Arts
4/29/2010     Toronto ON CANADA     Massey Hall
4/30/2010     Montréal PQ CANADA     Salle Wilfrid-Pelletier, Place Des Arts
5/1/2010     Mashantucket CT     MGM Grand at Foxwoods
5/2/2010     Washington DC     Warner Theater
5/4/2010     Boston MA     Orpheum Theatre
5/5/2010     Red Bank NJ     Count Basie Theatre
5/6/2010     New York NY     United Palace
5/7/2010     Upper Darby PA     Tower Theater
5/8/2010     Atlantic City NJ     Caesars Circus Maximus
5/9/2010     Albany NY     Palace Theatre
Click Here to download "Faller" from One & All.
Click Here for Pieta's Website
Click Here for Pieta's MySpace Page
Click Here for Pieta's Facebook Page