Tortoise's Beacons of Ancestorship— their sixth official studio album– arrives in stores and online on Tuesday, June 23rd.  The release was available online for pre-order as CD, LP and mp3 and a special set of packages of the CD and LP release that included a folded poster of Beacons and a very limited brass belt buckle with the "TRTS" logo with the eye that was used on the hoodies. Apparently the buckles were only available to the first 75 preorders. The LP's– which are 180g virgin vinyl which was mastered by Ray Janos at Stirling Sound— are sold out online, but thre should be copies available at your favorite indie record stores. It sounds like there will be a future re-repressing, too. At this moment there are still some CD+buckle packages left on the site.  See the "artist's rendering" below. I'm going to need to run to WalMart and get a belt with the snaps so I can rock this thing!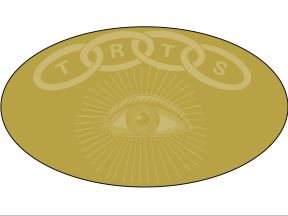 The Tortoise touring machine is getting ready to jam econo in support of the new album. They've been playing some sporadic shows already and are hitting some festivals, but the fall tour is already starting to shape up with some Midwestern dates starting in September and October.
Notably (for me anyway) Iowa is getting its first tour date in a very long time. The show is going to take place at the very cool Voices Warehouse Gallery in Dubuque, IA. It has a similar artsy space feel as CSPS in Cedar Rapids.  I saw Bo Ramsey there in October of 2006. I called Tim McNamara who handles setting the shows up and there will be more information coming soon about tickets and the possibility of other opening acts. 10/3 ends up being the end of the season for the gallery and last year they had a number of acts playing. I'll post an upcoming show article when I get more details.
Tortoise Tour Dates:
Sat. July 11 — Los Angeles, CA @ Troubadour
Mon. July 13 — San Francisco, CA @ Great American Music Hall
Wed. July 15 — Austin, TX @ The Mohawk
Fri. July 17 — Chicago, IL @ Pitchfork Music Festival
Sun. July 19 — Washington, DC @ Black Cat
Mon. July 20 — Philadelphia, PA @ Sanctuary at First Unitarian Church
Tue. July 21 — New York, NY @ Le Poisson Rouge
Fri. July 24 — Tokyo, Japan @ Fuji Rock Festival
Fri. Aug. 14 — St. Malo, France @ La Route Du Rock
Sat. Aug. 22 — Hasselt, Belgium @ Pukkelpop
Tue. Sep. 29 — St. Louis, MO @ Firebird
Wed. Sep. 30 — Kansas City, MO @ Beaumont Club
Thu. Oct. 1 — Omaha, NE @ Waiting Room
Fri. Oct. 2 — Minneapolis, MN @ Cedar Cultural Center
Sat. Oct. 3 — Dubuque, IA @ Voices Warehouse Gallery