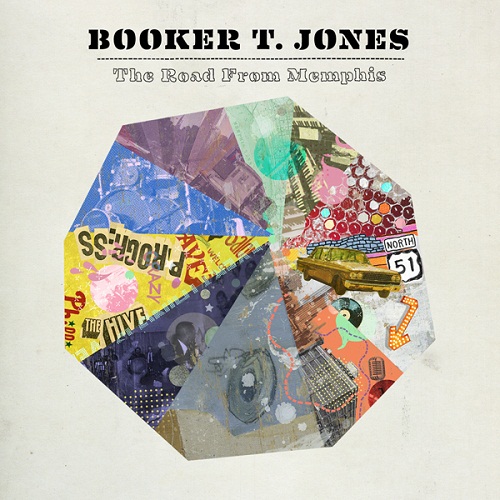 Following up 2009's GRAMMY-winning Potato Hole should have been tough for Booker T. Jones to follow. In fact, who would have blamed him if he took a break, resting on the achievement– which was a tribute as much as an updating of the Southern Fried B-3 fueled sound he effectively served on dozens of sides on Stax Records with his band The MG's. Backing Booker T. on Potato Hole was an Überband of Neil Young and The Drive-By Truckers and produced by main Trucker Patterson Hood which delivered its Hammond barbeque with a side of Gibson distortion.
The formula for following up Potato Hole was to enlist go-to backing band from Philly THE ROOTS! Titled The Road From Memphis the album also features vocals from Sharon Jones, Lou Reed, Yim Yames from My Morning Jacket, and Matt Berninger from The National. Jones himself steps up for a rare vocal as does his daughter Liv. The album is produced by ?uestlove of The Roots and is engineered by Gabe Roth of Daptone Records.
Frankly, this album has GRAMMY written all over it.
Anti- Records released Potato Hole on 2 LP 180g that sounded pretty damn amazing. For The Road From Memphis according to Amazon, it will be 1 LP. No word on weight, but I'd have to believe it will be 180g again.
Here is some footage of Booker T. and the Roots taking on Lauren Hill's "Everything is Everything":


Full track listing for 'The Road from Memphis:
Walking Papers
Crazy
Progress (feat. Yim Yames of My Morning Jacket)
The Hive
Down In Memphis
Everything Is Everything
Rent Party
Representing Memphis (feat. Matt Berninger & Sharon Jones)

(On April 4th, you'll be able to download this mp3 for $0.99 from Amazon).
The Vamp
Harlem House
The Bronx (feat. Lou Reed)
Click Here for the Anti- Records Page on The Road From Memphis
Click Here for Booker T. Jones' website
Click Here for The Booker T. Facebook Fanpage