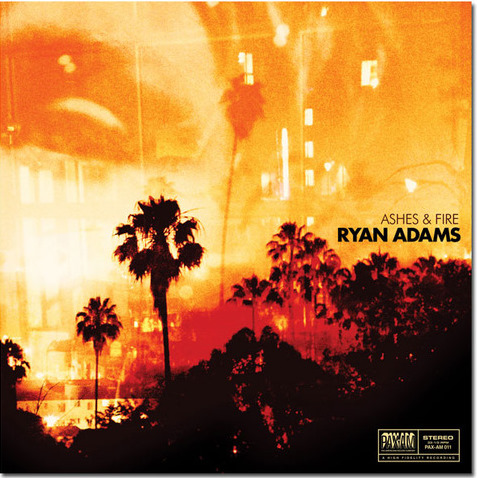 This afternoon Ryan Adams posted the link to the preorder for his upcoming release Ashes & Fire to Facebook which is due out on October 11th on PaxAm Records through a distribution arrangement with Capitol Records. The album was recorded at Sunset Sound in Los Angeles and produced by Glyn Johns who produced albums from the likes of The Who, The Clash and The Rolling Stones among many others. Glyn happens to be the father of Ethan Johns who worked on Adams' Heartbreaker, Gold and 29. The album has garnered a substantial amount of buzz since it is his first studio album of new material since Cardinology in 2008– although he did some housecleaning by releasing some archival material in the form of his Metal Space Opera Orion and III/IV, a collection of songs recorded around Easy Tiger in addition to some 7″es and some digital releases.
Ryan solicited help on the album with some keyboards by Heartbreaker Benmont Tench (what albums is he not on these days?) and some vocals from Norah Jones on several tracks (she provided the guest vocals on "Dear John" for him previously).
Along with the link to access the pre-orders, Ryan posted a bandcamp link to "Lucky Now" which is also a free download with the pre-order. Everyone who pre-orders will get a digital download of the album the day of the release by accessing their online account created at order time.
There are four pre-order options for Ashes & Fire. CD and vinyl ($12.99 and $20.00 respectively) and a Deluxe Bundle which can either be CD ($40) or vinyl ($50) and a Deluxe Bundle with a teeshirt ($50 for CD, $60 for vinyl). The extra goodies for the Deluxe Bundles includes a flexidisc of unreleased track "Darkness" as a 3D Lenticular Photo of Ryan Adams, a Booklet of expanded album artwork including 3D photos, A pair of Ryan Adams 3D Glasses and PAX-AM Bucks (To be redeemed toward future paxamrecords.com store purchases).
View all of the preorder details at the Ashes & Fire Store.

Here is a new video of Ryan performing the title track solo acoustic:

Tracklisting for Ashes & Fire (with links to videos):
Dirty Rain
Ashes & Fire
Come Home
Rocks
Do I Wait
Chains Of Love
Invisible Riverside
Save Me
Kindness
Lucky Now
I Love You But I Don't Know What To Say