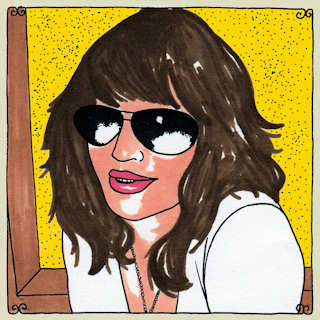 Today Daytrotter posted a session I've been waiting over a year-and-a-half to hear– Pieta Brown's encore session!
The session was recorded Thursday, June 11, 2009 using a short-lived band lineup called "Dream #9" with Jim Viner on drums, Jon Penner on bass and Bo Ramsey on guitar. They performed only two shows in this configuration. June 11th at The Redstone Room in Davenport and then on June 12th at The Mill in Iowa City, which I reviewed.
Here is a picture of that band lineup from The Mill Show:
Pieta's first Daytrotter session was recorded in March of 2008. Between these two sessions recorded less than a year apart, Pieta would go from being on a semi-major label to being "in limbo" with no label. A situation which was remedied by September 2009. Nevertheless, Pieta had self-released an EP titled Flight Time in October 2008 and both sessions include songs from Flight Time as well as her Shimmer EP— produced by Don Was and her debut release on Red House Records.
The session is a nice cross-section of Pieta's career:
1. "#807" is from her 2005 release In The Cool, which was released on Valley Entertainment and apparently is still in print!
2. "Going Away Blues" is a Frank Stokes cover that Pieta also recorded for her self-released 2003 EP I Never Told which is impossibly out-of-print. I managed to get one of these when Pieta discovered a box last year.
3. "4th of July" also on In The Cool.
4. "Sunrise Highway #44" is from her self-released EP Flight Time which is still available on CDBaby.
5. "You're My Lover Now" is from her debut Shimmer EP on Red House Records. This version differs from the EP version by having some nice subtle brushwork from Jim Viner.
Pieta Brown Daytrotter Encore Session: The Faint Light of All Lungs and Hearts
Pieta  Brown has tour dates coming up (from her website) with a show at the Mill Restaurant on April 9th:
| Date | Time | Location | |
| --- | --- | --- | --- |
| Sat Mar 19 | | Bluegrass & Roots Festival, River Falls, WI | more info |
| Sat Apr 09 | | The Mill, Iowa City, IA | more info |
| Sat Apr 16 | | Stoughton Opera House, Stoughton, Wisconsin | more info |
| Thu May 26 | | SPACE, Evanston, IL | more info |
| Sat May 28 | | Crossings At Carnegie, Zumbrota, MN | more info |
| Fri Jun 03 | | Mountain Jam Music Festival, Hunter, NY | more info |
| Sat Jun 04 | | Iron Horse Music Hall, Northampton, MA | more info |
| Sun Jun 05 | | Club Passim, Cambridge, MA | more info |
| Sat Aug 06 | | Edmonton Folk Festival, Edmonton, Alberta, CANADA | more info |
| Sun Aug 07 | | Edmonton Folk Festival, Edmonton, Alberta, CANADA | more info |