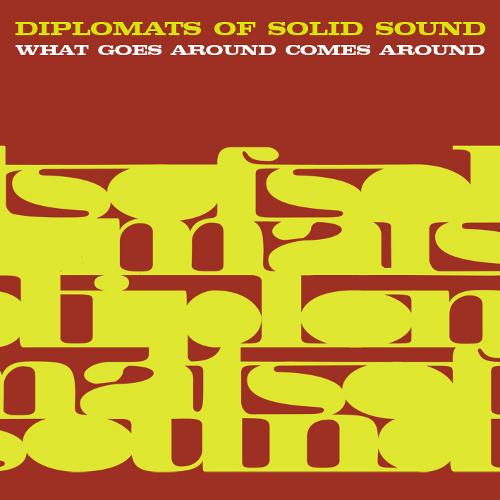 I'm really happy about the number of great new releases coming out this fall! One release that I've been waiting on for I think two years, is the new album from Iowa City's own Diplomats of Solid Sound! I first heard songs that would make up What Goes Around Comes Around (Record Kicks, October 28) back in August 2008 when they performed at KCCK's Jazz Under the Stars. In fact, I'm pretty sure I remember the title song from that show. In the shows I've seen since then, I've heard most of these songs so I feel like I'm already familiar with the album!
The line up for The Diplomats has changed since their 2008 release The Diplomats of Solid Sound Featuring The Diplomettes which was released on Italian Boogaloo-loving label Record Kicks and domestically on Pravda. The Diplomettes was a trio before Abbie Sawyer moved to New Zealand for a year leaving Sarah Cram and Kathy Ruestow to handle the vocal duties as a duo. Original drummer Jim Viner departed at the end of 2008 and is these days behind the skins for Brother Trucker. Viner was replaced by Paul Kresowik.
Like their 2008 release, What Goes Around Comes Around was mixed and edited by Adam Gibbons aka Lack of Afro. Just listening to the track "Give Me One More Chance" which you can hear below on their Soundcloud link (below) I can hear an evolution in their sound. While still firmly planted in classic Ameican soul and R&B– it seems a little more evolved to me. The strings on this track are a fantastic flourish to the song. On the song "What Goes Around Comes Around"  they have developed a hot buttered jazz funk that I'd like to hear more of.
What Goes Around Comes Around is due to release on October 11th and will be available from the band, on Amazon and other places like Dusty Groove (likely) in LP and CD and digital download. Prior to the release of the album there will be a 7″ of "Back Off" and "B-O-O-G-A-L-O-O" the center label will look like this: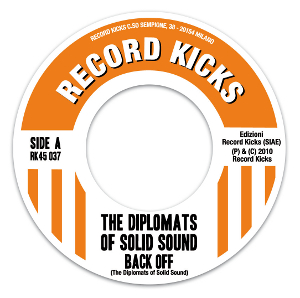 Record Kicks has made this single available before its release date of 9/27 as a digital download from their site. You can get both sides of the single in 320Kbps mp3's for £ 0.79 apiece. After PayPal fees and currency conversion, I got both tracks for $2.77 US.
Click Here to visit the Record Kicks page for the "Back Off" b/w "B-O-O-G-A-L-O-O" single to order your mp3's or to purchase the 7″ single. You can listen to the tracks here, too.
Tracklisting for What Goes Around Comes Around:
1. B-O-O-G-A-L-O-O
2. Back Off
3. Promise Of A Brand New Day
4. Gimme One More Chance
5. No Man
6. Fascination
7. Bailout!
8. Jealous
9. What Goes Around Comes Around
10. I Can't Wait For Your Love (Pistol Allen)
11. Get Out Of The Way (So I Can Get Back To My Life)
THE DIPLOMATS OF SOLID SOUND – Give Me One More Chance by Record Kicks