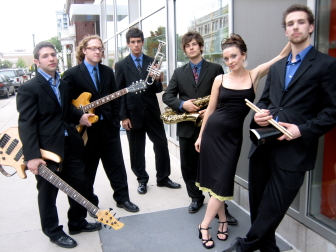 It was with surprise that I read the e-mail blast from Iowa City Yacht Club which said that New Beat Society was going to be playing a reunion show. I was also surprised to find out that Kathy Ruestow– one of the soul sirens from The Diplomettes was the vocalist for New Beat Society! The even more embarrassing part is that the whole-house mp3 player has been playing three mp3's from the band for a couple of years, now, and I never put it together that her very distinctive voice was in both bands…
Anyway, I'm pretty excited to see this show. New Beat Society brings the slinky jazz-funk that recalls some of my favorite Acid Jazz from the mid-90's.
The opening act is the Uniphonics which is a HipHop MC with live jazz/funk band– also very Acid Jazz. The couple of tracks on their MySpace page proves that they are a very complimentary opening act and worth showing up early for.
The show starts at 9PM and the cover is a measly $7. What are you waiting for?
Click Here for New Beat Society's MySpace Page
Click Here for The Uniphonics MySpace Page