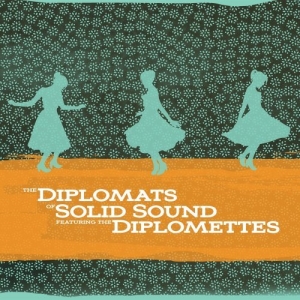 Finally a domestic record label has the sense to release the great new release from The Diplomats of Solid Sound Featuring the Diplomettes! Longtime Chicago Indie label Pravda Records. Although the instrumental releases were primarily on Estrus Records, this release coming out on Pravda makes sense as the Andre Williams album Aphrodisiac which utilized The Diplomats as his band as well as future Diplomette Sarah Cram on backing vocals.
The album is set to drop on July 8th and should be available via your favorite independent record store as well as Amazon and other online spots. This is good news for US fans of the band– the Italian Record Kicks releases are imports and really pricey! At the moment Amazon has one for $23! Dustygroove.com seems to be out of the CD at the moment with more coming at "the end of June," but has the tasty vinyl version in at $18. According to the press release from Pravda these should be $14.98 MSRP, and indeed this is what Amazon lists the price to be.
This release has new cover art and packaging (you can see the Record Kicks cover art here). Otherwise, this is an identical release to the import version down to the "Hurt Me So (Lack of Afro Remix)" bonus track. The album was recorded live in the studio by Justin Kennedy at Minstrel Studios in Iowa city and subsequently shipped to Lack of Afro for final mixing and production. I think it is the live recording that gives the record its energy and ultimately why it stands up to repeated listening so well. Ultimately, the album was recorded in 2007 but it took a while to sort out what label was going to release it. In the meantime the band had very smartly put early mixes out on their MySpace pages. By The time the record was released most of their fans were already very familiar with the funk and soul of tracks like "Lights Out," "Hurt Me So," and "Come In My Kitchen." Around my house, these songs are as familiar as any major label release would be and very much a soundtrack to our lives.
Even with the seemingly long career arc this band has had– I remember talking to Doug at a Bo Ramsey show in 1997 or 1998 at the Green Room in Iowa City about his "New Project" and the five albums since 2001– it seems like with the constant touring with the Diplomettes in tow has started to build a well-deserved buzz.
The Diplomats have at the moment about 11 shows coming up including three live shows in between Cedar Rapids, Iowa City and Coralville and a handful of festivals. Make sure you get out to see them and pick up this album while you're at it.
The Diplomats of Solid Sound MySpace Page with samples from the new album.
The Diplomettes MySpace Page with songs from the new album
| | | |
| --- | --- | --- |
| | Silver Dollar Cantina | Dubuque, Iowa |
| | Triple Rock | Minneapolis, Minnesota |
| | The Bottom Lounge | Chicago, Illinois |
| | The Picador | Iowa City, Iowa |
| | 80/35 Festival | Des Moines, Iowa |
| | Camp Euforia | Lone Tree, Iowa |
| | Riverside Casino & Resort | Riverside, Iowa |
| | Linneman's Riverwest Inn | Milwaukee, Wisconsin |
| | Music In The Park | Coralville, Iowa |
| | KCCK Jazz Under The Stars | Cedar Rapids, Iowa |
| | Friday Night Concert Series | Iowa City, Iowa |
| | New Bohemian Festival | Cedar Rapids, Iowa |
| | Rock Island Brewing Compnay | Rock Island, Illinois |
| | Blankfest / Funny Bone Comedy Club | West Des Moines, Iowa |