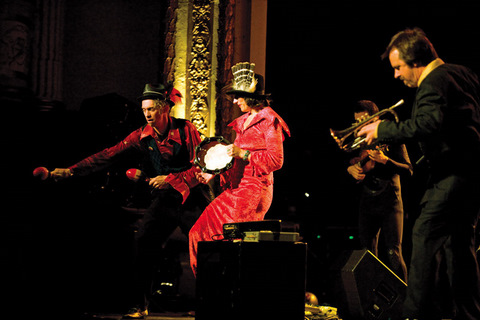 As part of the Iowa City Arts Festival (June 5-7) North Carolina band Squirrel Nut Zippers will be playing Friday night June 5th on the Main Stage with The Damnwells opening. This show– as is all of the Iowa City "Summer of the Arts" shows– is free.
You may remember Squirrel Nut Zippers from their 15 minutes of fame in 1997 with their platinum album Hot, which included the singles "Hell" and "Put a Lid On It." While the band didn't consider themselves part of the late-90's neo-swing movement (which included Big Bad Voodoo Daddy,  Cherry Poppin Daddies and The Brian Setzer Orchestra) their single "Hell" which made it to #13 on the charts with it's calypso sound was retro enough to be included in most folks' minds.
After a quick run and a couple more albums the members pursued individual efforts. But, the band reunited in 2007 with the original members and recorded a live album in 2008 titled You Are My Radio that is slated to come out this month (May), and according to their website, it will come in a "dizzying array of download and physical CD bundles" as well as a limited deluxe bundle. If you sign up for their e-mail list, you will be sent a link to download an mp3 of "Memphis Exorcism" from the upcoming release– a 320K mp3 no less. Incidentally, it appears based on the URL of the mp3, that the Zippers are working with TopSpin for the promotion and release of their new album. TopSpin, as you may recall is the company who is helping Wendy and Lisa with their newest album.
The opening act, the Damnwells are a really good straight-up rock band with great harmonies and guitars that I hear little bits of Petty, Counting Crows, Matthew Sweet in the mix. The Damnwells had a failed relationship with a major label which left them stranded, but they continued on an independent route. The Damnwells new album One Last Century is freely available as mp3 download from their site. I highly recommend it!
Click Here for more information on the Iowa City Arts Festival
Click Here for Squirrel Nut Zippers on MySpace
Click Here for the Damnwells website
Click Here for the Damnwells MySpace Page