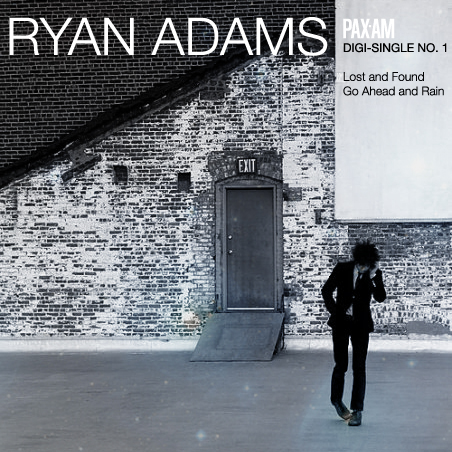 This week had the 'Net a flutter with news of Ryan Adams's re-launching his website and re-launching his Pax Americana (PaxAm) record label with a downloadable "Digital Single." Pre-orders went up mid-week with a promise of the songs shipping on Friday, September 11th.
What you got for $1.49 was a .zip file with the advertised two songs "Lost and Found" and "Go Ahead and Rain" (which is mislabeled "Sunflower Rain") in both FLAC (YAY!) and 128Kbps mp3's plus a so-called "Free Jam" of the demo to the Cardinology song "Sink Ships" in 160Kbps mp3 format. Plus "cover art" (shown above) and what appears to be considered the label art.
"Lost and Found" is an official release of what had surfaced in November 2006 along with 11 albums of other unreleased songs under a bunch of pseudonyms including DJ Reggie, The Shit, WereWolph, Warren Peace, Rhoda Ro, Ghetto Birds and Sad Dracula. Most of the albums seemed like Ryan recording every possible inspiration– listenable or not. However, the most compelling of these releases seemed to fall under Sad Dracula and Warren Peace. "Lost and Found" was a song on Fasterpiece. The version released as part of this single doesn't seem very much different from that track which would lead me to believe that this song was actually recorded for release.
According to threads on the ryanadamsarchive.com boards "Go Ahead and Rain" surfaced as a demo and video a while back. Ryan (posting as Wolfhunter) said that he had recorded four versions of "Go Ahead and Rain" including one which was considered for the Cardinology album. He says that Jamie (Candiloro?) plays drums on this take. Jamie Candiloro worked on the hotly-debated Rock N Roll album. He says that "Johnny T. (Yerington) played drums on 'Oblivion' and I played drums on the rest. " Oblivion" is a track on Fasterpiece as well. So, probably we will see some kind of Sad Dracula release in the near future!
Ryan also says this:
Thanks for supporting Pax-Am. Though I know many of you have lot's of tracks from over the years many don't. The glitches and kinks are being figured out and soon enough it will be time for some bigger projects. Also with new work there will be a whole new slab of folks trying to tear down the whole thing but, fuck em- this is gonna be great, I am excited for all this shit yall never heard to come around AND I am happy to get some really badass stuff out there once and for all.
The plans for Pax-Am at the moment is to continue to release some of these "lost" albums and songs in digital and vinyl formats! There will also be other things for purchase like t-shirts. I think if any artist can make a go of this, it would be Ryan as he has the right formula– a rabid fanbase who will purchase just about anything and the fact that he's very prolific would provide a lot of material to choose from.
I became a fan of Ryan's because of Rock N Roll and the two Love is Hell EP's. Rock N Roll was very much a departure from the Americana-leanings of his other releases and really the one that my wife prefers out of his catalog. I hadn't really gotten into the three Cardinals releases from 2006 until I heard about the eleven albums he posted to his site. I found a suitable bit torrent from someone who snagged the tracks and made mp3's of them. When I heard the Sad Dracula tracks, I was hooked– where had these songs been? These were more songs in the vein of Rock N Roll. Was this the Rock N Roll 2 that was rumored? Certainly based on what Ryan said on the board, these were the same session players.
Both tracks are of the same kind of guitar rock established on Rock N Roll. Kind of the slighty ramshackle, slightly unpolished guitar pop established by bands like The Replacements and their predecessor Big Star. I welcome more of these releases for sure!
I guess I prefer this approach of pumping stuff out on a number of releases– digital or vinyl rather than going the Neil Young Archives approach. Well, for a number of reasons– I would hate to wait 20 years for a compilation to come out of this stuff for one thing. But, also not making this a $300 purchase by releasing this a decade at a time makes it easier to budget.
Click Here to get you some rawk Ryan Adams.
Here is Ryan at the record mastering plant:

Record Testing Day from Ryan Adams on Vimeo.